M41 HMC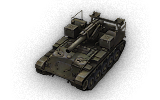 The M41 is an American tier 5 self-propelled gun. Like other American SPGs, the M41 has a poor tank traverse speed compared to other countries' SPGs of its tier, though the 56 kph top speed helps it find unusual and unexpected places to shoot from quickly.
The M41 leads to the M12.
A18 M41/ModulesA18 M41/EquipmentA18 M41/Consumables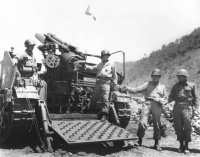 The self-propelled howitzer M41 was based on a lengthened M24 Chaffee chassis, and had many of the same modifications as the hull of the M19 self-propelled twin 40mm anti-aircraft gun. The M41's engine was moved to behind the drivers' compartment, and the 155mm howitzer mount was placed at the rear of the vehicle. Of the 250 ordered, 60 were delivered.
Manufacturers
Cadillac Motor Car Division of General Motors Corp.
Massey Harris Co.
Sources and External Links