Spähpanzer SP I C
G113_SP_I_C (Stock)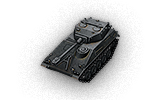 Totals
1360000
Cost
900 HP
Durability
8.92 / 10.9
Weight
Crew
Commander
Radio Operator
Loader
Driver
Gunner (Loader)
Armor
10/10/10
Hull Armor

(front/sides/rear, mm)
15/10/10
Turret Armor

(front/sides/rear, mm)
Maneuver
154 h.p.
Engine Power
58 km/h
Top Speed / Reverse Speed
40 deg/s
Traverse Speed
Firepower
225
damage
170 mm
Average Penetration
7.9
Reload Time
48 deg/s
Turret Traverse Speed
Communication
250 m
View Range
500 m
Signal Range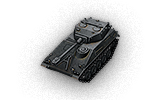 The reconnaissance tank destroyer was being developed by Hotchkiss and Klöckner-Humboldt-Deutz companies from 1956 through 1962 in order to increase the anti-tank capability of recon tank battalions. A 90-mm anti-tank gun was planned to be mounted on the new vehicle. The project was eventually declined. The number of prototypes built is unknown.


Turret
| Level | Turret | Turret Armor (front/sides/rear, mm) | Turret Traverse Speed (deg/s) | View Range (m) | Experience | Weight (t) |
| --- | --- | --- | --- | --- | --- | --- |
| VI | Spähpanzer SP I C PT I | 15/10/10 | 48 | 250 | 0 | 1500 |
| Level | Gun | Average Penetration (mm) | | Rate of Fire | Dispersion at 100 m | Aiming Time | Experience | Weight (t) |
| --- | --- | --- | --- | --- | --- | --- | --- | --- |
| VII | 90 mm D921 F1 | 170/250/45 | 225/225/270 | 7.59 | 0.4 | 2.4 | 0 | 390 |
| Level | Turret | Turret Armor (front/sides/rear, mm) | Turret Traverse Speed (deg/s) | View Range (m) | Experience | Weight (t) |
| --- | --- | --- | --- | --- | --- | --- |
| VII | Spähpanzer SP I C PT II Rh.-Nr. WK-G2 | 15/10/10 | 44 | 260 | 8000 | 2000 |
| Level | Gun | Average Penetration (mm) | | Rate of Fire | Dispersion at 100 m | Aiming Time | Experience | Weight (t) |
| --- | --- | --- | --- | --- | --- | --- | --- | --- |
| VII | 90 mm D921 F1 | 170/250/45 | 225/225/270 | 7.69 | 0.38 | 2.3 | 0 | 390 |
| VII | 90 mm Mecar | 180/250/45 | 225/225/270 | 8.33 | 0.36 | 2.2 | 10800 | 400 |
| VII | 90 mm Mecar mit Mehrladeeinrichtung | 180/250/45 | 225/225/270 | 7.5 | 0.37 | 2 | 12500 | 500 |

Engine
| Level | Engine | Engine Power (h.p.) | Chance of Fire on Impact | Experience | Weight (t) |
| --- | --- | --- | --- | --- | --- |
| VI | Hotchkiss 6-Zyl. Benzin 154 PS | 154 | 20 | 0 | 436 |
| VI | Hotchkiss 6-Zyl. Benzin 164 PS | 164 | 20 | 5400 | 436 |
| VII | Hotchkiss 6-Zyl. Benzin 195 PS | 195 | 20 | 10200 | 436 |

| Level | Suspension | Load Limit | Traverse Speed (deg/s) | Experience | Weight (t) |
| --- | --- | --- | --- | --- | --- |
| VI | Spähpanzer SP I C PT I | 10.9 | 40 | 0 | 2500 |
| VII | Spähpanzer SP I C PT II | 10.9 | 44 | 8200 | 2500 |

Radio
| Level | Radio | Signal Range (m) | Experience | Weight (t) |
| --- | --- | --- | --- | --- |
| IX | AN-GRC-4 | 500 | 0 | 80 |
Compatible Equipment
























Compatible Consumables
Pros and Cons
Pros:
-Good mobility, up to 60 km/h
-90 mm auto loader gets out good burst damage
-90mm single shot gun has the best stats out of all tier 7 Lights
-Low profile
-Good gun depression
Cons:
-No armor
-Slower to accelerate than other tier 7 light tanks ,the LTTB and the T71
-90mm auto loader outclassed by 76mm auto loader of T71 in damage output and burst speed (7.06s for 450 dmg vs 6s for 480 dmg)
-Slow shell velocity, hard to hit moving targets
-Turret is in the rear, very annoying when trying to shoot around a corner
Early Research
-Nothing carries over from the VK 28.01
-First the turret and the 90mm Mecar or the second engine with the tracks
-Research what's left
History for this tank not found