Halonen's Medal

Halonen's Medal
is an epic
achievement
in
World of Tanks
, awarded for destroying
three or more
enemy vehicles with a tank destroyer. The targets must be at least
two tiers higher
than the player's vehicle.
Erkki Halonen, a sergeant in the Finnish Army and a tank ace, destroyed three T-34, two KV-1, and two ISU-152 with his StuG III in battles during June and July 1944.
Historical information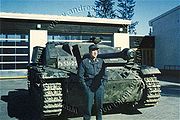 Sergeant (Kersantti) Erkki Halonen - Commander of the ACS StuG III Ausf.G Finnish Army during the Second World War. In all fighting the same ACS was the gunner of his armored forces soldier (Panssarimies) S.Vuorela (S. Vuorela). He distinguished himself in battles of summer 1944 on the Karelian Isthmus.
The Finnish Army bought 59 ACS StuG III from production years 1943-44. The front line remained motionless until the summer of 1944, so until then the ACS did not participate in the fighting. However, as the Soviet Army began its advance, the ACS entered into a fight.
ACS StuG III Sergeant Halonen:
Ps.531-24, killed June 15, 1944 - fell into a deep trench, damaged suspension. Undermined by the crew because of the danger of capture by Soviet troops.
Ps.531-25 «Kyllikki», destroyed after the war, during shooting practice.
July 11, 1944 in the Vuosalmi (now Druzhnoye) destroyed two tanks T-34 and ISU-152. On July 13, 1944 in the same area destroyed a tank KV-1.

However, Erkki Halonen (7 kills) wasn't the most prolific of the Finnish gunners.
11 kills - Lieutenant B.Brotell (Fänrik B. Brotell) with a junior sergeant gunner O.Soimala (Alikersantti O. Soimala) on the StuG III number Ps.531-10 «Bubi» destroyed from June 25 to July 12, 1944 6 tanks T-34 , 4 tanks T-34-85 , and an ACS ICS-152 .
7 kills - Lieutenant M.Kiuasperä (Löjtnant M. Kiuasperä) with a junior sergeant gunner K.Muona (Alikersantti K. Muona) on the StuG III number Ps.531-9 «Toini» destroyed from June 16 to July 11, 1944 6 tanks T -34 and 1 ACS ICS-152 .
7 kills - Lt. M.Sartio (Löjtnant M. Sartio) with a gunner and ml.serzhantami O.Lagusom R.Anttiloy on the StuG III number Ps.531-19 «Marjatta» destroy 25 to 25 June 7 tanks T-34 .
7 kills - ml. Sergeant S.Karukka (Alikersantti S. Karukka) with a gunner ml.serzhantom M.Kokkonen (M. Kokkonen) on the StuG III number Ps.531-12 «Lea» - destroyed 25 to June 29 destroyed the five T-34 and two light tank.
Note: The number of StuG IIIs in the Finnish army is interpreted as follows. For example «Ps.531-8»: «Ps.» = «Panssarivaunu» - «Tank", "531" = type of weapons, indicating the StuG; «8" - the serial number of the machine.