Lockheed XF-90
XF-90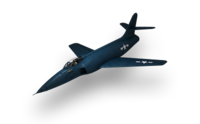 Totals
6100000
Price
700
Survivability
10376 kg
Weight
1231.9
Damage
Speed
1204
Airspeed
1150 km/h
Top Speed at Sea Level
1150 km/h
Top Speed at Best Altitude
3000 m
Optimum Altitude
1200 km/h
Maximum Dive Speed
78.8 m/s
Rate of Climb
300 km/h
Stall Speed
862 km/h
Optimum Airspeed
Mobility
79.2
Controllability
17.3 s
Average Time to Turn 360 deg
90 °/s
Rate of Roll
379.9
Maneuverability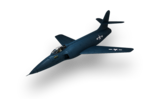 Designed as an air defense penetration fighter. First flew in June 1949. Never entered service.
Compatible Equipment


















Compatible Consumables
























Summary :

Design by Lockheed in 1945 in response to the USAF request for a long-range penetration fighter as well as doubling as a Bomber escort, the XF-90 competed with the Mcdonnell XF-88 for the contract. Despite possessing supersonic capabilities (though it can only reach said speed in a dive), being the first USAF jet with an afterburner, utilizing 75ST aluminum instead of the standard 24ST aluminum alloy, and possessing an extremely well-constructed and sturdy airframe the XF-90 lost to the XF-88, which later became the F-101 Voodoo due to being incredibly underpowered. Only two aircraft where produce; the XF-90 (46-0687) and XF-90A(46-0688).

Powerplant Hijinks:
One of the main reasons for its failure to meet the USAF requirements was due to being underpowered when compared to the XF-88. While the XF-90 was a much heavier aircraft than the XF-88, the main cause of its underpowered nature was actually not the aircraft weight, rather it was caused by Lockheed changing the powerplant it was going to possess during its development multiple times. Initially, the powerplant was going to be a single Lockheed L-1000 Turbojet(Lockheed J-37), which produced about 6,700 lbf of thrust at take off, however, Lockheed decided to change the powerplant to a single General Electric J35(Allison J35), which depending on the variant Lockheed picked, could produce about 3,820-7,200 lbf of thrust before finally settling on twin Westinghouse J34-WE-15 turbojets which produce a total thrust of 8,200 lbf giving the aircraft a thrust to weight ratio of 0.30.
Strangely, when Lockheed picked the J34-WE-15 as the powerplant of the XF-90, afterburners were not initially used, but it was quickly discovered that by not including afterburners, the XF-90 lacked the thrust for RATO (rocket-assisted takeoff) as RATO capabilities were required for most of the first flights of any jet-powered military aircraft unless the aircraft carried a very low fuel load, so in response, Lockheed added afterburners, but despite the addition of afterburners it was still not enough to fix the underpowered nature of the aircraft.
Historical Specifications:
General characteristics:
Crew: one
Length: 56 ft 2 in (17.12 m)
Wingspan: 40 ft 0 in (12.20 m)
Height: 15 ft 9 in (4.80 m)
Empty weight: 18,050 lb (8,204 kg)
Loaded weight: 27,200 lb (12,363 kg)
Max. takeoff weight: 31,060 lb (14,118 kg)
Powerplant: 2 × Westinghouse J34-WE-15 turbojets, 4,100 lbf each
Maximum speed: 665 mph (1,064 km/h)
Range: 2,300 mi (3,680 km)
Service ceiling: 39,000 ft (11,890 m)
Rate of climb: 5,555 ft/min (28.2 m/s)
Thrust/weight: 0.30
Armament:
6 × 20 mm (.79 in) cannons, 8 × 5 in (127 mm) HVAR rockets and up to 2,000 lb (907 kg) of bombs
Historical inaccuracies:
one of its historical weapons, the 8 × 5 in (127 mm) HVAR rockets are missing
the XF-90 was designed to be a Penetration Fighter as well as being a bomber escort, it was never designed to be a Heavy Fighter
Sources and External Links