Container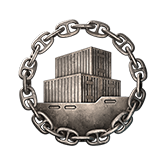 A Container is a box (think shipping container) with one or more rewards inside. Containers can be obtained in a number of different ways, depending on the type of container. This feature becomes available to captains starting at Account Level 4.[1]

Sources
Containers can be collected from a variety of sources, including:
Up to three daily containers, based on net XP earned.
Events and their associated missions.
Campaigns.
Operations rewards.
Some collections.
Daily Shipments.
Premium Shop sales.
Daily containers
Daily containers of known type are also called 'standard' containers. It is possible to obtain a few standard containers by means other than daily XP earnings.
Earning
Players are able to collect up to three Daily Containers per day by earning XP in battles. For the purposes of these containers, a 'day' is the 24-hour period (usually) beginning and ending at 3:00 AM local time. XP from battles is counted at the time the battle ends. During the 'day' modified XP accumulates and earns daily containers.
First container: 2,000 XP
Second container: 12,500 XP (10,500 XP more)
Third container: 37,000 XP (24,500 XP more)
Note: Containers are earned by modified XP, not by base XP. Bonuses from a Premium Account, camouflage, signals, first-win bonus, and so forth count towards the total.
Collecting
Newly earned daily containers are not yet typed. When each is earned the player may select the type of container by collecting it. To collect, click on the "Containers" button in the port screen. The Containers screen opens. Click the Collect Container button, then select the desired option.
Collected (or pre-typed) containers can be opened at any time: On the Containers screen click the Open Container button.
If a captain accumulates 1000 unopened containers, adding more will cause the oldest containers to be opened automatically.
At the beginning of next the day, uncollected containers are automatically collected and randomly typed (Try Your Luck cannot occur randomly). The XP accumulator is then reset.
When three or more typed containers accumulate, the option to open them all simultaneously is offered.
Container types
There are five types of daily containers. When a container is collected manually, the player may choose the type:
More Credits
Three items:
50,000 Credits.
50,000 Credits, 3x standard signals, or 400 Coal.
50,000 Credits, 3x standard signals, 2x Type 5 camouflages, or 500 Free XP (FXP).
More Signals and Camouflages
Three items:
4x standard signals.
4x standard signals, 5x Type 1 or 2 camouflages, 2x Type 5 camouflages, 500 FXP, or 400 Coal.
The same possibilities as the second item.
More Consumables
Three items.
3x Damage Control Party II (DCP).
3x premium consumables of most types (not DCP).
50,000 Credits, 3x standard signals, 5x Type 1 or 2 camouflages, 2x Type 5 camouflages, 500 FXP, or 400 Coal.
More Resources
Three items.
400 Coal
400 Coal, 500 FXP, or 3x Equal Speed Charlie London signals.
400 Coal, 500 FXP, or 3x signals (Hotel Yankee, November Foxtrot, Juliet Charlie, Zulu, Zulu Hotel, or Papa Papa).
Try Your Luck
Each daily container has a chance to become a Super Container when manually collected. The Try Your Luck option is twice as likely to produce a Super Container. If one is not produced the award is one of the following:
4x non-special signals (most common)
2x Type 5 camouflages
2x consumable camouflages (not Type 1, 2, or 5)
750 Free XP
75,000 Credits
900 Coal
Additional rewards
Port Slots
Rarely, a Port Slot may occur as Item 2 or 3. (Thus, not in a Try Your Luck container.)
Collection items
Elements of active collections may appear in standard containers. This is in addition to the above rewards. Note that only some collections are eligible for this, and only one collection at a time can be active.
Patches
There is a chance for a Patch symbol or background to appear in a standard container in addition to the above rewards. A duplicate grants 15,000 Credits instead.
Super Containers
Super Containers hold much more valuable rewards than standard containers. Every collected daily container has a small chance (~1.5%) to become a Super Container. Super Containers are occasionally awarded directly. Possible contents include:
100x standard signals;
25x, 50x, or 100x special signals;
50x camouflages;
50,000 or 100,000 Free XP;
1,000 or 2,500 Doubloons;
15,000 Coal;
1,500 Steel;
7, 14, or 30 days Premium account;
A premium ship, with a 10 point commander and a port slot,
The more valuable the item (e.g. premium ship), the less likely it is to occur. The same rule applies for the amount: 1,000 Doubloons is received more often than 2,500 Doubloons, 25x than 100x special signals, etc.
Ships from a Container
A player's ships are taken into account when a container is collected. If a container includes a Premium ship that the player already possesses, it is replaced by another randomly-selected ship. The player that already possesses all ships obtained via containers receives Doubloons equal to the price of the ship in the collected container. [2]
Special containers
Events may introduce special, limited-time types of containers. Many contain items for a specific Collection.
Christmas 2016
Included Gremyashchy and Imperator Nikolai I .
These were introduced in the The Hunt for Bismarck campaign.
Standard Bismarck containers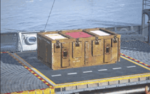 Can be bought in lots of 5 for 5,000 Coal in the Arsenal.
They were originally awarded for completing standard tasks in the Bismarck campaign. In January 2018 they were awarded during weekend combat missions.
Big Bismarck containers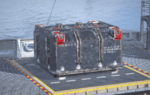 These contain the following:
They were originally awarded for HMS Hood-exclusive tasks in the Bismarck campaign. They were also available for sale in the Premium shop during the campaign, and (at least on some servers) again during January 2018.
Dunkirk
Can be bought in lots of 5 for 5,000 Coal in the Arsenal.
1x of one special signal
2 items from the Dunkirk collection
Yamamoto
Each container contains the following:
Halloween
Christmas 2017
Battle of the North Cape
Each container contains the following:
3x Frosty Fir Tree camo
25x Zulu, Papa Papa, or Juliet Charlie signals
These were awarded for completing final tasks and Duke of York-specific tasks in the Battle of the North Cape campaign, as well as regular tasks in the New Year's Raid campaign of December 2017-January 2018.
High School Fleet
Vive La France
Can be bought in lots of 5 for 5,000 Coal in the Arsenal.
3x Revolutionary camo
5x of one special signal
1 item from the French Collection
Notes
↑ First introduced in Update 0.5.13, Daily Containers as a daily reward system replace the earlier daily missions.
↑ See Update 0.5.15 for more information.