Hermelin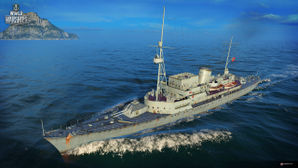 Tech Tree Position
128 mm L/61 SK C/42
2 х 2 

pcs.
Rate of Fire
15 

shots/min.
Reload Time
4 

sec.
Rotation Speed
10 

deg./sec.
180 Degree Turn Time
18 

sec.
Firing Range
8.96 

km.
Maximum Dispersion
88 

m.
HE Shell
128 mm Spr.Gr. L/4.5 
Maximum HE Shell Damage
900 
Chance of Fire on Target Caused by HE Shell
5 

%
Initial HE Shell Velocity
900 

m./s.
HE Shell Weight
26 

kg.
128 mm L/61 SK C/42
2 х 2 

pcs.
. . . Average Damage per Second
2.48 
. . . Firing Range
5.19 

km.
37 mm Flakzwilling 30
3 х 2 

pcs.
. . . Average Damage per Second
0.6 
. . . Firing Range
0.9 

km.
20 mm Flakzwilling 38
2 х 2 

pcs.
. . . Average Damage per Second
0.84 
. . . Firing Range
0.6 

km.
Maximum Speed
24 

knot
Turning Circle Radius
360 

m.
Rudder Shift Time
3.3 

sec.
Surface Detectability Range
8.64 

km.
Air Detectability Range
5.96 

km.
Battle Levels
Hermelin — German Tier I cruiser.
A large armored gunboat capable of operating on the high seas, intended for colonial service. Besides her powerful armament, Hermelin was also noted for her high speed, uncommon for this ship type.
Modules
Compatible Upgrades
Player Opinion
Performance
The Hermelin in the introduction to the German mindset of building cruisers, valuing accurate, fast firing guns capable of laying down withering barrages of fire any enemy ship they set their sights on. The guns are 128mm which are actually larger then the guns on following ships up until mid tier.
The main draw back of the Hermelin is that it's large box silhouette gives it the highest detectability of any tier 1 ship, and is basically a floating Citadel with guns, with even HE rounds have a good chance to get through, let alone AP. While it's anti aircraft is bar none the best of any tier 1 ship by a large margin the odds of getting into a battle with the lowest tier of aircraft carrier (tier 4) is slim to none, even then in such a battle with slow easily citadeled ship, aircraft are the least of it's worries.
Pros:
Fast fire rate and shell type switch times.
Accurate fairly damaging 128mm guns.
Best AA out of any Tier 1 ship.
Cons:
Somewhat sluggish and slow to turn.
Lackluster turret traverse speed.
Floating citadel that even HE shells can get often enough.
AA is great but will rarely if ever find itself in a game to make use of it.
Research
The Hermelin has only one upgrade, it's second gun for a pittance of experience, easily bought with free exp. Said second guns improve it's turret traverse speed and rate of fire, so is a good buy.
Gallery