Yorck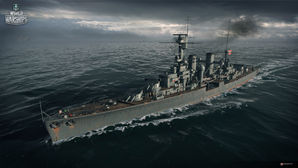 Tech Tree Position
210 mm L/45 SK L/45
4 х 2 

pcs.
Rate of Fire
5 

shots/min.
Reload Time
12 

sec.
Rotation Speed
5.2 

deg./sec.
180 Degree Turn Time
34.62 

sec.
Firing Range
15.75 

km.
Maximum Dispersion
141 

m.
HE Shell
210 mm Spr.Gr. L/4.3 Bdz. 
Maximum HE Shell Damage
2,900 
Chance of Fire on Target Caused by HE Shell
12 

%
Initial HE Shell Velocity
900 

m./s.
HE Shell Weight
113.5 

kg.
AP Shell
210 mm P.Spr.Gr. L/3.1 
Maximum AP Shell Damage
5,500 
Initial AP Shell Velocity
900 

m./s.
AP Shell Weight
108 

kg.
88 mm L/76 Dop. L. C/32
4 х 2 

pcs.
Firing Range
4.5 

km.
Rate of Fire
15 

shots/min.
Reload Time
4 

sec.
HE Shell
88 mm Spr.Gr. 
Maximum HE Shell Damage
1,000 
Initial HE Shell Velocity
950 

m./s.
Chance of Fire on Target Caused by HE Shel
4 

%
533 mm Drilling
4 х 3 

pcs.
Rate of Fire
0.88 

shots/min.
Reload Time
68 

sec.
Rotation Speed
25 

deg./sec.
180 Degree Turn Time
7.2 

sec.
Torpedo
G7a T1 
Maximum Damage
13,700 
Torpedo Speed
64 

knot
Torpedo Range
6 

km.
20 mm Flakzwilling 38
6 х 2 

pcs.
. . . Average Damage per Second
25.2 
. . . Firing Range
2.01 

km.
20 mm Flak 38
2 х 1 

pcs.
. . . Average Damage per Second
6 
. . . Firing Range
2.01 

km.
40 mm L/56 Flak 28
6 х 1 

pcs.
. . . Average Damage per Second
45 
. . . Firing Range
3.51 

km.
20 mm Flak 38
8 х 1 

pcs.
. . . Average Damage per Second
24 
. . . Firing Range
2.01 

km.
88 mm L/76 Dop. L. C/32
4 х 2 

pcs.
. . . Average Damage per Second
32.4 
. . . Firing Range
3.99 

km.
Maximum Speed
32 

knot
Turning Circle Radius
650 

m.
Rudder Shift Time
11.4 

sec.
Surface Detectability Range
13.86 

km.
Air Detectability Range
7.41 

km.
Battle Levels
Yorck — German Tier VII cruiser.
Owing to her well-balanced characteristics, the ship surpassed the first generation cruisers of her time, that were subject to the Washington Naval Treaty, in terms of protection, and light cruisers in terms of artillery power.


Modules
Compatible Upgrades
 Slot 1 
 Slot 2 
 Slot 3 
 Slot 4 
Player Opinion
Performance
The first heavy cruiser of the German line, Yorck is a radical change from her predecessors at Tiers V and VI... so much so that she is often a badly maligned and misunderstood ship.
New Yorck captains will immediately notice the change in the main battery. Königsberg and Nürnberg both sport nine 150mm guns; Yorck's battery is comprised of eight 210mm rifles. She fires twice as slowly as Nürnberg as well, which requires some adjustment. Her 210mm shells, however, have greatly improved damage performance over the 150mm ones of her predecessors, particularly the high explosive shells. Indeed, Yorck has the best HE shell performance of the entire German cruiser line with a base damage of 2,900 points and a 12% fire chance.
One of the habits that new Yorck captains must break early is the habit of firing armor piercing rounds at long ranges. The ballistic performance of her AP shells drops off sharply at ranges past 10km; so sharply, in fact, that even landing shells on targets beyond such range is extremely challenging. Inside of 10km, the AP shell performance is much more reliable and they can be used to punish broadside cruisers and battleships as veterans of Königsberg and Nürnberg would expect. Outside that range, Yorck captains will find themselves firing primarily HE rounds for most of a match, which is a very significant change from the habits they learned at Tiers V and VI. Additionally, Yorck's armor is somewhat better than Nürnberg, as befitting her heavy cruiser status. She is still prone to citadel hits when broadside, but is the first German cruiser to feature the turtleback armor scheme that makes them more difficult to citadel at medium and close range (particularly when well-angled against incoming fire).
In her stock configuration, Yorck finds herself with a default firing range equal to or longer than that of her American, British, and Japanese contemporaries (Pensacola, Fiji and Myoko, respectively). Only the French Algérie exceeds her 17.3km range when fully upgraded. Her anti-aircraft suite is solid if unremarkable; her quick rudder shift, small turning circle, and compact overall length combine to make her a difficult target for enemy bomber aircraft.
On the whole,
Yorck
is one of the better Tier VII cruisers available for captains who are willing to take the time to learn to adapt their play style to the ship and not attempt to force the ship into a play style it is ill-suited for.
Pros:
Unrivaled range for a cruiser at her tier.
Excellent handling characteristics; relatively fast rudder shift and small turning radius.
Good damage on AP shells.
Improved armor and German turtleback armor scheme give her a modicum of additional survivability.
Fast reload time for a heavy cruiser (12 seconds).
Has reasonable concealment.
Has access to the German Hydroacoustic Search () consumable.
Cons:
Fairly slow turret traverse.
Armor — despite being improved over that of Nürnberg — still cannot take much punishment, and sometimes HE shells will deal more damage than expected.
Average health pool amongst her contemporaries.
Anti-aircraft suite is sufficient, but unremarkable.
AP shells are lighter than HE shells and lose velocity faster, making them harder to aim.
AP shells also have poor penetration for their caliber and are only reliable at short range (less than 8km).
Research
Availability of researchable upgrades for Yorck is as follows:
Hull: Upgrade to Hull (B) for additional health and more anti-aircraft protection. Research of this module unlocks progression to Admiral Hipper.
Gun Fire Control System: Upgrade to FKS Typ 7 Mod. 2 for an extra 10% range on the main battery.
Given the range advantage that stock
Yorck
already enjoys, Hull (B) is the best place to invest initial experience gains. The extra health will improve her survivability greatly.
Optimal Configuration
Upgrades
The recommended upgrades for Yorck are as follows:
Upgrade Slot 3 offers three interesting choices: Aiming Systems Modification 1 (

), AA Guns Modification 2 (

), or Main Battery Modification 2 (which, when combined with Expert Marksman drops her turret traverse under 27 seconds for 180 degree turn time). Ultimately this is captain's choice, but Main Battery Modification 2 is recommended so that Yorck can keep her guns on target while actively maneuvering.
Commander Skills
Of all the cruisers in the German line, Yorck will benefit most from Demolition Expert at Level 3 given how frequently she will find herself firing HE shells. Expert Marksman is a must at Level 2, and Concealment Expert is highly recommended at Level 4.
Recommended Commander Skills
Cost
(points)

Endurance

Attack

Support

Versatility



1

★★★

 

★

 

★

 

★★

 



2

★★

★

★★★

 

 

 

★★

★



3

★

 

 

 

★★

★★

★★★

★



4

 

★

 

 

★★

★

 

★★★

Key: ★★★ - Extremely Useful       ★★ - Frequently Useful       ★ - Occasionally Useful      No stars - Not Useful
Consumables
Yorck can equip the following consumables:
Camouflage
Type 1, 2, or 5 camouflage can be equipped for credits; Types 2 or 5 are recommended at a minimum to reduce the accuracy of incoming shells.
Players who wish to spend doubloons can equip Yorck with Type 17 camouflage that lowers her detection radius, reduces the accuracy of incoming shells, reduces her repair costs, and increases the amount of experience she earns.
Signals
More than any other German cruiser, Yorck will benefit from Victor Lima (

) and India X-Ray (

) to boost her fire chance. Sierra Mike (

) helps alleviate some of her deficiencies in top speed compared to her contemporaries, and Equal Speed Charlie London (

) and Red Dragon (

) will speed up the unlocking of upgraded modules and Admiral Hipper.
Recommended Signal Flags
Combat

★

 

★★★

 

★★★

 

★★

★★★

 

 

★★

★

Economic

 

 

★★★

★

 

Special

 

★★

★

 

★

Key: ★★★ - Extremely Useful       ★★ - Frequently Useful       ★ - Occasionally Useful      No stars - Not Useful
Gallery