Type 97 Chi-Ha
Chi_Ha (Stock)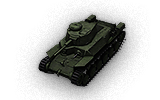 Totals
45000
Cost
320 HP
Durability
15.04 / 18
Weight
Crew
Commander
Gunner (Loader)
Driver
Radio Operator
Armor
25/25/20
Hull Armor

(front/sides/rear, mm)
35/25/25
Turret Armor

(front/sides/rear, mm)
Maneuver
170 h.p.
Engine Power
40 km/h
Top Speed / Reverse Speed
30 deg/s
Traverse Speed
Firepower
90
damage
29.6 mm
Average Penetration
8
Time for Complete Loading
30 deg/s
Gun Traverse Speed
Communication
220 m
View Range
500 m
Signal Range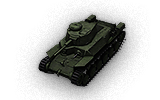 Developed by Mitsubishi from 1935 through 1937. The vehicle was mass-produced from 1938 through 1942, alongside an upgraded Shinhoto Chi-Ha from 1941 through 1942. A total of 1,220 vehicles of both types were manufactured. The Chi-Ha and the Shinhoto Chi-Ha tanks were widely used by Japanese forces in China, the Pacific Theater, and the Kuril Islands. After the surrender of Japan, these vehicles were used by both PLA and Kuomintang forces in the Chinese Civil War from 1946 through 1949.


Turret
| Level | Turret | Turret Armor (front/sides/rear, mm) | Gun Traverse Speed (deg/s) | View Range (m) | Experience | Weight (t) |
| --- | --- | --- | --- | --- | --- | --- |
| II | Type 97 Chi-Ha | 35/25/25 | 30 | 220 | 0 | 1300 |
| Level | Gun | Average Penetration (mm) | | Rate of Fire | Dispersion at 100 m | Aiming Time | Experience | Weight (t) |
| --- | --- | --- | --- | --- | --- | --- | --- | --- |
| II | 5.7 cm Gun Type 97 | 29.6/55/28 | 90/90/110 | 7.5 | 0.5 | 2.3 | 0 | 150 |
| III | 37 mm Gun Type 100 | 48.1/68.7/18 | 40/40/50 | 20 | 0.37 | 1.7 | 350 | 206 |
| III | 37 mm Gun Type 1 | 58/73/19 | 40/40/50 | 20 | 0.36 | 1.7 | 830 | 223 |
| Level | Turret | Turret Armor (front/sides/rear, mm) | Gun Traverse Speed (deg/s) | View Range (m) | Experience | Weight (t) |
| --- | --- | --- | --- | --- | --- | --- |
| III | Type 97 Chi-Ha Shinhoto | 35/25/25 | 30 | 230 | 510 | 1839 |
| Level | Gun | Average Penetration (mm) | | Rate of Fire | Dispersion at 100 m | Aiming Time | Experience | Weight (t) |
| --- | --- | --- | --- | --- | --- | --- | --- | --- |
| II | 5.7 cm Gun Type 97 | 29.6/55/28 | 90/90/110 | 7.5 | 0.5 | 2.3 | 0 | 150 |
| III | 37 mm Gun Type 100 | 48.1/68.7/18 | 40/40/50 | 20 | 0.37 | 1.5 | 350 | 206 |
| III | 37 mm Gun Type 1 | 58/73/19 | 40/40/50 | 20 | 0.36 | 1.5 | 830 | 223 |
| IV | 47 mm Gun Type 1 | 81/122/25 | 60/60/75 | 15.38 | 0.39 | 1.8 | 1800 | 411 |

Engine
| Level | Engine | Engine Power (h.p.) | Chance of Fire on Impact | Experience | Weight (t) |
| --- | --- | --- | --- | --- | --- |
| III | Mitsubishi SA12200VD | 170 | 15 | 0 | 650 |
| IV | Type 100 Kuurei V-12 | 240 | 15 | 1280 | 630 |
| IV | Type 100 Suirei V-12 | 200 | 15 | 1050 | 630 |

| Level | Suspension | Load Limit | Traverse Speed (deg/s) | Experience | Weight (t) |
| --- | --- | --- | --- | --- | --- |
| II | Type 97 Chi-Ha | 18 | 30 | 0 | 5000 |

Radio
| Level | Radio | Signal Range (m) | Experience | Weight (t) |
| --- | --- | --- | --- | --- |
| IV | _Type94_Hei_JP | 500 | 0 | 90 |
Compatible Equipment
















Compatible Consumables
History for this tank not found
ja:Blitz:Chi Ha