Cruiser Mk. III
GB58_Cruiser_Mk_III (Stock)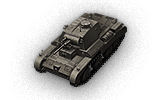 Totals
3800
Cost
200 HP
Durability
14.25 / 17
Weight
Crew
Commander
Radio Operator
Gunner
Driver
Loader
Armor
14/14/14
Hull Armor

(front/sides/rear, mm)
14/14/14
Turret Armor

(front/sides/rear, mm)
Maneuver
340 h.p.
Engine Power
48 km/h
Top Speed / Reverse Speed
38 deg/s
Traverse Speed
Firepower
45
damage
64 mm
Average Penetration
3.83
Time for Complete Loading
46 deg/s
Gun Traverse Speed
Communication
230 m
View Range
500 m
Signal Range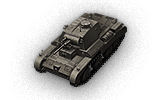 The vehicle was developed on the basis of the M1931 Christie tanks, purchased by the British Army in 1936. The vehicle was intended to be a fast, lightly-armored breakthrough tank. The modified design was deemed successful and became the basis for other cruiser tanks. A total of 65 vehicles were built. They saw combat in France and North Africa in 1940–1941.


Turret
| Level | Turret | Turret Armor (front/sides/rear, mm) | Gun Traverse Speed (deg/s) | View Range (m) | Experience | Weight (t) |
| --- | --- | --- | --- | --- | --- | --- |
| I | Cruiser Mk. III | 14/14/14 | 46 | 230 | 0 | 2250 |
| Level | Gun | Average Penetration (mm) | | Rate of Fire | Dispersion at 100 m | Aiming Time | Experience | Weight (t) |
| --- | --- | --- | --- | --- | --- | --- | --- | --- |
| III | QF 2-pdr Mk. IX | 64/121/12 | 45/45/60 | 15.67 | 0.36 | 2.3 | 0 | 130 |
| IV | 40 mm Pom-Pom | 49/71/12 | 45/45/60 | 17.56 | 0.48 | 2.3 | 1800 | 160 |
| Level | Turret | Turret Armor (front/sides/rear, mm) | Gun Traverse Speed (deg/s) | View Range (m) | Experience | Weight (t) |
| --- | --- | --- | --- | --- | --- | --- |
| II | Cruiser Mk. III* | 14/12/14 | 42 | 230 | 180 | 2500 |
| Level | Gun | Average Penetration (mm) | | Rate of Fire | Dispersion at 100 m | Aiming Time | Experience | Weight (t) |
| --- | --- | --- | --- | --- | --- | --- | --- | --- |
| III | QF 2-pdr Mk. IX | 64/121/12 | 45/45/60 | 15.67 | 0.36 | 1.9 | 0 | 130 |
| IV | 40 mm Pom-Pom | 49/71/12 | 45/45/60 | 17.56 | 0.48 | 1.9 | 1800 | 160 |

Engine
| Level | Engine | Engine Power (h.p.) | Chance of Fire on Impact | Experience | Weight (t) |
| --- | --- | --- | --- | --- | --- |
| III | Nuffield Liberty Mk. II | 340 | 20 | 0 | 383 |

| Level | Suspension | Load Limit | Traverse Speed (deg/s) | Experience | Weight (t) |
| --- | --- | --- | --- | --- | --- |
| I | Cruiser Mk. III | 17 | 38 | 0 | 4500 |

Radio
| Level | Radio | Signal Range (m) | Experience | Weight (t) |
| --- | --- | --- | --- | --- |
| III | N11 | 500 | 0 | 40 |
Compatible Equipment
















Compatible Consumables
History for this tank not found
ja:Blitz:GB58 Cruiser Mk III