Type 95 Ha-Go
Ha_Go (Stock)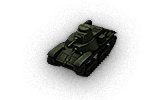 Totals
3000
Cost
220 HP
Durability
7.34 / 10.1
Weight
Crew
Commander
Gunner
Loader
Driver
Radio Operator
Armor
12/12/10
Hull Armor

(front/sides/rear, mm)
12/12/12
Turret Armor

(front/sides/rear, mm)
Maneuver
135 h.p.
Engine Power
40 km/h
Top Speed / Reverse Speed
44 deg/s
Traverse Speed
Firepower
40
damage
32.8 mm
Average Penetration
3.8
Time for Complete Loading
36 deg/s
Gun Traverse Speed
Communication
220 m
View Range
500 m
Signal Range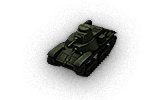 Japanese light tank also known as the Type 95. Developed from 1933 through 1935 as a cavalry support vehicle. However, the tank was often used to support infantry. The first prototype was built by Mitsubishi. The vehicle entered mass production in 1936, and a total of 2,378 vehicles were manufactured through 1943.


Turret
| Level | Turret | Turret Armor (front/sides/rear, mm) | Gun Traverse Speed (deg/s) | View Range (m) | Experience | Weight (t) |
| --- | --- | --- | --- | --- | --- | --- |
| II | Type 95 Ha-Go | 12/12/12 | 36 | 220 | 0 | 600 |
| Level | Gun | Average Penetration (mm) | | Rate of Fire | Dispersion at 100 m | Aiming Time | Experience | Weight (t) |
| --- | --- | --- | --- | --- | --- | --- | --- | --- |
| I | 37 mm Gun Type 94 | 32.8/51.7/18 | 40/40/50 | 15.79 | 0.39 | 2.1 | 0 | 185 |
| II | 5.7 cm Gun Type 97 | 29.6/55/28 | 90/90/110 | 9.38 | 0.47 | 2.3 | 250 | 150 |
| II | 37 mm Gun Type 98 | 40.4/59.4/18 | 40/40/50 | 17.14 | 0.37 | 1.9 | 190 | 192 |
| Level | Turret | Turret Armor (front/sides/rear, mm) | Gun Traverse Speed (deg/s) | View Range (m) | Experience | Weight (t) |
| --- | --- | --- | --- | --- | --- | --- |
| II | Type 4 Ke-Nu | 35/25/25 | 36 | 220 | 210 | 1300 |
| Level | Gun | Average Penetration (mm) | | Rate of Fire | Dispersion at 100 m | Aiming Time | Experience | Weight (t) |
| --- | --- | --- | --- | --- | --- | --- | --- | --- |
| I | 37 mm Gun Type 94 | 32.8/51.7/18 | 40/40/50 | 15.79 | 0.39 | 1.9 | 0 | 185 |
| II | 5.7 cm Gun Type 97 | 29.6/55/28 | 90/90/110 | 9.38 | 0.47 | 2.1 | 250 | 150 |
| II | 37 mm Gun Type 98 | 40.4/59.4/18 | 40/40/50 | 17.14 | 0.37 | 1.7 | 190 | 192 |

Engine
| Level | Engine | Engine Power (h.p.) | Chance of Fire on Impact | Experience | Weight (t) |
| --- | --- | --- | --- | --- | --- |
| III | Mitsubishi A6120VDe S | 135 | 15 | 0 | 630 |

| Level | Suspension | Load Limit | Traverse Speed (deg/s) | Experience | Weight (t) |
| --- | --- | --- | --- | --- | --- |
| II | Type 95 Ha-Go | 10.1 | 44 | 0 | 2500 |

Radio
| Level | Radio | Signal Range (m) | Experience | Weight (t) |
| --- | --- | --- | --- | --- |
| III | _Type94_Otsu | 500 | 0 | 40 |
Compatible Equipment














Compatible Consumables
History for this tank not found
de:Blitz:Ha Go
ja:Blitz:Ha Go