8,8 cm Pak 43 Jagdtiger
JagdTiger_SdKfz_185 (Stock)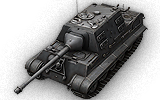 Totals
7400
Cost
1400 HP
Durability
69.68 / 74.85
Weight
Crew
Commander
Radio Operator
Driver
Gunner
Loader
Loader
Armor
250/80/80
Hull Armor

(front/sides/rear, mm)
80/80/80
Turret Armor

(front/sides/rear, mm)
Maneuver
700 h.p.
Engine Power
38 km/h
Top Speed / Reverse Speed
29 deg/s
Traverse Speed
Firepower
220
damage
203 mm
Average Penetration
4.9
Time for Complete Loading
26 deg/s
Gun Traverse Speed
Communication
250 m
View Range
500 m
Signal Range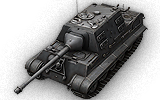 In 1945, the production order for the Jagdtiger was increased, and the supply of compatible guns became insufficient. As a result, approximately 20 vehicles were equipped with the 8,8 cm PaK 43 L/71 gun.
The JadgTiger SdKfz 185 is a tank that sold in a bundle from March 20, 2015 to April 10, 2015. It has 250 millimeters of frontal armor, and 90 millimeters of side and rear armor. It has preferred matchmaking, meaning it can only see up to tier 9 battles in the worst cases.

Gun
| Level | Gun | Average Penetration (mm) | | Rate of Fire | Dispersion at 100 m | Aiming Time | Experience | Weight (t) |
| --- | --- | --- | --- | --- | --- | --- | --- | --- |
| VIII | 8,8 cm Pak 43 L/71 | 203/237/44 | 220/220/270 | 12.24 | 0.31 | 2 | 0 | 2562 |

Engine
| Level | Engine | Engine Power (h.p.) | Chance of Fire on Impact | Experience | Weight (t) |
| --- | --- | --- | --- | --- | --- |
| VII | Maybach HL 230 P30 | 700 | 20 | 0 | 1200 |

| Level | Suspension | Load Limit | Traverse Speed (deg/s) | Experience | Weight (t) |
| --- | --- | --- | --- | --- | --- |
| VIII | Jagdtiger 8,8 | 74.85 | 29 | 0 | 18000 |

Radio
| Level | Radio | Signal Range (m) | Experience | Weight (t) |
| --- | --- | --- | --- | --- |
| VI | FuG7A_GER | 500 | 0 | 70 |
Compatible Equipment






















Compatible Consumables
History for this tank not found
ko:Blitz:JagdTiger SdKfz 185
ja:Blitz:JagdTiger SdKfz 185