Renault Otsu
NC27 (Stock)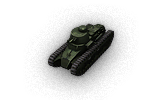 Totals
0
Cost
125 HP
Durability
8.4 / 10.5
Weight
Crew
Commander
Gunner
Radio Operator
Loader
Driver
Armor
30/30/22
Hull Armor

(front/sides/rear, mm)
18/18/16
Turret Armor

(front/sides/rear, mm)
Maneuver
75 h.p.
Engine Power
23 km/h
Top Speed / Reverse Speed
36 deg/s
Traverse Speed
Firepower
40
damage
29 mm
Average Penetration
3.9
Time for Complete Loading
24 deg/s
Gun Traverse Speed
Communication
200 m
View Range
500 m
Signal Range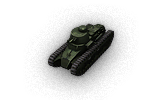 Developed from 1925 through 1928 in France as an upgraded modification of the Renault FT. The modernization project was finished and the vehicle saw mass production. In 1929, a total of 10 vehicles were purchased by Japan and were designated the Otsu-Gata Sensha (Tank B Model). The Japanese vehicles were slightly modernized and were widely used both in action and for training purposes.


Turret
| Level | Turret | Turret Armor (front/sides/rear, mm) | Gun Traverse Speed (deg/s) | View Range (m) | Experience | Weight (t) |
| --- | --- | --- | --- | --- | --- | --- |
| I | Renault Kou | 18/18/16 | 24 | 200 | 0 | 170 |
| Level | Gun | Average Penetration (mm) | | Rate of Fire | Dispersion at 100 m | Aiming Time | Experience | Weight (t) |
| --- | --- | --- | --- | --- | --- | --- | --- | --- |
| I | 13 mm Autocannon Type Ho | 23/36/18 | 8/8/50 | 69.95 | 0.52 | 2 | 110 | 38 |
| I | 37 mm APX SA18 | 29/46/18 | 40/40/50 | 15.38 | 0.54 | 2.3 | 0 | 100 |
| Level | Turret | Turret Armor (front/sides/rear, mm) | Gun Traverse Speed (deg/s) | View Range (m) | Experience | Weight (t) |
| --- | --- | --- | --- | --- | --- | --- |
| II | Renault Otsu | 20/20/20 | 24 | 210 | 190 | 200 |
| Level | Gun | Average Penetration (mm) | | Rate of Fire | Dispersion at 100 m | Aiming Time | Experience | Weight (t) |
| --- | --- | --- | --- | --- | --- | --- | --- | --- |
| I | 13 mm Autocannon Type Ho | 23/36/18 | 8/8/50 | 69.95 | 0.52 | 2 | 110 | 38 |
| I | 37 mm Sogekihou | 32.8/48.6/18 | 40/40/50 | 15.79 | 0.46 | 2.3 | 110 | 175 |
| I | 37 mm APX SA18 | 29/46/18 | 40/40/50 | 15.38 | 0.54 | 2.3 | 0 | 100 |

Engine
| Level | Engine | Engine Power (h.p.) | Chance of Fire on Impact | Experience | Weight (t) |
| --- | --- | --- | --- | --- | --- |
| II | Mitsubishi A475VD | 75 | 15 | 0 | 650 |

| Level | Suspension | Load Limit | Traverse Speed (deg/s) | Experience | Weight (t) |
| --- | --- | --- | --- | --- | --- |
| I | Renault NC-27 | 10.5 | 36 | 0 | 2600 |

Radio
| Level | Radio | Signal Range (m) | Experience | Weight (t) |
| --- | --- | --- | --- | --- |
| I | Alarm_flags_JP | 500 | 0 | 1 |
Compatible Equipment














Compatible Consumables
History for this tank not found
ja:Blitz:NC27