Object 263
Object263 (Stock)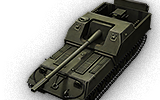 Totals
6100000
Cost
1750 HP
Durability
60.01 / 62.5
Weight
Crew
Commander
Radio Operator
Gunner
Driver
Loader
Loader
Armor
250/80/50
Hull Armor

(front/sides/rear, mm)
18/16/16
Turret Armor

(front/sides/rear, mm)
Maneuver
1050 h.p.
Engine Power
55 km/h
Top Speed / Reverse Speed
30 deg/s
Traverse Speed
Firepower
460
damage
290 mm
Average Penetration
8.5
Time for Complete Loading
26 deg/s
Gun Traverse Speed
Communication
255 m
View Range
500 m
Signal Range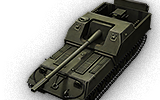 The development of a heavy tank destroyer on the basis of the IS-7 heavy tank was started in 1950. Three design projects were developed, one of which resulted in a full-size wooden prototype. However, further development was discontinued due to phasing out the IS-7 mass-production.
An overall excellent tank. The Object 263 is renowned in Tier X for its high mobility, fantastic accuracy (Second best Russian accuracy in World of Tanks Blitz), its high rate of fire, and excellent frontal armor. It is best used in the front line, as wiggling from side to side will bounce a variety of tier ten premium shells. However one must be cautious not to be flanked, as the sides and rear only have 75mm of armor, and thus are prone to High Explosive shells.

Gun
| Level | Gun | Average Penetration (mm) | | Rate of Fire | Dispersion at 100 m | Aiming Time | Experience | Weight (t) |
| --- | --- | --- | --- | --- | --- | --- | --- | --- |
| X | 130 mm S-70A | 290/330/75 | 460/460/600 | 7.06 | 0.32 | 2.3 | 0 | 2980 |

Engine
| Level | Engine | Engine Power (h.p.) | Chance of Fire on Impact | Experience | Weight (t) |
| --- | --- | --- | --- | --- | --- |
| X | M-50T | 1050 | 15 | 0 | 700 |

| Level | Suspension | Load Limit | Traverse Speed (deg/s) | Experience | Weight (t) |
| --- | --- | --- | --- | --- | --- |
| X | Object 263 | 62.5 | 30 | 0 | 11000 |

Radio
| Level | Radio | Signal Range (m) | Experience | Weight (t) |
| --- | --- | --- | --- | --- |
| X | _10RK-26 | 500 | 0 | 160 |
Compatible Equipment






















Compatible Consumables
Pros and Cons
Pros:
-Very good frontal armor--250 mm of steel angled severely mean about 300 mm of effective superstructure armor and a trollish gun mantlet
-Has one of the highest DPM's in the game (behind the Jagdtiger)--7.06 rounds per minute with 460 alpha damage
-Very mobile--can keep up with Russian mediums and, if necessary, join friendly mediums on a flank as the speed limit of around 50 km/h is excellent for a TD
-Second most accurate Russian gun in the game with a dispersion of 0.32, beaten by the T-62A's 0.28
-Excellent Armor Piercing penetration of 290
-Low profile means good camouflage ratings
Cons:
-Lower plate only has around 170 mm of armor, meaning it can be penetrated easily (though since it is just a small sliver on the front of the tank it is difficult to hit)
-Side and back armor is virtually nonexistent, and can be penetrated by nearly every 100mm or bigger High Explosive shell at tier ten
-Lowest stock hitpoints of any tier 10 tank in the game at 1750
-Ammo Rack is frequently damaged due to the fact that the shells are stacked along the weak sides (visible from picture)
-Premium APCR penetration of 330, while being sufficient, is not excellent for a Tank Destroyer
History for this tank not found
ko:Blitz:Object263
ja:Blitz:Object263