STB-1
ST_B1 (Stock)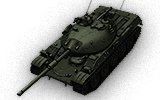 Totals
6100000
Cost
1850 HP
Durability
37.4 / 40
Weight
Crew
Commander
Radio Operator
Gunner
Driver
Loader
Armor
110/35/25
Hull Armor

(front/sides/rear, mm)
132/132/37
Turret Armor

(front/sides/rear, mm)
Maneuver
750 h.p.
Engine Power
53 km/h
Top Speed / Reverse Speed
52 deg/s
Traverse Speed
Firepower
350
damage
258 mm
Average Penetration
7.7
Time for Complete Loading
42 deg/s
Gun Traverse Speed
Communication
270 m
View Range
500 m
Signal Range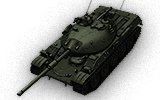 In the early 1960s, Mitsubishi started development of a new tank that complied with government requirements for armament and defense. The first two prototypes of the STB-1 were manufactured in September 1969 for trials. In 1970 the prototypes were shown to journalists and participated in a military parade.


Turret
| Level | Turret | Turret Armor (front/sides/rear, mm) | Gun Traverse Speed (deg/s) | View Range (m) | Experience | Weight (t) |
| --- | --- | --- | --- | --- | --- | --- |
| X | STB-1 | 132/132/37 | 42 | 270 | 0 | 9000 |
| Level | Gun | Average Penetration (mm) | | Rate of Fire | Dispersion at 100 m | Aiming Time | Experience | Weight (t) |
| --- | --- | --- | --- | --- | --- | --- | --- | --- |
| X | 105 mm Rifled Gun | 258/330/53 | 350/350/400 | 7.79 | 0.36 | 2.1 | 0 | 1150 |

Engine
| Level | Engine | Engine Power (h.p.) | Chance of Fire on Impact | Experience | Weight (t) |
| --- | --- | --- | --- | --- | --- |
| X | Mitsubishi 10ZF21WT | 750 | 12 | 0 | 2200 |

| Level | Suspension | Load Limit | Traverse Speed (deg/s) | Experience | Weight (t) |
| --- | --- | --- | --- | --- | --- |
| X | STB-1 | 40 | 52 | 0 | 12500 |

Radio
| Level | Radio | Signal Range (m) | Experience | Weight (t) |
| --- | --- | --- | --- | --- |
| X | _Type67 | 500 | 0 | 370 |
Compatible Equipment
























Compatible Consumables
History for this tank not found
ko:Blitz:ST B1
ja:Blitz:ST B1