T32
T32 (Stock)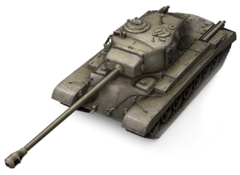 Totals
2610000
Cost
1400 HP
Durability
54.51 / 60.5
Weight
Crew
Commander
Gunner
Driver
Radio Operator
Loader
Loader
Armor
127/76/51
Hull Armor

(front/sides/rear, mm)
114/76.2/76.2
Turret Armor

(front/sides/rear, mm)
Maneuver
720 h.p.
Engine Power
35 km/h
Top Speed / Reverse Speed
20 deg/s
Traverse Speed
Firepower
225
damage
170 mm
Average Penetration
7.0690367920
Time for Complete Loading
20 deg/s
Gun Traverse Speed
Communication
250 m
View Range
500 m
Signal Range
An experimental World War II American heavy tank. Developed on the basis of the M26 Pershing and T29 tanks. Prototypes were built in 1946; however, the T32 never entered mass production.
The T32 is an American tier 8 heavy tank. Development of this tank started in February 1945. Four prototypes underwent trials from the spring of 1946 until the end of the year. Never saw mass production. The T32 is, compared to the earlier T29, a more balanced tank. Combining the still heavily-armored turret with more adequate hull armor, decent mobility, and a sleeker body, it is a tank that better controls what the enemy targets on it. Compared to other tanks of its tier, the T32's main weakness is the 105mm T5E1. Against the tier IX tanks which the T32 faces (and the T29 avoided), it lacks high penetrating power and thus this heavy tank can on occasion struggle in frontal engagements. The T32 excels when paired with or against medium and light tanks as either a hunter or a supporter for flanking and pushes, or against heavy tanks as a defensive bunker in primary lanes to slow pushes. The T32 enjoys 10° of gun depression and is an excellent hull-down tank. The T32 leads to the M103.
Compatible Equipment
Compatible Consumables
Pros and Cons
Pros:
Frontal turret armor + gun mantlet equates to roughly 600mm of armor which cannot be penetrated by any tank in the game
Good gun depression
Sufficient agility for a heavy tank
Improved armor thickness over the T29 allows for a few bounces if angled against lower tier or some equal-tier tanks.
Large tracks with some armor backing and no sponsons combined with a turret that's not too far forwards allows the T32 to sid
Cons:
The hull armor is not strong against TDs and tier IX guns
The stock turret is incredibly weak and invalidates hull-down tactics until upgraded
Penetration is sub-par for a tier 8 heavy and the T32 does not have enough speed to flank in its own lane
Rather noticeable commander's hatch which does not have much effective resistance in closeer combat and can negate the mantle
Performance
As stock, you can't expect much out of a T32. It has the health of a tier 7 as stock, absolutely dismal armor, and had virtually no sloping anywhere on the tank. The 90mm is insufficient at tier 8 and the 105mm cannot be mounted with the stock suspension. Therefore, it is highly recommended to get Enhanced Torsion Bars 5+ t Class. This will allow you to mount the 105mm. After you upgrade the suspension, you may remove it if you wish.
This tank is best played in one of two ways: as a aggressive brawler (against mediums or lone heavies) or as a support tank depending on the enemy you are fighting. One on one you want to usually get up close and abuse terrain or poor opponent depression using low profile and depression to hit enemy weakspots while moving diagonally in small amounts between shots to make it hard to hit your commanders hatch. However doing this is ill advised if there is another enemy that can easily flank you or is vastly more maneuverable (unless you can corner them in a area that limits their mobility like a alleyway). You may also play as support with this tank. Let your team take the hits and give them support. If necessary, your health is sufficient to take a few hits for your team so a teammate can live to see another shot. Avoid any opportunity to give your opponents a shot at your hull except for trackwheel baiting shots or sidescraping, and you will do well.
Early Research
The gun and engine over from the T29 and should be mounted right away.
Research the suspension first, you will not be able to mount the 105mm without it.
Next research the turret.
The successful employment of the heavily armored assault tank M4A3E2 in Europe during the Fall of 1944 emphasized the need for greater armor protection. On 7 December 1944, the Army Ground Forces recommended that the Ordnance Department develop a modification of the new Pershing tank with heavier armor, and the Army Services Forces directed that immediate action be taken to comply with this request. Two approaches were followed to solve the problem. The first produced essentially a standard Pershing with thicker armor and a lower final-drive gear ratio to maintain a reasonable level of mobility. This vehicle was designated as the heavy (later medium) tank T26E5. A longer range solution was to develop a new tank utilizing as many Pershing components as possible. On 8 February 1945, construction of four tank prototypes of such a vehicle was recommended and designated as the heavy tank T32. Formal approval for this project was recorded in March.
Technical info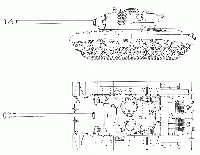 The design of the new tank proceeded on a high priority basis, and by 10 April 1945, a mock-up was almost complete and approximately 80 percent of the drawings for the first two prototypes had been released. A power package consisting of the Ford GAC V-12 engine and the cross-drive transmission similar to that planned for the heavy tank
T29
was incorporated into the design. As many Pershing components as possible were utilized, but an extra road wheel was added to the torsion bar suspension, bringing the total on each side to seven. The Pershing's 23-inch wide T80E1 tracks were fitted with the five-inch extended end-connectors to further reduce the ground pressure.
The high-velocity 90mm T15E2 gun with a single coaxial .30 caliber machine gun was specified for all four prototypes. This cannon used separated ammunition with a very long cartridge case, requiring a rearrangement of the interior stowage as compared to the Pershing. The 90mm T15E2 gun had a muzzle velocity of 3200 feet per second with the 24 pound AP T43 shot, and 3750 feet per second with the 16.7 pound HVAP T44 shot. The armor on the front hull was specified as five inches at 54 degrees from the vertical, and the turret varied in thickness from 11.75 inches in front to 6 inches in the rear. The front hull was cast for the first two prototypes and a .30 caliber machine gun was installed in a bow mount for the assistant driver. Both the driver and assistant driver had a single periscope fitted in the hatch cover over their seats.
Prototypes 3 and 4 were assembled using rolled armor plate on the front hull and the bow machine gun was omitted. On the latter two vehicles, the driver's wide angle periscopes were mounted in the front armor and their hatch covers were pivoted rather than hinged, allowing them to be opened without interference from the traversing turret. OCM 28680, on 9 August 1945, revised the military characteristics and recommended that prototypes 3 and 4 be designated as the heavy tank T32E1.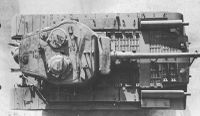 Prototypes 1 and 2 were completed on 15 January and 19 April 1946, respectively, and both were shipped to Aberdeen Proving Ground. Prototypes 3 and 4 (T32E1) were completed on 14 May and 19 June 1946. Number 3 was shipped to Fort Knox and the fourth vehicle was retained at Detroit Arsenal for engineering studies.
The T32 was the first tank with the cross-drive transmission to be tested at Aberdeen and Fort Knox and, as might be expected, a lot of problems were encountered. The early EX-120 version of the cross-drive had the usual teething troubles of an experimental design and required excessive maintenance to keep it going. However, it led directly to the development of the CD-850 series of cross-drive transmissions, which became the standard in American tanks.
T-series prototypes
The T29, T30, T32, and T34 series of tanks were used to evaluate numerous experimental components after World War II. Although too late for the war for which they were designed, they provided invaluable service in developing these components for later tanks. Much of the work that made the early AV-1790 engine and the CD-850 transmission a reliable power package utilized these tanks. Later, they were used in the development of other power train components, such as the XT-1400 transmission, which was tested in the T30.
American Heavy tank comparision
Mk.VII
M6
T28
T29
T30
T32
T34
M103A2
Crew
8
6
4
6
6
5
6
5
Length
10,43m
8,43m
11,12m
11,56m
10,9m
10,83m
11,77m
11,23m
Width
3,66m
3,12m
4,54m
3,8m
3,8m
3,76m
3,8m
3,63m
Height
3,12m
3,00m
2,86m
3,22m
3,22m
2,81m
3,22m
3,56m
Weight
39,5t
57,4t
86,3t
64,25t
64,74t
54,5t
65,2t
58,1t
Engine
Power
Liberty
338hp
G-200
960hp
GAF
500hp
GAC
770hp
AV1790
810hp
GAC
770hp
AV1790
810hp
AV1790
750hp
Max. Speed
8,8km/h
35km/h
12,8km/h
35km/h
35km/h
35km/h
35km/h
37km/h
Hull Armour
(angle)
12mm
(28)
83mm
(30)
305mm
102mm
(54)
102mm
(54)
127mm
(54)
102mm
(54)
127mm
(60)
Side Armour
12mm
70mm
152mm
76mm
76mm
76mm
76mm
51mm
Turret Armour
(mantlet)
16mm
83mm
(102mm)
-
178mm
(279mm)
178mm
(279mm)
298mm
(298mm)
178mm
(279mm)
127mm
(254mm)
Top Armour
6-10mm
25mm
38mm
38mm
38mm
38mm
38mm
38mm
Bottom Armour
6-8mm
25mm
25mm
25mm
25mm
25mm
25mm
38mm
Gun
2x57mm
Hotchkiss
75mm M7
37mm MB
105mm
T5E1
105mm
T5E2
155mm
T7
90mm
T15E2
120mm
T53
120mm
M58
Secondary
Armament
5x7,62mm
Hotchkiss
2x12,7mm
HB M2
2x7,62mm
M1919A4
12,7mm
HB M2
3x12,7mm
HB M2
7.62mm
M1919M4
2x12,7mm
HB M2
7.62mm
M1919M4
12,7mm
HB M2
2x7.62mm
M1919M4
3x12,7mm
HB M2
7.62mm
M1919M4
3x12,7mm
HB M2
7.62mm
M37
Sources and External Links
ko:Blitz:T32
ja:Blitz:T32