Type 61
Type_61 (Stock)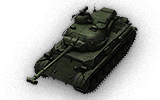 Totals
3600000
Cost
1550 HP
Durability
34.62 / 38
Weight
Crew
Commander
Radio Operator
Gunner
Driver
Loader
Armor
55/35/25
Hull Armor

(front/sides/rear, mm)
70/60/35
Turret Armor

(front/sides/rear, mm)
Maneuver
570 h.p.
Engine Power
47.6 km/h
Top Speed / Reverse Speed
44 deg/s
Traverse Speed
Firepower
225
damage
218.7 mm
Average Penetration
7
Time for Complete Loading
42 deg/s
Gun Traverse Speed
Communication
270 m
View Range
500 m
Signal Range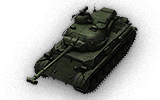 The first tank developed in Japan after WWII. It was developed from 1954 through 1961 on the basis of the American M47 tank. The dimensions of the vehicle were decreased and the armor was reduced. As a result, the weight of the tank was lighter, and the tank complied with the requirements of the Japanese armed forces.


Turret
| Level | Turret | Turret Armor (front/sides/rear, mm) | Gun Traverse Speed (deg/s) | View Range (m) | Experience | Weight (t) |
| --- | --- | --- | --- | --- | --- | --- |
| VIII | STA-4 | 70/60/35 | 42 | 270 | 0 | 8000 |
| Level | Gun | Average Penetration (mm) | | Rate of Fire | Dispersion at 100 m | Aiming Time | Experience | Weight (t) |
| --- | --- | --- | --- | --- | --- | --- | --- | --- |
| IX | 90 mm Gun Type 61 | 218.7/275/45 | 225/225/270 | 8.57 | 0.36 | 2.1 | 0 | 1150 |
| Level | Turret | Turret Armor (front/sides/rear, mm) | Gun Traverse Speed (deg/s) | View Range (m) | Experience | Weight (t) |
| --- | --- | --- | --- | --- | --- | --- |
| IX | Type 61 | 70/60/35 | 42 | 270 | 31250 | 8300 |
| Level | Gun | Average Penetration (mm) | | Rate of Fire | Dispersion at 100 m | Aiming Time | Experience | Weight (t) |
| --- | --- | --- | --- | --- | --- | --- | --- | --- |
| IX | 90 mm Gun Type 61 | 218.7/275/45 | 225/225/270 | 8.82 | 0.36 | 1.7 | 0 | 1150 |
| X | 105 mm Rifled Gun | 258/330/53 | 350/350/400 | 6.52 | 0.36 | 1.9 | 68750 | 1150 |

Engine
| Level | Engine | Engine Power (h.p.) | Chance of Fire on Impact | Experience | Weight (t) |
| --- | --- | --- | --- | --- | --- |
| VIII | Mitsubishi 12HM20WT | 570 | 12 | 0 | 2400 |
| IX | Mitsubishi 12HM21WT | 604 | 12 | 34380 | 2400 |

| Level | Suspension | Load Limit | Traverse Speed (deg/s) | Experience | Weight (t) |
| --- | --- | --- | --- | --- | --- |
| VIII | STA-4 | 38 | 44 | 0 | 11600 |
| IX | Type 61 | 38 | 48 | 30000 | 11600 |

Radio
| Level | Radio | Signal Range (m) | Experience | Weight (t) |
| --- | --- | --- | --- | --- |
| IX | JAN-GRC-3Z | 500 | 0 | 70 |
Compatible Equipment
























Compatible Consumables
History for this tank not found
ko:Blitz:Type 61
cs:Blitz:Type 61 ja:Blitz:Type 61