VK 30.01 (D)
VK3002DB_V1 (Stock)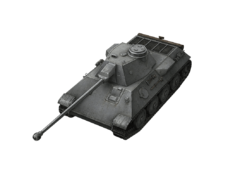 Totals
910000
Cost
900 HP
Durability
31.98 / 36
Weight
Crew
Commander
Gunner
Driver
Radio Operator
Loader
Armor
60/40/50
Hull Armor

(front/sides/rear, mm)
50/30/30
Turret Armor

(front/sides/rear, mm)
Maneuver
580 h.p.
Engine Power
56 km/h
Top Speed / Reverse Speed
34 deg/s
Traverse Speed
Firepower
160
damage
110 mm
Average Penetration
7.35
Time for Complete Loading
32 deg/s
Gun Traverse Speed
Communication
240 m
View Range
500 m
Signal Range
In the winter of 1941–1942 the WaPrüf 6 issued technical requirements for a new 30-ton tank. The orders for development were placed with MAN and Daimler-Benz. The prototypes were to be ready by May 1942. However, on May 13th, 1942 only comparative characteristics of the projects were submitted. The MAN's project was preferred, and the Daimler-Benz's project was canceled.


Turret
| Level | Turret | Turret Armor (front/sides/rear, mm) | Gun Traverse Speed (deg/s) | View Range (m) | Experience | Weight (t) |
| --- | --- | --- | --- | --- | --- | --- |
| V | Pz.Kpfw. III/IV Ausf. B | 50/30/30 | 32 | 240 | 0 | 5500 |
| Level | Gun | Average Penetration (mm) | | Rate of Fire | Dispersion at 100 m | Aiming Time | Experience | Weight (t) |
| --- | --- | --- | --- | --- | --- | --- | --- | --- |
| V | 7,5 cm Kw.K. 40 L/48 | 110/158/38 | 160/160/200 | 8.16 | 0.39 | 2.3 | 0 | 1520 |
| Level | Turret | Turret Armor (front/sides/rear, mm) | Gun Traverse Speed (deg/s) | View Range (m) | Experience | Weight (t) |
| --- | --- | --- | --- | --- | --- | --- |
| VII | VK 30.01 (D) | 80/45/45 | 32 | 240 | 12040 | 6000 |
| Level | Gun | Average Penetration (mm) | | Rate of Fire | Dispersion at 100 m | Aiming Time | Experience | Weight (t) |
| --- | --- | --- | --- | --- | --- | --- | --- | --- |
| V | 7,5 cm Kw.K. 40 L/48 | 110/158/38 | 160/160/200 | 8.33 | 0.39 | 2.3 | 0 | 1520 |
| VI | 7,5 cm Kw.K. 42 L/70 | 150/194/20 | 160/160/200 | 9.29 | 0.35 | 2.3 | 4600 | 1740 |

Engine
| Level | Engine | Engine Power (h.p.) | Chance of Fire on Impact | Experience | Weight (t) |
| --- | --- | --- | --- | --- | --- |
| VI | Daimler-Benz MB 503 | 580 | 20 | 0 | 900 |
| VII | Maybach HL 210 TRM P30 | 650 | 20 | 13280 | 850 |
| VIII | Maybach HL 230 TRM P30 | 700 | 20 | 15800 | 1200 |

| Level | Suspension | Load Limit | Traverse Speed (deg/s) | Experience | Weight (t) |
| --- | --- | --- | --- | --- | --- |
| V | VK 30.01 (D) | 36 | 34 | 0 | 9000 |
| VI | VK 30.01 (D) verstärkteketten | 36 | 38 | 6370 | 9000 |

Radio
| Level | Radio | Signal Range (m) | Experience | Weight (t) |
| --- | --- | --- | --- | --- |
| III | FuG5_GER | 500 | 0 | 50 |
Compatible Equipment






















Compatible Consumables
History for this tank not found
ko:Blitz:VK3002DB V1
ja:Blitz:VK3002DB V1