Game events
Data is being collected, once everything is done, the thread will be added.
Game events
There were a lot of different events throughout the game. The events are very different and allow you to try different game modes or your skill and get many unique rewards.
Holiday operations Ho ho ho! Were you good this year? As for us, you helped us do a great job! So even if you miss someone on the "good" list, you may not care - we have quite a lot of gifts from us under the tree! Get in the holiday mood - the Holiday Operations event will help you do just that.


Maratons Marathons can vary greatly, but one thing remains the same - the final reward is worth it!

Some marathons:
Winter call from November 30 to December 10, 2018, on SU-130PM
British call from 14 to 28 September 2018 for Caernarvon Action X
Marathon: T-34-85M from July 7 to July 25, 2017, on T-34-85M
and others in the main topic.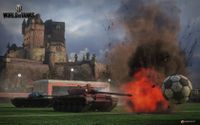 A game mode that is played on a specially modified map specifically for Football Mode. The battle is played in a 3-on-3 format.