Douglas A-26B Invader
A-26B

Totals
3600
Price
1200
Survivability
13125 kg
Weight
416.7
Damage
Speed
1393.1
Airspeed
484.5 km/h
Top Speed at Sea Level
570 km/h
Top Speed at Best Altitude
2000 m
Optimum Altitude
700 km/h
Maximum Dive Speed
63.1 m/s
Rate of Climb
100 km/h
Stall Speed
350 km/h
Optimum Airspeed
Mobility
70.8
Controllability
20.6 s
Average Time to Turn 360 deg
40 °/s
Rate of Roll
682
Maneuverability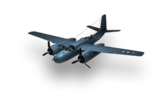 Developed as an attack bomber to replace the Douglas A-20 Havoc serving the U.S. Air Force. The A-26B was the first aircraft in the series to enter mass production. A significant number of modifications were built based on the A-26B.

VII
Engine
Pratt Whitney R-2800-27
Specifications:

Engine Power

, hp

Type
Weight

, kg

VII
2xPratt Whitney R-2800-27

VII
Engine
Specifications:

Engine Power

, hp

Type
Weight

, kg

VII
2x
VII
Airframe
Specifications:

Survivability
Weight

, kg
VII
VII
Specifications:

Survivability
Weight

, kg
VII
A-26B-15

VII
Machine gun
12.7 mm M2 (C)
Specifications:

Caliber
Muzzle Velocity

, m/s

Damage
Rate of Fire

, rounds/min

Weight

, kg

VII
6x12.7 mm M2 (C)

VII
Machine gun
Specifications:

Caliber
Muzzle Velocity

, m/s

Damage
Rate of Fire

, rounds/min

Weight

, kg

VII
6x
VII
Specifications:

Caliber
Machine gun
Damage
Rate of Fire

, rounds/min

Weight

, kg
VII
12.7 mm M2
VII
Specifications:

Caliber
Machine gun
Damage
Rate of Fire

, rounds/min

Weight

, kg
VII
12.7 mm M2
No weapons
VII
Specifications:

Damage Radius

, m

Damage
Weight

, kg
VII
16x100 lb
VII
Bombs
Specifications:

Damage Radius

, m

Damage
Weight

, kg
VII
16x
No weapons
No weapons
No weapons
Engine
| Tier | Engine | Engine Power, hp / Thrust | Type | Weight, kg | Price, |
| --- | --- | --- | --- | --- | --- |
| VII | Pratt Whitney R-2800-27 | 2000 | air-cooled | 2200 | 54000 |

Airframe
| Tier | Airframe | Survivability | Weight, kg | Price, |
| --- | --- | --- | --- | --- |
| VII | | 1200 | 10500 | 100000 |

Cowling-mounted weapon
| Tier | Machine gun | Caliber | Muzzle Velocity, m/s | Damage | Rate of Fire, rounds/min | Weight, kg | Price, |
| --- | --- | --- | --- | --- | --- | --- | --- |
| VII | | 12.7 | 1120 | 45 | 750 | 60 | 16400 |

Turret
| Tier | Turret | Caliber | Machine gun | Damage | Rate of Fire, rounds/min | Weight, kg | Price, |
| --- | --- | --- | --- | --- | --- | --- | --- |
| VII | 12.7 mm M2 | 13.2 | 2 | 128 | 30 | 5 | 90000 |

Outboard weapon
| Tier | Bombs | Damage Radius, m | Damage | Weight, kg | Price, |
| --- | --- | --- | --- | --- | --- |
| VII | | 50 | 1200 | 45 | 0 |
The Douglas A-26 Invader (designated B-26 between 1948 and 1965) is an American twin-engined light bomber and ground attack aircraft. Built by Douglas Aircraft Company during World War II, the Invader also saw service during several major Cold War conflicts. A limited number of highly modified United States Air Force aircraft served in Southeast Asia until 1969. It was a fast aircraft capable of carrying a large bomb load. A range of guns could be fitted to produce a formidable ground-attack aircraft.[4]
A re-designation of the type from A-26 to B-26 led to confusion with the Martin B-26 Marauder, which first flew in November 1940, some 20 months before the Douglas design's maiden flight. Although both types were powered by the widely used Pratt & Whitney R-2800 Double Wasp eighteen-cylinder, double-row radial engine, they were completely different and separate designs — the Martin bomber originated in 1939, with more than twice as many Marauders (nearly 5,300) produced in comparison to the Douglas design. Design and development
Douglas XA-26 AAC Ser. No. 41-19504 first flight, Mines Field, California, piloted by Benny Howard The A-26 was Douglas Aircraft's successor to the A-20 (DB-7) Havoc, also known as Douglas Boston, one of the most successful and widely operated types flown by Allied air forces in World War II.
Designed by Ed Heinemann, Robert Donovan, and Ted R. Smith,[5] the innovative NACA 65-215 laminar flow airfoil wing of the A-26 was the work of project aerodynamicist A.M.O. Smith.[6][7]
The Douglas XA-26 prototype (AAC Ser. No. 41-19504) first flew on 10 July 1942 at Mines Field, El Segundo, with test pilot Benny Howard at the controls. Flight tests revealed excellent performance and handling, but engine cooling problems led to cowling changes and elimination of the propeller spinners on production aircraft. Repeated collapses during testing led to reinforcement of the nose landing gear.[8]

Douglas XA-26B Invader AAF Ser. No. 41-19588, 5 May 1943, with "strafer" nose adaptable to a combination of weapons, including a 75 mm (3 in) cannon. The A-26 was originally built in two different configurations. The A-26B had a gun nose, which originally could be equipped with a combination of armament including .50 caliber machine guns, 20mm or 37mm auto cannon, or even a 75mm pack howitzer (which was never used operationally). Normally the gun nose version housed six (or later eight) .50 caliber machine guns, officially termed the "all-purpose nose", later commonly known as the "six-gun nose" or "eight-gun nose". The A-26C's "glass" nose, officially termed the "Bombardier nose", contained a Norden bombsight for medium altitude precision bombing. The A-26C nose section included two fixed M-2 guns, later replaced by underwing gun packs or internal guns in the wings.[9]
After about 1,570 production aircraft, three guns were installed in each wing, coinciding with the introduction of the "eight-gun nose" for A-26Bs, giving some configurations as many as 14 .50 in (12.7 mm) machine guns in fixed forward mounts. An A-26C nose section could be replaced with an A-26B nose section, or vice versa, in a few man-hours, thus physically (and officially) changing the designation and operational role. The "flat-topped" canopy was changed in late 1944 after about 820 production aircraft, to a clamshell style with greatly improved visibility.[10][11]
Alongside the pilot in an A-26B, a crew member typically served as navigator and gun loader for the pilot-operated nose guns. In an A-26C, that crew member served as navigator and bombardier, and relocated to the nose section for the bombing phase of an operation. A small number of A-26Cs were fitted with dual flight controls, some parts of which could be disabled in flight to allow limited access to the nose section. Access was through the lower section of the right-hand instrument panel, which was open to allow access to the nose for the bombardier, who would normally sit next to the pilot. This was similar to British designs like the Lancaster, Blenheim/Beaufort, Wellington, etc. A tractor-style "jump seat" was located behind the "navigator's seat." In most missions, a third crew member in the rear gunner's compartment operated the remotely controlled dorsal and ventral gun turrets, with access to and from the cockpit possible via the bomb bay only when that was empty. The gunner operated both dorsal and ventral turrets via a novel and complex (and problematic) dual-ended periscope sight, which was a vertical column running through the center of the rear compartment, with traversing and elevating/depressing periscope sights on each end. The gunner sat on a seat facing rearward, and looked into a binocular periscope sight mounted on the column, controlling the guns with a pair of handles on either side of the column. When aiming above the centerline of the aircraft, the mirror in the center of the column would flip, showing the gunner what the upper periscope was seeing. When he pressed the handles downward, as the bead passed the centerline the mirror would automatically flip, transferring the sight "seamlessly" to the lower periscope. The guns would aim wherever the periscope was aimed, automatically transferring between upper and lower turrets as required, and computing for parallax and other factors. While novel and theoretically effective, a great deal of time and trouble was spent trying to get the system to work effectively, which delayed production, and it was difficult to keep maintained in the field even once production started.
World War II Pacific The Douglas company began delivering the production model A-26B to the United States Army Air Forces (USAAF) on 10 September 1943[13], with the new bomber first seeing action with the Fifth Air Force in the Southwest Pacific theater on 23 June 1944, when Japanese-held islands near Manokwari were attacked.[14] The pilots in the 3rd Bomb Group's 13th Squadron, "The Grim Reapers", who received the first four A-26s for evaluation, found the view from the cockpit to be restricted by the engines and thus inadequate for low-level attack. General George Kenney, commander of the Far East Air Forces stated that, "We do not want the A-26 under any circumstances as a replacement for anything."[15]
Until changes could be made, the 3d Bomb Group requested additional Douglas A-20 Havocs, although both types were used in composite flights.[16] The 319th Bomb Group worked up on the A-26 in March 1945, joining the initial 3rd BG, with the 319th flying until 12 August 1945. The A-26 operations wound down in mid-August 1945 with only a few dozen missions flown.[16] Several of the A-20 and B-25 AAF units in the Pacific received the A-26 for trials, in limited quantities.
Europe Douglas needed better results from the Invader's second combat test, so A-26s began arriving in Europe in late September 1944 for assignment to the Ninth Air Force. The initial deployment involved 18 aircraft and crews assigned to the 553d Squadron of the 386th Bomb Group. This unit flew its first mission on 6 September 1944. No aircraft were lost on the eight test missions, and the Ninth Air Force announced that it was happy to replace all of its A-20s and B-26s with the A-26 Invader.
The first group to fully convert to the A-26B was 416th Bombardment Group with which it entered combat on 17 November, and the 409th Bombardment Group, whose A-26s became operational in late November.[17] Due to a shortage of A-26C variants, the groups flew a combined A-20/A-26 unit until deliveries of the glass-nose version caught up. Besides bombing and strafing, tactical reconnaissance and night interdiction missions were undertaken successfully. In contrast to the Pacific-based units, the A-26 was well received by pilots and crew alike, and by 1945, the 9th AF had flown 11,567 missions, dropping 18,054 tons of bombs, recording seven confirmed kills while losing 67 aircraft.[17]
In Italy the Twelfth Air Force's 47th Bomb Group also received the A-26, starting in January 1945. They were used against German transport links, but also for direct support and interdiction against tanks and troop concentrations in the Po valley in the final campaigns in Italy.