Yakovlev Yak-1
Yak-1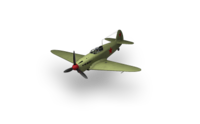 Totals
328000
Price
180
Survivability
2974 kg
Weight
165.2
Damage
Speed
1171.9
Airspeed
560 km/h
Top Speed at Sea Level
560 km/h
Top Speed at Best Altitude
800 m
Optimum Altitude
600 km/h
Maximum Dive Speed
111.1 m/s
Rate of Climb
110 km/h
Stall Speed
264 km/h
Optimum Airspeed
Mobility
86.8
Controllability
8.5 s
Average Time to Turn 360 deg
140 °/s
Rate of Roll
1512.3
Maneuverability
Developed in 1940 as the I-26 high-speed fighter. One of the best Soviet fighters of the early years of World War II. A total of 8,734 aircraft of various modifications were produced.
Pros and Cons
Pros:
High maneuverability
Above average airspeed
Can hit surprisingly hard with how few guns it has
20mm and 12.7mm guns have good range
Cons:
Low health
Feels somewhat lacking in firepower, top configuration only has two guns
Flying Match stick; will very easily catch on fire without a self-sealing fuel tank
Poor boost duration, only 6 seconds of boost
Performance
This is the first Yakovlev fighter available in the game. It has its ups and downs but if you get used to it, you'll find it enjoyable. It's maneuverability is it's strongest point. Being able to outmaneuver all tier five aircraft except for the A6M2 zero - which has a very small edge in that category - and the Ki-43-II. It's speed while not the fastest, comes in handy when facing other aircraft. What brings this aircraft down is it's guns. It is only armed with one 20mm cannon and one 12.7mm MG when upgraded. Not counting gift aircraft, it has the worst guns of its tier. Another thing is its health. Just like other Russian aircraft the health is low, but not Japanese low. To use the aircraft effectively, use your maneuverability and speed to get behind enemies and bring your guns to bear. Do not head on with anyone because you will get destroyed very quick. Stick to lower altitude fights and make them come down to you.
History for this plane not found