USSR

Fighters were a key class of frontline aircraft in the U.S.S.R. Designed for action at low to mid altitude, they featured a good balance of speed performance and maneuverability. The primary mission of fighters was to protect Soviet strike aircraft and counter enemy strike aircraft.
The first Soviet jet aircraft were based on the technology of captured German aircraft engines and British aircraft engines. After the war, securing air superiority and intercepting high-altitude enemy bombers became top priority.
Battlefield strike aircraft are represented in the game by heavily-armored Ilyushin attack aircraft.
---
Soviet fighters vary distinctively between lines when they break off into three manufacturers at tier V: Lavochkin (Prefix LaGG & La) Mikoyan Gurevich (Prefix MiG) and Yakolev (Prefix Yak). These three manufacturers create a whopping four lines, three fighter lines and one multi-role fighter line. Prior to this massive breakup, Russian fighters tend to have good maneuverability, varying airspeed, and somewhat low service ceilings (though not as low as Japanese aircraft). Generally, Russian fighter craft have somewhat lower health pools (Though again, generally better than Japanese aircraft), and after tier IV will generally carry no more than 4 guns, but they hit hard, as the caliber of many of these guns are oddly large and mixed, ranging from 23mm auto cannons to whopping 57mm guns found on the I-215.
Starting from the right, the MiG line provides aircraft designed to compete with the German Bf-109 and U.S. Mustang fighter lines, with good engine power, generally good or great service ceilings, and airspeeds that rival or even exceed those found on the U.S. and German Fighters. Like the German Bf-109s and American Mustangs, these fighters excel in Boom and Zoom tactics, but are also slightly more maneuverable than their two foreign counterpart lines early on, but are eventually overtaken by the U.S. Fighters.
Next is the first of the Two Yak lines, Beginning with the Yak-1. While these Yaks lack the engine power and service ceilings of aircraft found in the MiG line, this YaK line does keep pace in terms of airspeed with the Japanese Ki line until the Yak-15, where the line overtakes them in airspeed. This Line also maintains a consistent maneuverability rating of 90 until the tier nine Yak-19, allowing pilots to freely engage virtually all other foreign fighters for the most part with confidence in turn and burn situations. However, they suffer low service ceilings compared to other fighter craft in higher tiers.
The second Yak line features pure snipers, beginning with the Yak-7. While not as maneuverable as the Yaks found in the Yak-1 line, they too enjoy a consistent maneuverability rating of 61 until the tier eight Su-9, where it drops to 49. Until this tier, the sniper Yaks can prove a credible threat to American and German fighters in turn and burn situations, but will fall prey to British and Japanese fighter craft. However, these aircraft excel at taking down enemy aircraft from a distance, and are armed with one or more very large caliber guns for their tier. With these large caliber guns and excellent range, the sniper yaks can engage even ground attack craft and bombers with excellent capability.
Finally on the left side is the La line, which is a sort of averaging of the capabilities of all three previous lines discussed, they are jacks of many trades, masters of none. Though their Achilles heels are poor service ceilings like those found in the Yak-1 line, excluding the La-15, which has better maneuverability than the MiG-15bis, at the cost of a noticeably lower service ceiling (800m lower), lower firepower, and somewhat less airspeed.
Soviet attack aircraft are (along with the Germans) currently the only researchable attack planes in the game. Compared to their German counterparts, they have considerably larger health pools yet the Tier 4 BSh-2 and Tier 5 IL-2 lack a rear gunner. They also start at Tier 2, whereas the Germans don't get attack aircraft until Tier 4. While the Russian attack craft are in general considerably less nimble overall than their German rivals, they make up for it with noticeably better self-defense armament when it does exist, and not only can carry more powerful bombs than their German rivals, but also can equip missiles. Starting with the IL-2t, Russian ground attack craft can arm exceedingly powerful cannons which surpass the 30mm guns most later German attack craft carry, culminating in the massive 57mm guns that the IL-20 can arm.
---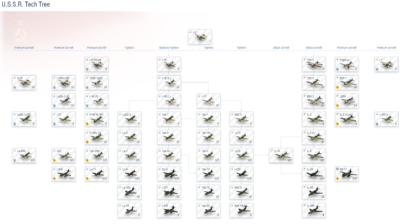 ---
Fighters
Multirole Fighters
Attack Aircraft
Bombers