ARP Maya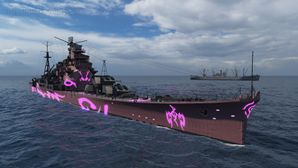 Tech Tree Position
127 mm/40 Type89 A1
4 х 2 

pcs.
Firing Range
6.6 

km.
Rate of Fire
12 

shots/min.
Reload Time
5 

sec.
HE Shell
127 mm HE Type0 
Maximum HE Shell Damage
2,100 
Initial HE Shell Velocity
725 

m./s.
Chance of Fire on Target Caused by HE Shel
8 

%
610 mm Quad
4 х 4 

pcs.
Rate of Fire
0.59 

shots/min.
Reload Time
101 

sec.
Rotation Speed
25 

deg./sec.
180 Degree Turn Time
7.2 

sec.
Torpedo
Type90 mod. 1 
Maximum Damage
17,233 
Torpedo Speed
62 

knot
Torpedo Range
9.99 

km.
127 mm/40 Type89 A1
4 х 2 

pcs.
. . . Average Damage per Second
40.4 
. . . Firing Range
5.01 

km.
25 mm/60 Type96 mod. 1
28 х 1 

pcs.
. . . Average Damage per Second
50.4 
. . . Firing Range
2.49 

km.
Maximum Speed
35.5 

knot
Turning Circle Radius
790 

m.
Rudder Shift Time
8.1 

sec.
Surface Detectability Range
11.88 

km.
Air Detectability Range
7.16 

km.
Battle Levels
ARP Maya — Japanese promo premium Tier VIII cruiser.
A Heavy Cruiser of the "Fleet of Fog," modeled after Takao, the lead ship of the Imperial Japanese Navy's Takao-class series of cruisers. This warship has been specially designed for World of Warships, and is modelled after the same-name ship from "ARPEGGIO OF BLUE STEEL -ARS NOVA-".
Modules
Compatible Upgrades
 Slot 1 
 Slot 2 
 Slot 3 
 Slot 4 
 Slot 5 
Player Opinion
Pros:
Very high speed, capable of a brisk 37 knots with Sierra Mike
Has the access to the Repair Party consumable, allowing for HP recovery like battleships and higher tier cruisers. ARP Maya can have significant staying power late game compared to her contemporaries if it can avoid taking big hits.
Much wider torpedo launch arcs than regular tech tree Japanese cruisers; having 2 front-mounted and 2 rear-mounted allows for more flexible torpedo usage. Position of the forward torpedo launcher allows for bold plays against other cruisers
Excellent gun accuracy, equal to that of Zao
Fast rudder shift
Very narrow target. Can be difficult to hit if kiting away
Low detection range; with the Concealment Expert skill, the cruiser has an astonishing 9.3km detection range.
10 km torpedoes with excellent damage, Atago is able to launch torpedoes while undetected with a full stealth build
Lethal HE shells with excellent fire starting capabilities and damage
Heavy 10-gun broadside with an equally heavy HE alpha strike
41mm mid-deck armor. Can lead to large caliber shells occasionally bouncing off the deck at long range, as well as shattering HE shells from some cruisers
Cons:
Citadel is very vulnerable with easily overmatched extremeties, caution is advised when engaging battleships
Modules -- notably the rudder, gun turrets and torpedo tubes -- are very easy to disable under sustained HE fire
Difficult to fire both torpedo launchers in quick succession due to the opposing orientation of the launchers. Almost flat broadside must be given to do so
Turret setup requires an uncomfortable amount of broadside to be given to fire all five guns
Longest reload time of any Japanese 203mm gun at 16 seconds. Adrenaline Rush is a must-have skill
Mediocre turret traverse; however, Expert Marksman mitigates some of this
Unremarkable AP performance, only usable against flat broadside cruisers
Terrible AA suite
Research
As a premium ship, ARP Maya doesn't have any upgrades to research.-->
Optimal Configuration
Upgrades
The recommended upgrades for ARP Maya are as follows:
Commander Skills
  Recommended Commander Skills  
Cost
(points)

Attack

Defense



1

★★★

★

 

★★

★★

★★



2

★

★★

★

 

★★★

★★



3

★

★★

★★★

★

★★★

★★



4

★

★★

★★★

 

★★★

 

Key: ★★★ - Extremely Useful      ★★ - Frequently Useful      ★ - Occasionally Useful     No stars - Not Useful
Signals
Atago is one of the fastest Tier VIII cruisers in the game; a Sierra Mike (

) signal is recommended for captains who are interested in maximizing that speed. Zulu Hotel (

), Victor Lima (

), and India X-Ray (

) signals are also recommended. Zulu Hotel will add additional commander XP for faster retraining for a transferred captain, and Victor Lima and India X-Ray add an additional 2% to the fire chance of her main battery high explosive shells.
Recommended Signal Flags
Combat

★

 

★★

★

★★★

 

★★

★★★

★★★

 

★

★★

 

 

Economic

★★

★

★★★

★★

★

Special

★★★

★★★

★★★

★★

★★

 

 

 

Key: ★★★ - Extremely Useful       ★★ - Frequently Useful       ★ - Occasionally Useful      No stars - Not Useful
-->
Gallery