Amagi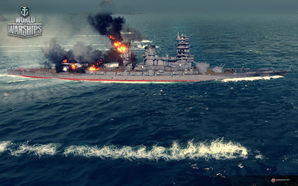 Tech Tree Position
410 mm/45 3rd Year Type in a twin turret
5 х 2 

pcs.
Rate of Fire
2 

shots/min.
Reload Time
30 

sec.
Rotation Speed
4.3 

deg./sec.
180 Degree Turn Time
41.86 

sec.
Firing Range
18.07 

km.
Maximum Dispersion
227 

m.
HE Shell
410 mm HE Type0 
Maximum HE Shell Damage
6,500 
Chance of Fire on Target Caused by HE Shell
30 

%
Initial HE Shell Velocity
805 

m./s.
HE Shell Weight
938.5 

kg.
AP Shell
410 mm AP/APC Type91 
Maximum AP Shell Damage
12,600 
Initial AP Shell Velocity
806 

m./s.
AP Shell Weight
1020 

kg.
140 mm/50 3rd Year Type on a casemate mount
16 х 1 

pcs.
Firing Range
6.6 

km.
Rate of Fire
7.5 

shots/min.
Reload Time
8 

sec.
HE Shell
140 mm HE Type0 
Maximum HE Shell Damage
2,400 
Initial HE Shell Velocity
850 

m./s.
Chance of Fire on Target Caused by HE Shell
10 

%
127 mm/40 Type 89 on a Model A1 mount
8 х 2 

pcs.
Firing Range
6.6 

km.
Rate of Fire
10 

shots/min.
Reload Time
6 

sec.
HE Shell
127 mm HE Type0 
Maximum HE Shell Damage
2,100 
Initial HE Shell Velocity
725 

m./s.
Chance of Fire on Target Caused by HE Shell
8 

%
127 mm/40 Type 89 on a Model A1 mount
8 х 2 

pcs.
. . . Average Damage per Second
80.8 
. . . Firing Range
5.01 

km.
13 mm/76 Type 93 on a quadruple mount
12 х 4 

pcs.
. . . Average Damage per Second
34.8 
. . . Firing Range
1.2 

km.
25 mm/60 Type 96 on a single mount
42 х 1 

pcs.
. . . Average Damage per Second
75.6 
. . . Firing Range
2.49 

km.
Maximum Speed
28.05 

knot
Turning Circle Radius
870 

m.
Rudder Shift Time
20.8 

sec.
Surface Detectability Range
17.28 

km.
Air Detectability Range
10.97 

km.
Battle Levels
Amagi — Japanese Tier VIII battleship.
An upgraded battlecruiser design with very powerful artillery. Though outclassed by other battleships of her time in terms of armor, Amagi was superior to them in terms of speed.
Modules
Compatible Upgrades
 Slot 1 
 Slot 2 
 Slot 3 
 Slot 4 
 Slot 5 
Player Opinion
Performance
Amagi has an impressive reputation among battleships at her tier. Sporting five dual turrets each packing a pair of 410mm guns — 10x 16.1" rifles — Amagi is unmatched in terms of raw broadside weight. In her current fit, the ship is a reformatted battlecruiser with changes much like those applied to her colleague Kongo resulting in excellent speed and a powerful main battery with a turtleback covered by a thin plating of armor. (see the Design section below)
Despite the solid appearance and heavy broadside weight, Amagi can take only so much punishment before she breaks. It is inadvisable to depend heavily on your armor, as at 32mm everywhere, she is very vulnerable to cruiser high-explosive as well as overmatch from Yamato and Musashi. The AA suite is not terrible, but not very good either. Only the 16x 127mm rifles can throw shells beyond short range. There are no medium-range AA defenses at all.
Taking into account her strengths and weaknesses, the best way to play Amagi is to stay at medium ranges and use her heavy and accurate broadside to get rid of the enemy cruisers and destroyers. Because of her 16-inch guns, she can overmatch all cruiser plating up to Tier X. Once they are cleared, then it's time for the fun to begin and you can start moving into brawling range. With her powerful broadside, she is more than capable of brawling with any battleship, even if they are Tier X.
Pros:
Good top speed of 30 knots..
Heaviest broadside weight at tier with ten 410mm rifles.
Fairly accurate guns with excellent AP, hard hitting HE and decent shell velocity for both.
An AP salvo against an enemy broadside can potentially destroy anything including Tier X.
Powerful secondary battery that can send out 110 shells per minute per side.
Good health pool.
Angling can bring about surprising bounces and/or mitigate heavy damage.
While she is a battlecruiser, she has a turtleback armor scheme that makes her very resistant to citadels, especially at closer ranges, making her an amazing brawler against other battleships especially combined with her broadside
Final hull has an immense TDS bulge, Providing extra protection both from shells and torpedoes.
Cons:
Rather underwhelming firing range of 18/20 km compared to her Tier VIII adversaries, North Carolina and Bismarck, though not very uncomfortable compared to the likes of Monarch and Roma.
Armor plating is vulnerable to battleship shells that catch her side.
32mm Bow can get overmatched by 460mm guns on Yamato, with a high chance of smashing through to the citadel.
Slow rudder shift combined with a large turning radius makes it difficult to dodge torpedoes, although this is partly compensated for by her impressive torpedo protection of 43%.
Main turrets often get knocked out.
Rather high detection radius.
Weak AA flak bubble. Expect the planes to get close enough.
Optimal Configuration
Upgrades
The recommended upgrades for Amagi are as follows:

Upgrade Slot 1 provides two viable options. The first is Main Armaments Modification 1

, which increases the survivability and reduces repair time of the main armament. If AA defense is more desirable, take Auxiliary Armaments Modification 1

to increase the survivability of AA and secondary battery mounts.
Upgrade Slot 3 provides options for specialization in certain roles. Aiming Systems Modification 1
is typically recommended for ship to ship combat. For AA defense, AA Guns Modification 1
can be mounted instead to reinforce the long-range flak guns. A secondary build is not advised.
Upgrade Slot 4 is usually filled with Damage Control System Modification 2
. A valid alternative is Steering Gears Modification 1
to perk up the lazy rudder.
Upgrade Slot 5 should be filled with Concealment System Modification 1 

, which reduces ship detectability and increases dispersion of enemy shells fired at the ship.
Commander Skills
  Recommended Commander Skills  
Cost
(points)

Attack

Defense



1

★★

 

★

★★

 

★



2

★★★

 

★

★★

★★

 



3

 

 

★★★

★★★

 

 



4

 

 

 

★★★

★★★

★★★

Key: ★★★ - Extremely Useful      ★★ - Frequently Useful      ★ - Occasionally Useful     No stars - Not Useful
Consumables
Amagi can equip the following consumables:
Signals
Amagi
comes with 21
signal flag
slots. The three most important flags are India Delta 

, Juliet Yankee Bissotwo 

, and India Yankee 

; all of which improve surviveability. Another good signal to mount would be November Echo Setteseven 

, to give
Amagi
`s AA a slight further increase for self-protection. If the captain insists on a
Secondary Build
, the addition of Mike Yankee Soxisix 

will further improve the performance of the secondaries.
Gallery
References
See here for links to Update notes.

Added to the game in Update 0.1.5 (alpha version).
Update 0.2.2.5:

High-explosive secondary battery shells were replaced with armor-piercing shells.

Update 0.3.1:

Reduced the accuracy of the 152 mm secondary battery guns.

Update 0.3.1.1:

The stock rudder shift was returned to the values ​​of Update 0.3.0 after reworking the ship movement mechanics in Update 0.3.1.

Update 0.4.0:
Update 0.5.0:

A new intermediate hull was added for researching.

Update 0.5.2:

Increased rudder shift times:
On the stock hull by +1.62 s.
On researchable hulls by +2.2s.
Experience earnings reduced by -6%.

Update 0.5.3.2:

Type 8 camouflage was renamed to Type 10.

Update 0.5.6:
AA defenses were reinforced for the top hull. The ship's secondary guns were also improved.
Hull (C): 25mm/60 Type96 Twin mod. 1 AA mounts were replaced with 25mm/60 Type96 Triple mod. 1 mounts. As a result, the average AA damage within the 3.1km AA engagement area radius increased by 26 points (from 189 to 215 points).
Firing range of her secondary guns was increased by 0.5km (from 4.5km to 5km).
Update 0.5.11:

The armored model of the hull was refined.

Update 0.6.0:

Updated models of main battery turrets.
Hull (A) was removed from the game. Instead, a new hull was created, similar to Hull (B) in everything except for HP and rudder shift speed. These parameters remained at the levels of the first Hull (A).

Update 0.6.2:

The national flag was moved from the stern to the mast.

Update 0.6.6:

Improved appearance of the ship using a special technology for high-quality rendering of thin elements (mainly rigging).
The conning tower armor was fixed. This change will not affect gameplay in any way.

Update 0.6.12:

Detectability when firing main guns in smoke changed to 16.9 km.
Detection range of the Aichi E13A1B aircraft was increased from 4 km to 7 km in air, and to 8 km by sea.

Update 0.6.14:

Minor fixes to the textures and geometry of the ship. The changes do not affect the game balance in any way.

Update 0.7.2:

Players who have collected the "Rewards" sub-collection of the "Yamomoto Isoroku" collection can use an alternate permanent camouflage color.

Update 0.7.6:

Improved display of thin elements on the hull.

Update 0.7.11:

Armor-piercing shells of 140-mm secondary battery guns were replaced with high-explosive shells.

Update 0.9.5:

Small changes to geometry and textures.
Fixed a bug with incorrect conning tower armor. Now the thickness of the armor of the cabin is 356 mm.

Update 0.9.7:

Minor fixes to geometry and textures.

Update 0.9.11:

Fixed geometry and textures of the ship.

Update 0.10.0:

The firing range of the secondary battery was increased to 6.6 km.