Asashio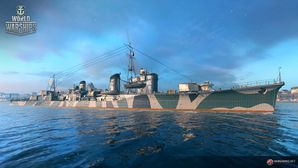 Tech Tree Position
127 mm/50 3rd Year Type on a Type C mount
3 х 2 

pcs.
Rate of Fire
8.51 

shots/min.
Reload Time
7.05 

sec.
Rotation Speed
6.9 

deg./sec.
180 Degree Turn Time
26.09 

sec.
Firing Range
10.95 

km.
Maximum Dispersion
97 

m.
HE Shell
127 mm HE Type1 
Maximum HE Shell Damage
2,150 
Chance of Fire on Target Caused by HE Shell
9 

%
Initial HE Shell Velocity
915 

m./s.
HE Shell Weight
23 

kg.
AP Shell
127 mm AP Type0 
Maximum AP Shell Damage
2,200 
Initial AP Shell Velocity
915 

m./s.
AP Shell Weight
23 

kg.
610 mm Quad
2 х 4 

pcs.
Rate of Fire
0.54 

shots/min.
Reload Time
112 

sec.
Rotation Speed
25 

deg./sec.
180 Degree Turn Time
7.2 

sec.
Torpedo
Type93 mod. 2 dw 
Maximum Damage
20,967 
Torpedo Speed
67 

knot
Torpedo Range
20.01 

km.
25 mm/60 Type 96 on a twin mount
2 х 2 

pcs.
. . . Average Damage per Second
5.4 
. . . Firing Range
2.49 

km.
Maximum Speed
35 

knot
Turning Circle Radius
640 

m.
Rudder Shift Time
3.6 

sec.
Surface Detectability Range
6.84 

km.
Air Detectability Range
3.02 

km.
Battle Levels
Asashio — Japanese premium Tier VIII destroyer.
Japanese destroyer Asashio was the ultimate ship of this type in Japan, built after the launch of the Fubuki-class ships. The absence of constraints on displacement allowed naval architects to find a good balance between speed, armament, and hull size. Due to a good overall layout, Asashio served as a prototype for the majority of subsequent Japanese destroyers.

Asashio was first released for sale worldwide on 27 April 2018. As of the 0.10.5 update (June 2021) She is no longer available.

Modules
Compatible Upgrades
 Slot 1 
 Slot 2 
 Slot 3 
 Slot 4 
 Slot 5 
Player Opinion
Performance
Asashio is externally very comparable to her Tier VIII tech tree compatriot Kagero. They share nearly identical concealment ratings, maneuverability statistics, guns, and health. The two ships are extremely similar, but Asashio plays completely differently due to her unique torpedo armaments, and by having the Torpedo Reload Booster 

occupying a separate consumable slot (as with Akizuki).
Technically speaking, Asashio is the stealthiest destroyer in her matchmaking spread, having a slightly smaller air detection radius than Kagero and HSF Harekaze. This allows her to control vision and spotting ranges exceedingly well, utilizing her stealth as another layer of armor against enemy vessels. It is armor she desperately needs, as Asashio's main weapons are her torpedoes, though her guns can be used in certain situations. It's her torpedoes which make her truly unique: Asashio is equipped with a deep water variant of the same Type 93 mod. 2 torpedoes found aboard other Tier VIII and IX Japanese ships, and similar to those found in the Pan-Asian destroyer line. They have increased flooding chance, are harder for enemies to detect, and have a whopping 20 kilometer range while still retaining 67 knots of speed... but can only hit battleships and aircraft carriers.
As a result of
Asashio
only being able to damage battleships and the rare aircraft carrier with her torpedoes, she is a highly specialized ship: designed to really only do one thing, but to do it exceptionally well. She has only her guns with which to combat enemy cruisers and destroyers, a state of affairs that leaves her highly vulnerable to both ship types. Captains should not be afraid to use
Asashio
's guns, however, as strategically engaging key targets can lead to the difference between a win and a loss. Using her concealment to avoid unwinnable fights is also a valid strategy, and can keep her in the game for longer.
Pros:
Stealthy, with a 5.4km surface detection range when fully kitted out.
Torpedoes are extremely powerful against battleships.
Has access to both Torpedo Reload Booster  and Smoke Generator  at the same time.
Cons:
Slow turret traverse [Expert Marksman is a must] and slow reload hinder her ability to gunfight other ships, especially destroyers.
Torpedoes can only hit battleships and aircraft carriers, limiting her target selection.
Slow speed for a destroyer at only 35 knots.
No AA defense to speak of.



Research
As a Premium ship, Asashio doesn't have any upgrades to research.
Optimal Configuration
Upgrades
The recommended upgrades for Asashio are as follows:
Commander Skills
  Recommended Commander Skills  
Cost
(points)

Attack

Defense



1

★

 

 

 

 

★★



2

 

★★

★★

 

 

★★★



3

 

★★

★★

 

 

★



4

 

★★

★

 

★★★

 

Key: ★★★ - Extremely Useful      ★★ - Frequently Useful      ★ - Occasionally Useful     No stars - Not Useful
Consumables
Asashio equips the following consumables:
Camouflage
As a Premium ship, Asashio comes with Type 10 camouflage that lowers her detection radius, reduces the accuracy of incoming shells, reduces her repair costs, and increases the amount of experience she earns.
Signals
Asashio captains should mount standard signal flags to improve the ship's performance in battle. Captains looking to improve upon the ship's armament should mount Victor Lima (

), Juliet Whiskey Unaone (

), and November Foxtrot (

) signal flags. Sierra Mike (

) signal flags are recommended to increase the ships top speed. Juliet Charlie (

) flags are also recommended to prevent detonations. Lastly, economic and special signal flags can be mounted to increase the ship's economic gains per battle.
Recommended Signal Flags
Combat

★

 

★★

★★

★

 

★★★

★★★

 

 

★

★★

 

 

Economic

★★

★

★★

★★

★

Special

★★

★★

★★★

★★

★★★

 

 

 

Key: ★★★ - Extremely Useful       ★★ - Frequently Useful       ★ - Occasionally Useful      No stars - Not Useful
Note: Use of the Juliet Charlie signal makes detonation impossible.
Gallery
References
See here for links to Update notes.

Available for testing by supertesters in the game starting from Update 0.7.0.
First appeared on sale in April 2018.
Update 0.7.6:

Improved display of thin elements on the hull.

Update 0.7.9:

Available in the game client for purchase for doubloons.

Update 0.7.11:

HE shell damage increased from 1,800 to 2,150, fire chance increased from 7 to 9%.

Update 0.9.5:

Small changes to geometry and textures.

Update 0.10.5:

Asashio was removed from sale and no longer available to purchase.