Atago B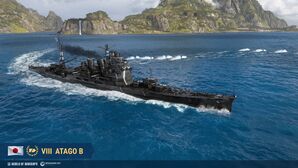 Tech Tree Position
127 mm/40 Type 89 on a Model A1 mount
4 х 2 

pcs.
Firing Range
6.6 

km.
Rate of Fire
12 

shots/min.
Reload Time
5 

sec.
HE Shell
127 mm HE Type0 
Maximum HE Shell Damage
2,100 
Initial HE Shell Velocity
725 

m./s.
Chance of Fire on Target Caused by HE Shel
8 

%
610 mm Quad
4 х 4 

pcs.
Rate of Fire
0.59 

shots/min.
Reload Time
101 

sec.
Rotation Speed
25 

deg./sec.
180 Degree Turn Time
7.2 

sec.
Torpedo
Type90 mod. 1 
Maximum Damage
17,233 
Torpedo Speed
62 

knot
Torpedo Range
9.99 

km.
127 mm/40 Type 89 on a Model A1 mount
4 х 2 

pcs.
. . . Average Damage per Second
40.4 
. . . Firing Range
5.01 

km.
25 mm/60 Type 96 on a single mount
28 х 1 

pcs.
. . . Average Damage per Second
50.4 
. . . Firing Range
2.49 

km.
Maximum Speed
35.5 

knot
Turning Circle Radius
790 

m.
Rudder Shift Time
8.1 

sec.
Surface Detectability Range
11.88 

km.
Air Detectability Range
7.16 

km.
Battle Levels
Atago B — Japanese promo premium Tier VIII cruiser.
Developed from the Myōkō-class cruisers. When commissioned, Atago was one of the most powerful heavy cruisers in the world. The ship surpassed the speed of all Japan's potential rival cruisers. For her time, Atago was well-armored with efficient AA armament, along with powerful artillery and torpedoes.
Modules
Compatible Upgrades
 Slot 1 
 Slot 2 
 Slot 3 
 Slot 4 
 Slot 5 
Player Opinion
Performance
Atago was the first Tier VIII premium ship released for World of Warships and replaced Kitakami at the end of the Closed Beta. Bearing the same ABC-XY turret layout of her historical predecessor Myoko, this heavy cruiser is fairly similar to her predecessor, but improves on many traits such as turret traverse and overall handling. While her main battery rate of fire is slower, her torpedoes are quadruple tube mounts (for a total of 16 instead of 12) and the forward launcher on each side fires forwards instead of backwards, making it useful against enemies in front of the ship. She also gains access to the Repair Party consumable, allowing her to recover HP, unlike most other cruisers (at Tier VIII). Her impressively low detection range means that she can engage the enemy at her terms, and if situations go awry she can sneak away (providing there are no aircraft patrolling the sky or a nearby destroyer to detect her. With a full concealment build she can even fire torpedoes from beyond her detection radius in certain situations. She does have a few drawbacks, with a very large citadel hitbox — due to the large bridge/boiler area amidships — as well as a slow rate of fire and a mediocre anti-aircraft suite, but she is overall a very powerful ship.
LittleWhiteMouse's Premium Ship Review: Atago from the NA forums
Pros:
Very high speed.
Has the access to the Repair Party consumable, allowing for HP recovery like battleships and higher tier cruisers.
Much wider torpedo launch arcs than regular tech tree Japanese cruisers; having 2 front-mounted and 2 rear-mounted allows for more flexible torpedo usage.
Low detection range; with the Concealment Expert skill, the cruiser has an astonishing 9.1km detection range.
Lethal HE shells with excellent fire starting capabilities and damage.
Heavy 10-gun broadside.
Cons:
Citadel is very vulnerable.
Modules -- notably the rudder, gun turrets and torpedo tubes -- are very easy to disable.
Slow turret traverse; however, Expert Marksman mitigates some of this.
Low rate of fire.
Terrible AA suite.
Research
As a premium ship, Atago doesn't have any upgrades to research.
Optimal Configuration
Upgrades
The recommended upgrades for Atago B are as follows:
Commander Skills
  Recommended Commander Skills  
Cost
(points)

Attack

Defense



1

★★★

★

 

★★

★★

★★



2

★

★★

★

 

★★★

★★



3

★

★★

★★★

★

★★★

★★



4

★

★★

★★★

 

★★★

 

Key: ★★★ - Extremely Useful      ★★ - Frequently Useful      ★ - Occasionally Useful     No stars - Not Useful
Consumables
Atago B can equip the following consumables:
Camouflage
As a premium ship, Atago comes included with Type 10 camouflage that lowers her detection radius, reduces the accuracy of incoming shells, and increases the amount of experience she earns.
Signals
Atago is far and away the fastest Tier VIII cruiser in the game; a Sierra Mike (

) signal is recommended for captains who are interested in maximizing that speed. Zulu Hotel (

), Victor Lima (

), and India X-Ray (

) signals are also recommended. Zulu Hotel will add additional commander XP for faster retraining for a transferred captain, and Victor Lima and India X-Ray add an additional 2% to the fire chance of her main battery high explosive shells.
Recommended Signal Flags
Combat

★

 

★★

★

★★★

 

★★

★★★

★★★

 

★

★★

 

 

Economic

★★

★

★★★

★★

★

Special

★★★

★★★

★★★

★★

★★

 

 

 

Key: ★★★ - Extremely Useful       ★★ - Frequently Useful       ★ - Occasionally Useful      No stars - Not Useful
Note: Use of the Juliet Charlie signal makes detonation impossible.
Gallery
References

Cite error: <ref> tags exist, but no <references/> tag was found