Borodino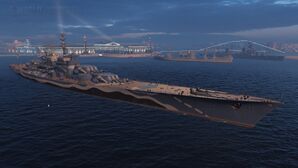 Tech Tree Position
406 mm/50 B-37 on an MK-1 mount
2 х 3 

pcs.
Rate of Fire
1.94 

shots/min.
Reload Time
31 

sec.
Rotation Speed
6 

deg./sec.
180 Degree Turn Time
30 

sec.
Firing Range
19.57 

km.
Maximum Dispersion
212 

m.
HE Shell
406 mm HE Model 1937 
Maximum HE Shell Damage
5,800 
Chance of Fire on Target Caused by HE Shell
40 

%
Initial HE Shell Velocity
830 

m./s.
HE Shell Weight
1108 

kg.
AP Shell
406 mm AP Model 1937 
Maximum AP Shell Damage
13,250 
Initial AP Shell Velocity
830 

m./s.
AP Shell Weight
1108 

kg.
180 mm/65 SM-45 on an SM-48 mount
2 х 2 

pcs.
Firing Range
6.6 

km.
Rate of Fire
10 

shots/min.
Reload Time
6 

sec.
HE Shell
HE-32 
Maximum HE Shell Damage
2,500 
Initial HE Shell Velocity
1000 

m./s.
Chance of Fire on Target Caused by HE Shell
13 

%
180 mm/65 SM-45 on an SM-48 mount
2 х 2 

pcs.
. . . Average Damage per Second
34.6 
. . . Firing Range
5.01 

km.
25 mm 110-PM on a 4М-120 mount
12 х 4 

pcs.
. . . Average Damage per Second
100.8 
. . . Firing Range
3.09 

km.
57 mm ZIF-31B mount
12 х 2 

pcs.
. . . Average Damage per Second
212.4 
. . . Firing Range
3.99 

km.
Maximum Speed
31.6 

knot
Turning Circle Radius
1 060 

m.
Rudder Shift Time
15.4 

sec.
Surface Detectability Range
17.46 

km.
Air Detectability Range
11.79 

km.
Battle Levels
Borodino — Soviet promo premium Tier VIII battleship.
A "small battleship" project developed in the early 1950s, with main armament consisting of several heavy guns concentrated at her fore end. Such ships were designed to act in groups and cope with any full-fledged battleship.
Borodino was first released for sale on 23-July-2021.
Modules
Compatible Upgrades
 Slot 1 
 Slot 2 
 Slot 3 
 Slot 4 
 Slot 5 
Player Opinion
Performance
Warning. The data presented in the AA Defense sidebar section may be incorrect.
Borodino is a U.S.S.R battleship at Tier VIII. She is armed with six 406 mm rifles housed in two forward-facing mounts. Borodino has two rear-facing secondary battery turrets to protect her stern, each sporting two 180 mm rifles.
To have the best chance of success in battle with Borodino, her playstyle can be simplified to one word: positioning. Borodino is a large ship, making her an easy target if aggressive maneuvers place her in a compromised position, such as being broadside in a turn or too close to a superior enemy force. Ideal positioning will allow for enemy ships to be within range of the main battery armament while also providing cover to the side(s) of the ship. A good position will also allow for retreat if the enemy is overwhelming Borodino. By breaking off the engagement, she can recover hit points without being exposed to further incoming fire. If there is no effective cover, players should point the bow of the ship toward the enemy. Borodino has an armored bow. When slightly angled or facing the enemy, there is a much higher likelihood that armor-piercing (AP) shells will ricochet, rather than penetrate and cause damage to Borodino. This maneuver is sometimes referred to as bow-tanking. However, it is important to note that Borodino is more vulnerable in certain parts of the ship than other Tier VIII U.S.S.R battleships, such as Lenin and Vladivostok, due to variations in armor thickness. Borodino does have better deck armor, which serves to protect against incoming long-range fire. Borodino also has access to the standard Damage Control Party 

consumable, unlike most other U.S.S.R battleships, increasing her longevity in battle. If Borodino is being targeted by cruisers firing high-explosive (HE) or semi-armor-piercing (SAP) shells, players should attempt to destroy the enemy ships quickly because these shell types are more likely to cause damage, and HE shells may light fires. Borodino is equipped with Surveillance Radar 

, allowing players to see whether a destroyer may be lurking nearby. This is useful for ensuring that no enemy ships are able to compromise an effective firing position and flush Borodino out of it with torpedoes.
Borodino is most effective at medium range. Players should use her speed to quickly get to an island to protect her sides from enemy fire. With no access to the Spotting Aircraft 

consumable, her main battery gun range is limited. Players should be careful to keep their distance from the enemy due to a very underwhelming secondary battery. Borodino is only armed with two twin barreled secondary turrets located at the aft end of the ship. Borodino is also equipped with Surveillance Radar 

that has decent range and duration. Her radar is best utilized with support from teammates because her main battery reload time will not allow for two salvoes while the radar is active unless her radar duration is extended with the use of upgrades or commander skills.
Borodino has a decent top speed, but her maneuverability is severely underwhelming. With a wide turning radius and slow rudder shift time, players will need to be cautious while maneuvering to minimize the amount of time the sides of the ship are exposed. Borodino is at a further disadvantage while broadside because her citadel is exposed and above the waterline, making her easy prey for battleships.
Borodino
is a large ship with an impressive main armament. The key to her success is effective positioning to prevent her from being an easy target while also making use of her guns. Players should also try to stay near friendly ships to utilize their support and may choose to play in a division to increase her effectiveness in battle.
Pros:
Massive (400mm) transverse bulkhead for bow-in work; 50mm deck over a 100-120mm citadel roof.
Waterline belts extend both fore and aft.
Very low profile superstructure with an armored face that barely extends over the main battery.
Quick turret traverse.
Good main battery performance, with less dispersion, higher sigma, and more range than Lenin.
Good mid- and short-range AA armament.
Has access to the Surveillance Radar  consumable with good range and duration.
Cons:
Only 25mm bow and stern plating. Battle-cruiser level side protection over a citadel well above the waterline.
Only six (6) 16" main rifles in two turrets forward.
Questionable HE shell performance.
Only four (4) 180mm secondary rifles in two turrets aft.
Very long ship with an appropriately large turn radius.
Poor concealment
Research
As a premium ship, Borodino has no modules upgrades to research.
Optimal Configuration
Upgrades
The recommended upgrades are:
Commander Skills
  Recommended Commander Skills  
Cost
(points)

Attack

Defense



1

 

 

 

★★

 

★



2

★★

 

 

★★

★★

 



3

 

 

★★

★★

 

 



4

 

 

 

★★

★

★★

Key: ★★★ - Extremely Useful      ★★ - Frequently Useful      ★ - Occasionally Useful     No stars - Not Useful
Consumables
Borodino equips the following consumables:
Camouflage
As a premium ship, Borodino comes with Type 10 camouflage that lowers her detection radius, reduces the accuracy of incoming shells, reduces her service cost, and increases the amount of experience she earns.
Signals
Recommended Signal Flags
Combat

★★

 

 

 

★

★★

★

★★

★★

★

★★

★

 

 

Economic

 

 

 

 

 

Special

 

 

 

 

 

 

 

 

Key: ★★★ - Extremely Useful       ★★ - Frequently Useful       ★ - Occasionally Useful      No stars - Not Useful
Note: Use of the Juliet Charlie signal makes detonation impossible.
Gallery
References
See here for links to Update notes.

Available for testing by supertesters in the game starting from Update 0.8.11.
First appeared on sale in July 2021.
Update 0.10.8:

Fixed issues with the ship model and textures.

Update 0.10.10:

Minor fixes to geometry and textures of the ship.