Celebes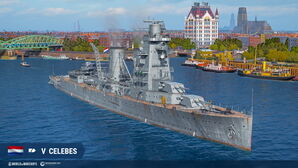 Tech Tree Position
150 mm/50 Mk.9 on a Mk.9 mount
4 х 2 

pcs.
Rate of Fire
7.06 

shots/min.
Reload Time
8.5 

sec.
Rotation Speed
8 

deg./sec.
180 Degree Turn Time
22.5 

sec.
Firing Range
12.75 

km.
Maximum Dispersion
120 

m.
HE Shell
150 mm HE Brisantgranaat 
Maximum HE Shell Damage
2,150 
Chance of Fire on Target Caused by HE Shell
11 

%
Initial HE Shell Velocity
900 

m./s.
HE Shell Weight
46 

kg.
AP Shell
150 mm AP Pantsergranaat 
Maximum AP Shell Damage
3,000 
Initial AP Shell Velocity
900 

m./s.
AP Shell Weight
46.7 

kg.
40 mm/56 Bofors Model 1936 on a single mount
8 х 1 

pcs.
. . . Average Damage per Second
60 
. . . Firing Range
3.51 

km.
25 mm akan L/64 Model 1932 on a twin mount
2 х 2 

pcs.
. . . Average Damage per Second
8 
. . . Firing Range
2.49 

km.
Maximum Speed
30.6 

knot
Turning Circle Radius
580 

m.
Rudder Shift Time
10.7 

sec.
Surface Detectability Range
11.87 

km.
Air Detectability Range
5.16 

km.
Battle Levels
Celebes — Dutch Tier V cruiser.
The third Java-class cruiser was laid down in Schiedam in June 1917, and she should have become the flagship of the Dutch Navy in the East Indies. It was planned to finalize her construction in 1920; however, due to the economic blockade by England and the lack of resources during wartime, the shipbuilding process had significantly slowed down. The construction of Celebes was never actually finished.
Modules
Compatible Upgrades
Player Opinion
Performance
Warning. The data presented in the AA Defense sidebar section may be incorrect.
For a graphic summary of ships Tiers VIII thru XI see LittleWhiteMouse's "Actual AA DPS".
Celebes is a Tier V cruiser of the Royal Netherlands Navy and is a peculiar ship at that. The main armaments of this vessel are four 150 mm rifles in double turrets with two fore and two aft, she has no secondary guns to speak of and rather oddly, no torpedoes — continuing the tradition from De Ruyter. Her only other armaments being 8 x 1 40mm Bofors (which can be increased to 8 x 2) and 2 x 2 25mm Bofors with most of the AA being located near the aft of the ship and having a maximum range of 3.5km.
Celebes has the tightest turning radius of all current Tier V cruisers with 580 meters and has a better than average rudder shift time of 7.7 seconds, making her responsive to avoiding danger though it does take her a moment before she starts or stops her turns. She is however one of the slowest cruisers with a maximum speed of 30.6 Knots, leaving her vulnerable to enemy cruisers and destroyers who can gain on her. Her armor is a relatively thin 16 mm above the waterline and she is prone to catching fire even from secondary armaments from cruisers if she gets within their range.
Her design is similar to her predecessor De Ruyter with more health and she has a similar play style: best used at range of roughly 11 km to pepper the enemy with HE, or in support of another friendly vessel at a closer range of up to 5 km. Close range engagements within 3 km or less, are to be avoided due to the relatively thin armor and her guns inability to deal with threats quickly. In the case of enemy destroyers, their torpedoes can quickly send the Celebes back to port.
Both of her modifications should be researched, though they will not change the play style mentioned above as they provide a minor increase to her main guns range and health. You can also grab the modification for Main Battery 2 and the commander skill Grease the Gears to increase her traverse speed by 30%.
Pros:
Good main battery performance, hampered by short range.
Submerged citadel with unusually thick turtleback scheme for her tier.
Access to the Spotting Aircraft  consumable.
Excellent turning circle and decent rudder shift time.
16% Torpedo Damage Reduction
Cons:
Only cruiser at Tier V to have no torpedoes.
Thicker armor can arm incoming large calibre AP shells more easily.
Average AA defense with very few guns concentrated in certain parts of the ship.
Athough agile, a large target and among the slowest cruisers at Tier V.
Research
Researchable module upgrades for Celebes:
Hull: Upgrade to Hull (B) for more health and improved AA and maneuverability. Research of this module unlocks progression to VI Kijikduin.
Gun Fire Control System: Upgrade to SUO Mk 5 Mod. 2 for an extra 10% range on the main battery.
Optimal Configuration
Upgrades
The recommended upgrades for Celebes are:
Commander Skills
  Recommended Commander Skills  
Cost
(points)

Attack

Defense



1

★★

 

 

 

 

★★



2

 

 

 

 

★★

 



3

 

 

★★

 

★★

★★



4

★★

 

 

 

★★

 

Key: ★★★ - Extremely Useful      ★★ - Frequently Useful      ★ - Occasionally Useful     No stars - Not Useful
Consumables
Celebes can equip the following:
Signals
Note: Use of the Juliet Charlie signal makes detonation impossible.
Gallery
References
See here for links to Update notes.

Available for testing by supertesters in the game starting from Update 0.10.4.
Update 0.10.6:

Available from completing the second group of Dutch cruisers combat missions.

Introduced into the game as a researchable ship in Update 0.10.8.
Update 12.0:

Added Depth Charges with the following characteristics:

Maximum damage: 2,000
Number of Charges: 2
Bombs per Charge: 4
Reload Time: 40 s