Clemson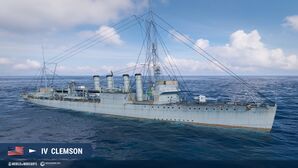 Tech Tree Position
102 mm/50 Mk.9 on a shielded mount
4 х 1 

pcs.
Rate of Fire
8.57 

shots/min.
Reload Time
7 

sec.
Rotation Speed
10 

deg./sec.
180 Degree Turn Time
18 

sec.
Firing Range
7.85 

km.
Maximum Dispersion
73 

m.
HE Shell
102 mm HE/HC Mk15 
Maximum HE Shell Damage
1,500 
Chance of Fire on Target Caused by HE Shell
6 

%
Initial HE Shell Velocity
884 

m./s.
HE Shell Weight
14.97 

kg.
AP Shell
102 mm AP/SC Mk16 
Maximum AP Shell Damage
1,700 
Initial AP Shell Velocity
884 

m./s.
AP Shell Weight
14.97 

kg.
533 mm Triple
4 х 3 

pcs.
Rate of Fire
1.5 

shots/min.
Reload Time
40 

sec.
Rotation Speed
25 

deg./sec.
180 Degree Turn Time
7.2 

sec.
Torpedo
Bliss Leavitt Mk9 mod. 1b 
Maximum Damage
9,900 
Torpedo Speed
56 

knot
Torpedo Range
5.04 

km.
76.2 mm/23 Mk.14 on a single mount
1 х 1 

pcs.
. . . Average Damage per Second
1 
. . . Firing Range
3 

km.
Maximum Speed
35 

knot
Turning Circle Radius
520 

m.
Rudder Shift Time
4.1 

sec.
Surface Detectability Range
6.81 

km.
Air Detectability Range
2.46 

km.
Battle Levels
Clemson — American Tier IV destroyer.
The Clemson class differed from its predecessor by its increased range and improved anti-submarine capabilities, which were installed to combat German submarines. Some of the ships were converted into minelayers, some of which were transferred to the U.K. During World War II, the lead ship was deployed in the USS Bogue aircraft carrier group, then participated in the Pacific campaign. Over the course of World War II, the ship was awarded nine battle stars.
Modules
Compatible Upgrades
Player Opinion
Performance
Warning. The data presented in the AA Defense sidebar section may be incorrect.
For a graphic summary of ships Tiers VIII thru XI see LittleWhiteMouse's "Actual AA DPS".
As a torpedo boat, Clemson is a difficult destroyer to play due to its poor, short-ranged torpedoes. While the upgraded torpedoes have an added 1700 damage and 0.5km range, it has an increased reload time of 26 seconds (23.4 with Torpedo Armament Expertise skill), which makes it questionable to upgrade to the Mk 11 torpedoes. The guns are excellent with relatively good shell speed and penetration for 102mm guns. However, its range is relatively short, much like a Japanese destroyer at 8.6km. Additionally, it has a relatively high detectability of 7km, slightly worse than its Tier V counterpart and much worse than the Isokaze. However, it does have good rudder shift time, allowing for short-notice dodging. Its 2x3 torpedoes per side allow it to launch waves of torpedoes and keep the enemy at arm's length.
In summary, it is a solid US destroyer, featuring good shell speed and maneuverability despite the below-average torpedoes.
Pros:
Relatively good ergonomics for a small ship.
Good shell speed.
Good HE damage and AP penetration.
Fast turret traverse and reload.
The gun upgrade replaces the single turrets with twins, doubling the firepower and outgunning any same-tier destroyer.
Fast rudder shift time.
Small profile.
Relatively quick torpedo reload- until the upgrade.
Cons:
High detectability.
Very short-ranged torpedoes (cannot torpedo outside of detection range).
Research
Availability of researchable upgrades for Clemson is as follows:
Main Battery: Unlocking and equipping this module doubles the number of Clemson's main battery guns; all of her single-mount guns become double mounts. Hull (B) must be researched in order to research this module.
Hull: Upgrade to Hull (B) for a healthy boost in hit points, a few more AA mounts, and marginally faster rudder shift times. Research of this module unlocks progression to Nicholas.
Torpedoes: Upgrade to the Mark 11 torpedoes for more damage and range. Hull (B) must be researched in order to research this module.
Gun Fire Control System: Upgrade to Mk4 mod. 2 for an extra 10% range on the main battery.
Hull (B) is the priority here, as all of
Clemson
's best upgrades are locked behind it. The improved Main Battery module is arguably more powerful than the upgraded Torpedo one; being able to put six 102mm barrels on target gives
Clemson
nearly unparalleled firepower at her tier for gunning down enemy destroyers.
Optimal Configuration
Upgrades
The recommended upgrades for Clemson are as follows:
Commander Skills
  Recommended Commander Skills  
Cost
(points)

Attack

Defense



1

 

★

★

 

★

★★★



2

★

★

 

 

★★

★★★



3

★★★

★

★★★

 

 

★★★



4

★

★★

★★

 

★★★

★★

Key: ★★★ - Extremely Useful      ★★ - Frequently Useful      ★ - Occasionally Useful     No stars - Not Useful
Consumables
Clemson can equip the following consumables:
Signals
Note: Use of the Juliet Charlie signal makes detonation impossible.
Gallery
References
See here for links to Update notes.

Added to the game in Update 0.1.6.
Update 0.2.3:

Firing arcs of the torpedo tubes were reduced.

Update 0.5.1:

The detectability when firing was increased by 60 m from ships and by 40 m from enemy aircraft.

Update 0.5.2:

Experience earnings reduced by 2%.
Credit earnings increased by 10%.

Update 0.5.7:

The armor model of the hull was refined.

Update 0.5.8:

The sector of rotation of the main battery turret No. 1 is equal to 360°.

Update 0.6.12:

Detectability when firing main guns in smoke changed to 2.21 km.
Improved appearance of the ship with a special technology for improved rendering of subtle elements (mainly rigging). This will not affect the performance of the game in any way.

Update 0.6.13:

Fire extinguishing time now 30 instead of 60 s.
The survivability of air defense weapons was tested and brought to a unified standard. The change affects the 76.2 mm gun.

Update 0.10.5:

Fixed geometry and textures of the ship.

Update 0.11.6:

Ship's 3D model changed, resulting in:

0.03 m increase in draught.
0.02 m increase in hull height.
0.06 m increase in waterline length.
0.06 m decrease in total length.
0.08 m decrease in waterline hull width.
0.08 m decrease in maximum hull width.

Fourth main battery gun moved from the superstructure to the deck at the stern, and can now rotate 360 degrees.
Aiming sector of the researchable upgrade second and third main battery turrets increased by 5 degrees.
Amount of HP in the bow of Hull A decreased from 1,400 to 1,300.
Amount of HP in the superstructure of Hull A increased from 500 to 600.
Amount of HP in the bow of Hull B decreased from 1,700 to 1,600.
Amount of HP in the superstructure of Hull B increased from 600 to 800.
Amount of HP in the stern of Hull B decreased from 1,000 to 900.