Collections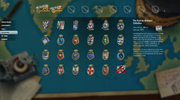 Introduced in
Update 0.6.5
,
collections
are a way for players to earn unique collectibles, fill albums, and build complete collections to earn a special reward!
How Collections Work
You can usually find collection items in Containers, and each item has an equal chance to appear.
A separate album is added to a player's account for each collection after they earn the first item from a collection, but the button to see the album only becomes visible in their tab after obtaining that first item.
Collection items cannot be sold, so when players earn an item already in one of their collections, it is considered a "duplicate".
Duplicates can be exchanged for missing collection items. Simply select an item you don't have instead of duplicates and exchange it; exchange rates vary by collection.
After a collection is complete, any remaining duplicates automatically convert into credits.
Several collections can be completed by purchasing containers specific to that collection in the Armory using coal.
Some collections have a subscription option to receive items randomly in daily supply crates by selecting the "collecting" option on the collection's screen. Players can only subscribe to one collection at a time.
A few collections were only available to be started by completing a campaign but have an open-ended completion date accomplished by subscription. An example that is still available to start is the Yamamoto Isoruku collection started by completing the permanent Yamamoto Isoroku campaign.
Available Collections
Below is the list of collections currently available for completion in World of Warships. Some collections previously ran for a limited time during an in-game event but are now available to be started and completed by other methods.
List of Available Collections
Emblem
Collection Name
Number of Items
Original Dates
Availability
Yamamoto Isoruku Collection
40
Permanent Campaign
"Yamamoto Isoroku"
Campaign, Premium Container, Subscription
"American Cruisers" Collection
48
Permanent Campaign
"Hit Hard Hit Fast Hit Often"
Campaign, Armory Containers, Subscription
The Hunt for Bismarck Collection
24
18 May 2017 -
7 June 2017
Armory Containers
"Dunkirk" Collection
16
19 July 2017 -
2 August 2017
Armory Containers
Vive La France Collection
18
9 February 2018 -
28 March 2018
Armory Containers
"2 Years of World of Warships" Collection
16
13 September 2017 -
28 September 2017
Armory Containers
Battle of the North Cape Collection
16
20 December 2017 -
19 January 2018
Armory Containers
"3 Years of World of Warships" Collection
16
Armory Containers
Belle Époque Collection
16
Armory Containers
Royal Navy Destroyers Collection
16
Update 0.7.11
Armory Containers, Subscription
Naval Aviation Collection
16
Update 0.8.1
Armory Containers, Subscription
In the Service of the Motherland Collection
32
Update 0.8.4
Armory Containers, Subscription
Legion of Honor Collection
16
Update 0.8.7 - Update 0.8.8
Armory Containers, Subscription
Resolute and Rapid Collection
16
Update 0.8.11
Armory Containers
Shipbuilding Collection
20
Update 0.8.11
Armory Containers
German Navy Collection
36
Update 0.9.7
Armory Containers, Subscription
Five Epochs of the Navy Collection
30
Permanent Campaign
"Five Epochs of the Navy"
Update 0.9.8
Campaign
Always Courageous Collection
16
Update 0.9.10
Armory Containers
German Destroyers Collection
16
Update 0.10.4
Armory Containers
6 Years of World of Warships Collection
60
Update 0.10.8
Gift Containers
Christmas and New Year in the Navy Collection
24
Update 0.10.11
Armory Containers, Mission Containers
Italian Destroyer Collection
18
Update 0.11.3
Armory Containers, Mission Containers
Seven Seas Collection
16
Update 0.11.8
Unknown
Limited Availability Collections
The below collections are either started through external means or are no longer available to start but may still be completed through subscription.
The below collections are no longer available for completion.
Notes