Collections

Introduced in
Update 0.6.5
,
collections
are a way for players to earn unique collectibles, fill albums, and build complete collections to earn a special reward!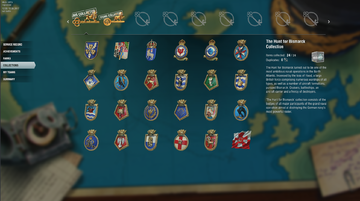 How Collections Work
Collections are located in the port in the "Profile" tab once a player has at least one item from any collection. The corresponding album appears there with the first element of a collection.
Collection items are usually found in special containers that have the same name as the collection. Each element has the same probability of appearing. With a new collection, the associated containers are also added to the game, which are then available as mission reward, gift or through purchase for the duration of the update or event. After that, the containers will no longer be available for several months before they are offered for sale in the armory – the standard containers for

coal, the premium containers for

doubloons. Clicking on the collection element after opening a container takes you to the album of the corresponding collection.
Exceptions to this rule are the Second Game Anniversary collection, whose items were also awarded for special achievements, and collections with a subscription.
Subscription
Players can subscribe to the following collections if they already own at least one item:
This means that additional elements of this collection can also be found in standard containers with a 60% chance. Players can only subscribe to one collection at a time in the "Profile" tab.
Duplicate
When collecting, it can happen that players get an item that they already own – a duplicate. A certain number of duplicates from the same collection can be exchanged for items that are still missing. To do this, click on a missing element in the album and in the window that appears confirm that duplicates should be exchanged for the missing element. The exchange rate varies depending on the collection and is 1-5 duplicates per missing item. Once a collection is complete, all remaining duplicates of this collection are automatically converted into

credits. This exchange rate also depends on the respective collection.
Available Collections
Below is the list of collections currently available for completion in World of Warships. Some collections previously ran for a limited time during an in-game event but are now available to be started and completed by other methods.
List of Available Collections
Emblem
Collection Name
Number of Items
Original Dates
Availability
Yamamoto Isoruku Collection
40
Permanent Campaign
"Yamamoto Isoroku"
Campaign, Premium Container, Subscription
"American Cruisers" Collection
48
Permanent Campaign
"Hit Hard Hit Fast Hit Often"
Campaign, Armory Containers, Subscription
The Hunt for Bismarck Collection
24
18 May 2017 -
7 June 2017
Armory Containers
"Dunkirk" Collection
16
19 July 2017 -
2 August 2017
Armory Containers
Vive La France Collection
18
9 February 2018 -
28 March 2018
Armory Containers
"2 Years of World of Warships" Collection
16
13 September 2017 -
28 September 2017
Armory Containers
Battle of the North Cape Collection
16
20 December 2017 -
19 January 2018
Armory Containers
"3 Years of World of Warships" Collection
16
Armory Containers
Belle Époque Collection
16
Armory Containers
Royal Navy Destroyers Collection
16
Update 0.7.11
Armory Containers, Subscription
Naval Aviation Collection
16
Update 0.8.1
Armory Containers, Subscription
In the Service of the Motherland Collection
32
Update 0.8.4
Armory Containers, Subscription
Legion of Honor Collection
16
Update 0.8.7 - Update 0.8.8
Armory Containers, Subscription
Resolute and Rapid Collection
16
Update 0.8.10
Armory Containers
Shipbuilding Collection
20
Update 0.8.11
Armory Containers
German Navy Collection
36
Update 0.9.7
Armory Containers, Subscription
Five Epochs of the Navy Collection
30
Permanent Campaign
"Five Epochs of the Navy"
Update 0.9.8
Campaign
Always Courageous Collection
16
Update 0.9.10
Armory Containers
German Destroyers Collection
16
Update 0.10.4
Armory Containers
6 Years of World of Warships Collection
60
Update 0.10.8
Gift Containers
Christmas and New Year in the Navy Collection
24
Update 0.10.11
Armory Containers, Mission Containers
Italian Destroyer Collection
18
Update 0.11.3
Armory Containers, Mission Containers
Seven Seas Collection
16
Update 0.11.8
Armory Containers
The Age of Sa Zhenbing Collection
20
Update 12.0
Armory Containers
Allied Heroes Collection
12
Update 12.3
Armory Containers
Battle of the Somme Collection
60
Update 12.6
Containers
Heroic Clash Collection
60
Update 12.9
Containers
Limited Availability Collections
The below collections are either started through external means or are no longer available to start but may still be completed through subscription.
The below collections are no longer available for completion.
Notes