Congress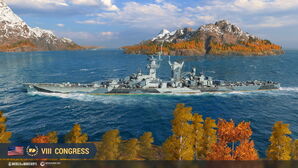 Tech Tree Position
305 mm/50 Mk.8 in a turret
2 х 2 / 1 х 3 

pcs.
Rate of Fire
2.73 

shots/min.
Reload Time
22 

sec.
Rotation Speed
6 

deg./sec.
180 Degree Turn Time
30 

sec.
Firing Range
17.5 

km.
Maximum Dispersion
195 

m.
HE Shell
305 mm HE Mk17 mod. 1 
Maximum HE Shell Damage
4,300 
Chance of Fire on Target Caused by HE Shell
27 

%
Initial HE Shell Velocity
808 

m./s.
HE Shell Weight
462.3 

kg.
AP Shell
305 mm AP Mk18 mod. 1 
Maximum AP Shell Damage
8,900 
Initial AP Shell Velocity
762 

m./s.
AP Shell Weight
517 

kg.
127 mm/38 Mk.12 on a Mk.32 mount
6 х 2 

pcs.
Firing Range
6.6 

km.
Rate of Fire
10 

shots/min.
Reload Time
6 

sec.
HE Shell
127 mm HE Mk32 
Maximum HE Shell Damage
1,800 
Initial HE Shell Velocity
792 

m./s.
Chance of Fire on Target Caused by HE Shell
5 

%
127 mm/38 Mk.12 on a Mk.32 mount
6 х 2 

pcs.
. . . Average Damage per Second
90.6 
. . . Firing Range
5.01 

km.
40 mm/56 Bofors on a Mk.1 mount
14 х 2 

pcs.
. . . Average Damage per Second
158.2 
. . . Firing Range
3.51 

km.
20 mm Oerlikon on a Mk.4 mount
20 х 1 

pcs.
. . . Average Damage per Second
72 
. . . Firing Range
2.01 

km.
Maximum Speed
33 

knot
Turning Circle Radius
850 

m.
Rudder Shift Time
13 

sec.
Surface Detectability Range
15.5 

km.
Air Detectability Range
9.72 

km.
Battle Levels
Congress — American promo premium Tier VIII cruiser.
American promo premium Tier VIII cruiser.
A variant of the "large cruiser" project with seven 305 mm guns as her main battery. She was similar to the Alaska-class ships in terms of her other characteristics.

Congress was first released on 05 Aug 2021.
Modules
Compatible Upgrades
 Slot 1 
 Slot 2 
 Slot 3 
 Slot 4 
 Slot 5 
Player Opinion
Performance
Warning. The data presented in the AA Defense sidebar section may be incorrect.
For a graphic summary of ships Tiers VIII thru XI see LittleWhiteMouse's "Actual AA DPS".

USS Congress is an American Tier VIII large cruiser design. Her design is based off the Tier IX premium ship USS Alaska. Like the other large cruisers in game, Congress features large caliber guns, good armor (for a cruiser), and the sixty second fire duration. Captains would not technically be wrong if they said that Congress is a down-tiered clone of Alaska but this does not paint a complete picture. While she sports the same modules as her Tier IX counterpart, including radar, there are enough differences to distinguish the ships from each other.
The hull and armor of Congress and Alaska are identical, except that Congress has fewer hit points at 51,150 compared to 60,800. Much like many of the high tier American cruisers she has 27mms of armor on her bow and stern; as well as strong deck armor. Congress benefits from having a water line citadel which helps her avoid being citadeled at close ranges. While her armor is overall decent, captains need to be mindful that she is still a cruiser.
Congress is armed with seven 305mm guns with five mounted forward and two aft. These are the same 305mm/50 mk.8 rifles found on her higher tier sister but there are several differences that will impact performance. Congress has a firing range of 17.5km compared to Alaska's 18.97. This can be offset by using the spotter plane consumable but captains do so at the risk of reducing her air defenses. Furthermore, Tier VIII Congress does not have the option of mounting the Main Battery Mod 3 to improve reload. Thus her reload is at best 22 seconds vs. Alaska's 17.6 seconds. Combine this with Congress having two fewer rifles means that her damage output just does not keep up with her higher tier sister. That said, these 305mm rifles do still pack a punch when they find their mark on an enemy ship.
One would expect that such a large ship would have amazing air defense but, sadly she is just middle of the pack for USN Cruisers. Sporting the standard 5 inch rifles of the USN gives her a decent range of 5.8kms but the majority of her AA damage comes from her dual mounted 40mm's and her single mounted 20mm's. The main drawback here is that the engagement range for these guns is 3.5km at best and aircraft do not spend much time in this range. This translates into very little engagement time and can see planes get through as a result. As part of a group is where her AA shines like most USN cruisers but alone her AA is just average.
While she can readily contribute a decent amount of damage to enemy aircraft as a group, alone she will find herself vulnerable to a determined carrier captain.
Her maneuverability is as expected. Congress is a large ship with a fairly long rudder shift time of 13 seconds. Considering her top speed of 33 knots before speed flags her turning radius of 850m is surprisingly good for her size but still not great. Further, she is the most detectable cruiser at her tier. Captains should stay at range to allow her rudder the maximum time to work so that she can reduce damage by dodging shells.
Much of
Congress's
play style is based on choosing fights wisely. Although she has great armor for a cruiser and solid guns, she still can be out-damaged by equal and higher tier cruisers due to her slower rate of fire. Her armor will not stand against high-tier battleships; captains should avoid thinking that her large guns and good armor can allow her to carry such an engagement. Captains should spend the early game working with their teammates like normal but, a healthy
Congress
really begins to show its teeth towards the end game. Captains can use her radar early game to aid in removing destroyers and other cruisers. Furthermore, being able to preserve her health via a heal is a major boon and will help her win one on one fights later in the match. Learning when
Congress
can safely engage targets in duels and win is an important skill for captains looking to maximize her game play.
Pros:
Most health of the Tier VIII cruisers
Hard hitting 305mm guns at Tier VIII
Excellent accuracy and the same improved AP angles found in same tier US cruisers on her main battery armament reinforces her role of a cruiser-killer.
Has access to Surveillance Radar . Her Surveillance Radar has a 10km range, a 35s base active period, and a 120s reset timer. It comes with three charges.
Cons:
Long main battery reload at 22 seconds.
Increased fire duration (60 seconds) and vulnerability to multiple fires when under HE spam compared to other cruisers.
Large size and more sluggish maneuverability makes her an easier target for both enemy shells and torpedoes.



Research
As a premium ship, Congress has no module upgrades to research.
Optimal Configuration
Upgrades
The recommended upgrades for Congress are:
Commander Skills
  Recommended Commander Skills  
Cost
(points)

Attack

Defense



1

★★

 

 

★★

 

 



2

 

 

 

 

★★

 



3

 

 

★★

★★

★★

 



4

★★

★★

 

 

 

 

Key: ★★★ - Extremely Useful      ★★ - Frequently Useful      ★ - Occasionally Useful     No stars - Not Useful
Consumables
Congress can equip the following:
Camouflage
As a premium ship, Congress comes with Default permanent camouflage and a set of permanent combat bonuses.
Signals
Recommended Signal Flags
Combat

★

★

★★★

★

★

★

 

★

★★

★★★

★★

★★★

 

★★



Note: Use of the Juliet Charlie signal makes detonation impossible.
Gallery
References
See here for links to Update notes.

Available for testing by supertesters in the game starting from Update 0.10.4.
DevBlog 137:

Preliminary characteristics.

DevBlog 145:

Main battery firing range decreased from 19 to 17.5 km.
Main battery reload time increased from 20 to 22 s.
Hitpoints decreased from 60,450 to 51,150.

DevBlog 178:

Charges of the Repair Party consumable decreased from 3 to 2.
August 2021:

Available for purchase in the Armory for doubloons and in the Premium store.

Update 0.10.8:

Fixed issues with the ship model and textures.