Cossack B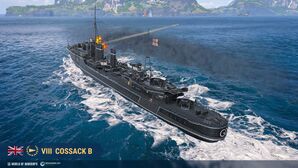 Tech Tree Position
120 mm/45 Mk.IX on a CPXIX mount
4 х 2 

pcs.
Rate of Fire
12 

shots/min.
Reload Time
5 

sec.
Rotation Speed
20 

deg./sec.
180 Degree Turn Time
9 

sec.
Firing Range
11.89 

km.
Maximum Dispersion
104 

m.
HE Shell
120 mm HE 
Maximum HE Shell Damage
1,700 
Chance of Fire on Target Caused by HE Shell
8 

%
Initial HE Shell Velocity
808 

m./s.
HE Shell Weight
22.68 

kg.
AP Shell
120 mm AP 
Maximum AP Shell Damage
2,100 
Initial AP Shell Velocity
808 

m./s.
AP Shell Weight
22.68 

kg.
533 mm QR Mk II
1 х 4 

pcs.
Rate of Fire
0.91 

shots/min.
Reload Time
66 

sec.
Rotation Speed
25 

deg./sec.
180 Degree Turn Time
7.2 

sec.
Torpedo
533 mm Mk IXM 
Maximum Damage
16,767 
Torpedo Speed
62 

knot
Torpedo Range
9.99 

km.
40 mm/39 Vickers QF Mk.VIII on a Mk.VII mount
1 х 4 

pcs.
. . . Average Damage per Second
12.9 
. . . Firing Range
2.49 

km.
12.7 mm Mk.III
2 х 4 

pcs.
. . . Average Damage per Second
4.2 
. . . Firing Range
1.2 

km.
Maximum Speed
36 

knot
Turning Circle Radius
610 

m.
Rudder Shift Time
3.6 

sec.
Surface Detectability Range
6.76 

km.
Air Detectability Range
3.12 

km.
Battle Levels
Cossack B — British promo premium Tier VIII destroyer.
One of the renowned Tribal-class destroyers, different from her British same-type contemporaries in her large size and emphasis on gunnery over torpedo warfare. At the time of her commissioning, she carried four twin 120 mm mounts as her main battery.

Cossack B was first released in late November 2020 for the Black Friday event. Other than her attractive camouflage, she is in all particulars identical to Cossack.
Modules
Compatible Upgrades
 Slot 1 
 Slot 2 
 Slot 3 
 Slot 4 
 Slot 5 
Player Opinion
Performance
Warning. The data presented in the AA Defense sidebar section may be incorrect.
For a graphic summary of ships Tiers VIII thru XI see LittleWhiteMouse's "Actual AA DPS".

Tier VIII Premium Cossack B is a comfortable blend of firepower and concealment. Captains will notice many similarities between Cossack B and Tier VII Premium Commonwealth destroyer Haida. Her performance is very similar and she shares many of the same strength and weaknesses as her sister ship. The most obvious difference between the two ships if the number of main battery rifles, with Cossack B bringing an extra pair of them to the fight.
The guns on Cossack B are plentiful and provide the ship with excellent firepower, although captains will note the firing angles on the 'Y' turret are quite poor; Cossack B must expose a lot of her profile in order to bring all four turrets into a fight. However, when she does manage to get all her guns firing, she boasts an impressive damage rate with her HE shells (complimented by a base fire chance of 8%). This presents Cossack B with almost unrivaled gun power for her tier, capable of quickly dispatching of destroyers that get caught out by her good concealment.
Cossack B's Smoke Generator 

provides her with a quick smoke screen which will allow her to bring her guns into play before before she is forced to move on by the relatively short duration of her smoke. This does, however, promote usage of her smoke primarily for defensive play, as she is able to deploy it to quickly break line of sight with pursuing enemy ships. Captains of Cossack B will find that because of the relatively short smoke duration they are forced to re-position frequently, but her excellent concealment blends well with this.
Cossack B also gains access to a Hydroacoustic Search 

; however, she trades most of its offensive usability for defensive flexibility. Despite being very short-ranged (only 3.0 km), it provides plenty of forewarning about hostile torpedoes. The long duration of this consumable helps to ensure Cossack B captains are almost never caught out by hostile torpedoes, able to keep themselves safe during prolonged confrontations. Captains may also opt to use her hydro in a more aggressive manner by pushing close to enemy smoke screens that may have destroyers lurking within, but the short range of her hydro makes doing so a fairly risky play. However, the Hydroacoustic Search 

is less than ideal for this task as it falls short on spotting range when compared to that of other destroyers at her tier, such as German Z-23 or Pan-Asian Loyang.
Another of Cossack B's key strengths is her excellent concealment. Her low base detection range allows her to deal with enemy destroyers while providing her with the flexibility to control an engagement, choosing when and where to open fire. Her concealment provides her with a buffer zone against other destroyers, allowing Cossack B to evade ships which outgun her, while outgunning ships which out-spot her. Her smoke screen benefits her when used to enable such a play style, allowing her to break detection and disengage if required.
Things are not all smooth sailing for Cossack B though, and she has a few glaring weaknesses. Her foremost issue is her torpedoes, which — although good — are lacking in quantity, as she mounts only a single quadruple-tube launcher. On top of this, the restrictive gun angles of her main battery can also limit the true effectiveness of her guns during close quarter duels. This, when combined with her relatively small health pool can make close quarter duels a somewhat risky business. Lastly, her anti-aircraft defenses are inadequate even for self-defense, so captains must fall back to their team for defense against enemy air attacks.
Captains of
Cossack B
will find the most success using her concealment to sneak upon unsuspecting destroyers and from here pushing into a knife fight to secure the kill. This will allow her to ensure her guns land as many hits as possible, using a mix of her single launch torpedoes and high DPM main battery. Careful and calculated usage of her
Smoke Generator

will allow captains to effectively fight or flee from any enemy ships will allow
Cossack B
to best perform her role as a defensive scout, providing spotting for the team and probing around caps while remaining close to friendly ships to deter attacks from hostile destroyers.
Pros:
Eight main guns in four twin turrets with good rate of fire and very quick turret traverse
Good torpedo damage, range and reload speed
Excellent concealment, as low as 5.5km with all the relevant upgrades
Access to a long lasting Hydroacoustic Search  consumable
The Smoke Generator  consumable has many charges and reloads quickly
Cons:
The rearmost turret has very bad firing angles
Only a single quadruple torpedo launcher with bad firing angles
Virtually useless AA suite, very vulnerable to planes
Smoke from Smoke Generator  disperses very quickly
The Hydroacoustic Search  consumable has a very short detection range
Research
As a Premium ship, Cossack B doesn't have any upgrades to research.
Optimal Configuration
Upgrades
The recommended upgrades for Cossack B are as follows:

Also for Slot 2 the Hydroacoustic Search Modification 1
special upgrade provides a 20% (36 second) action time boost to Hydro. And the Engine Boost Modification 1
special upgrade provides a 30% (36 second) action time boost to Engine Boost. Both are viable and may match your play style better than the alternatives.
Commander Skills
Key skills for Cossack B commanders include Last Stand and Concealment Expert.
  Recommended Commander Skills  
Cost
(points)

Attack

Defense



1

 

★

 

 

 

★★



2

★★

 

★

 

★

★★★



3

★★

 

★★

 

★★

★★



4

 

 

 

 

★★★

 

Key: ★★★ - Extremely Useful      ★★ - Frequently Useful      ★ - Occasionally Useful     No stars - Not Useful
Consumables
Cossack B equips the following consumables:
Camouflage
As a premium ship, Cossack B comes with Default permanent camouflage and a set of permanent combat bonuses.
Signals
Cossack B captains should mount standard signal flags to improve the ship's performance in battle. Sierra Mike (

) signal flags are highly recommended to increase the ship's top speed. Victor Lima (

) and India X-Ray (

) flags can be mounted to improve the ship's main battery fire chance. November Foxtrot (

) is also recommended to reduce consumable cooldown timers.
Note: Use of the Juliet Charlie signal makes detonation impossible.
Gallery
References
See here for links to Update notes.

Added to the game in Update 0.9.10.
Update 0.9.11:

Fixed geometry and textures of the ship.