Courbet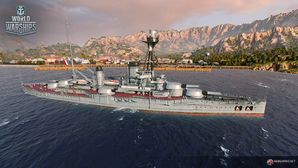 Tech Tree Position
305 mm/45 Mle 1906-1910 on an Mle 1906-1910 mount
6 х 2 

pcs.
Rate of Fire
2 

shots/min.
Reload Time
30 

sec.
Rotation Speed
3 

deg./sec.
180 Degree Turn Time
60 

sec.
Firing Range
15.84 

km.
Maximum Dispersion
221 

m.
HE Shell
305 mm HE OEA Mle 1910 
Maximum HE Shell Damage
4,200 
Chance of Fire on Target Caused by HE Shell
22 

%
Initial HE Shell Velocity
905 

m./s.
HE Shell Weight
308 

kg.
AP Shell
305 mm AP OPf Mle 1910 
Maximum AP Shell Damage
8,300 
Initial AP Shell Velocity
798 

m./s.
AP Shell Weight
428.35 

kg.
139 mm/55 Mle 1910 on a casemate mount
22 х 1 

pcs.
Firing Range
4.8 

km.
Rate of Fire
6 

shots/min.
Reload Time
10 

sec.
HE Shell
139 mm HE OEA Mle 1910 
Maximum HE Shell Damage
2,000 
Initial HE Shell Velocity
840 

m./s.
Chance of Fire on Target Caused by HE Shell
8 

%
75 mm/50 Mle 1922 on an Mle 1922 mount
8 х 1 

pcs.
. . . Average Damage per Second
13.6 
. . . Firing Range
3 

km.
Maximum Speed
19.95 

knot
Turning Circle Radius
580 

m.
Rudder Shift Time
17.2 

sec.
Surface Detectability Range
15.36 

km.
Air Detectability Range
7.51 

km.
Battle Levels
Courbet — French Tier IV battleship.
The first battleship-dreadnought built in France. The ship carried twelve 305 mm main guns and powerful secondary guns. Her sides were reinforced with vast armored areas. Her disadvantages included weak torpedo protection.


Modules
Compatible Upgrades
Player Opinion
Performance
Warning. The data presented in the AA Defense sidebar section may be incorrect.
For a graphic summary of ships Tiers VIII thru XI see LittleWhiteMouse's "Actual AA DPS".
Pros:
Astoundingly long range for her tier, at 17.4 km.
Relatively small turning circle.
She can easily bring five guns on target at a time.
Armor works decently well at its tier.
Cons:
Lowest hit pool out of the tier 4 battleships.
At 21 knots, she isn't going to break any speed records.
Fairly large detection radius.
Anti-aircraft batteries shouldn't be trusted to turn away a strike.
Research
Availability of researchable upgrades for Courbet is as follows:
Hull: Upgrade to Hull (B) for a handful of additional hit points, a small bump up in AA capability, and quicker rudder shift speed. Research of this module unlocks progression to Bretagne.
Gun Fire Control System: Upgrade to PCA n° 4 Mle 2 for an extra 10% range on the main battery.
Propulsion: Courbet's upgraded engines bump her top speed to 21 knots.
Upgrading to Hull (B) first is tempting, but captains are encouraged to invest in the range and speed upgrades first, or they risk not being able to actually enter combat on certain maps. The additional 2,800 hit points offered by Hull (B) are not a bad thing, but represent less than one full shell penetration from enemy battleship AP at this tier, and will not make or break a game; neither will the handful of extra AA guns she receives against Tier IV and V aircraft.
Optimal Configuration
Upgrades
The recommended upgrades for Courbet are as follows:
Commander Skills
Key skills for Courbet commanders include Expert Marksman, Basics of Survivability, and Fire Prevention.
  Recommended Commander Skills  
Cost
(points)

Attack

Defense



1

 

 

 

★★

 

 



2

★★

 

 

★★

★★

 



3

 

 

★★

★★

 

 



4

 

 

 

★★

 

★★

Key: ★★★ - Extremely Useful      ★★ - Frequently Useful      ★ - Occasionally Useful     No stars - Not Useful
Consumables
Courbet can equip the following consumables:
Signals
As a Tier IV ship, it is highly recommended to save signals for use in the later tiers.
Note: Use of the Juliet Charlie signal makes detonation impossible.
Gallery
References
See here for links to Update notes.

Available for testing by supertesters in the game starting from Update 0.6.15.
Update 0.7.2:

Introduced into the game as a researchable ship.

Update 0.10.0:

The firing range of the secondary battery was increased to 4.8 km.