Derzki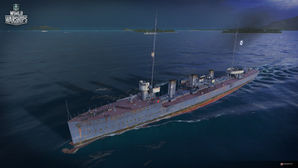 Tech Tree Position
102 mm/60 Model 1911 on an Obukhov Plant mounting
3 х 1 

pcs.
Rate of Fire
12 

shots/min.
Reload Time
5 

sec.
Rotation Speed
9.7 

deg./sec.
180 Degree Turn Time
18.56 

sec.
Firing Range
8.09 

km.
Maximum Dispersion
85 

m.
HE Shell
102 mm HE Model 1915 
Maximum HE Shell Damage
1,500 
Chance of Fire on Target Caused by HE Shell
7 

%
Initial HE Shell Velocity
823 

m./s.
HE Shell Weight
17.5 

kg.
AP Shell
102 mm AP Model 1915 
Maximum AP Shell Damage
1,800 
Initial AP Shell Velocity
823 

m./s.
AP Shell Weight
17.5 

kg.
450 mm Twin Model 1913
5 х 2 

pcs.
Rate of Fire
2.73 

shots/min.
Reload Time
22 

sec.
Rotation Speed
25 

deg./sec.
180 Degree Turn Time
7.2 

sec.
Torpedo
Torpedo Model 1910 
Maximum Damage
6,167 
Torpedo Speed
51 

knot
Torpedo Range
4.02 

km.
7.62 mm Maxim machine gun
2 х 1 

pcs.
. . . Average Damage per Second
3.4 
. . . Firing Range
0.99 

km.
Maximum Speed
34 

knot
Turning Circle Radius
510 

m.
Rudder Shift Time
3.6 

sec.
Surface Detectability Range
5.94 

km.
Air Detectability Range
2.3 

km.
Battle Levels
Derzki — Soviet Tier III destroyer.
The ship belonged to the first series of Russian destroyers to be equipped with turbines. Derzki boasted good survivability owing to a high speed combined with dimensions that were comparatively large for her time. Until the very end of World War I, she had been unrivaled in terms of the number of torpedoes that could be launched in a broadside salvo.
Modules
Compatible Upgrades
Player Opinion
Performance
Warning. The data presented in the AA Defense sidebar section may be incorrect.
For a graphic summary of ships Tiers VIII thru XI see LittleWhiteMouse's "Actual AA DPS".
Derzki may feel like a downgrade from Tier II's Storozhevoi. She does have more health, but the ship is bigger and easier to detect and hit, is a bit less maneuverable, and the gun range is slightly reduced. She is, however, still relatively fast, and has the largest torpedo broadside of all Tier III destroyers with 10 torpedoes.
Captains should use her speed to charge enemy battleships, where the sheer mass of torpedoes, combined with the point blank range and sluggish maneuverability of the battleships the
Derzki
will be matched against guarantee at least few hits and, more often than not, a kill and a "Devastating Strike" medal. However, blindly charging at the closest battleship in range will guarantee a quick trip back to port; captains should seek out a battleship with little to no cruiser cover, activate the
Engine Boost

consumable, charge in, launch their torpedoes, deploy smoke, then disengage. If any cruiser or destroyer attempts to pursue you through your smoke, unleash another torpedo broadside once they get close to make them regret continuing pursuit.
Pros:
Good rate of fire.
Good concealment.
Large torpedo salvo with fast reload of 22 seconds.
Cons:
Slow gun traverse.
Very short-ranged torpedoes.
Worthless AA; inferior to its predecessor, making it vulnerable to aircraft if there is no ally nearby.
Research
Availability of researchable upgrades for Derzki is as follows:
Hull: Upgrade to Derzki (B) for more health and improved maneuverability. Research of this module unlocks progression to Izyaslav.
Gun Fire Control System: Upgrade to GFCS III mod. 2 for an extra 10% main battery range.
Optimal Configuration
Upgrades
The recommended upgrades for Derzki are as follows:
Commander Skills
  Recommended Commander Skills  
Cost
(points)

Attack

Defense



1

★

 

★

★★

 

★★★



2

★★

 

 

 

★★

★★★



3

★★★

 

★★★

 

★

★★★



4

★★★

★★

 

★★★

 

 

Key: ★★★ - Extremely Useful      ★★ - Frequently Useful      ★ - Occasionally Useful     No stars - Not Useful
Consumables
Derzki can equip the following consumables:
Signals
Recommended Signal Flags
Combat

★★★

★

★

★

★★

★★

★

 

★

★★★

★★

 

★

 
Note: Use of the Juliet Charlie signal makes detonation impossible.
Gallery
References
See here for links to Update notes.

Available for testing by supertesters in the game starting from Update 0.5.0.1.
Update 0.5.0.3:

Derzki was added as a Tier III researchable ship.

Update 0.5.1:

Maximum speed was increased from 32.8 to 34 knots.

Update 0.5.2:

Credit earnings increased by 15%.
Experience earnings increased by 22%.

Update 0.5.5:

Detectability after firing main guns was decreased by 1 km.

Update 0.5.7:

The hull's armor model was refined.

Update 0.5.8:

The rotation angle for main battery turret #1 was increased to 360 degrees.

Update 0.5.12:

The position of the ship's wheel was fixed.

Update 0.6.0:

Fixed a bug where, if the Advanced Firing Training skill was taken, one of the main guns had a higher velocity at maximum range than other main batteries.

Update 0.6.11:

The appearance of the ship was improved using a special technology for improved rendering of thin elements.

Update 0.6.12:

Detectability when firing main guns in smoke was changed to 1.98 km.

Update 0.6.13:

Fire extinguishing time now 30 s instead of 60 s.

Update 0.7.7:

Turret traverse speed was increased from 8.0 to 9.7 degrees per second.

Update 0.8.3:

Detectability when firing main guns in smoke was increased from 1.98 to 2.00 km.

Update 0.8.8:

The ship's silhouette was improved.