Diana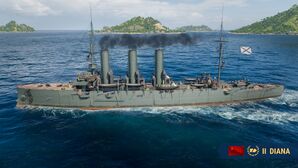 Tech Tree Position
152 mm/45 Model 1892 on a Canet mounting
8 х 1 

pcs.
Rate of Fire
7 

shots/min.
Reload Time
8.57 

sec.
Rotation Speed
5 

deg./sec.
180 Degree Turn Time
36 

sec.
Firing Range
11.8 

km.
Maximum Dispersion
103 

m.
HE Shell
152 mm HE 109 lb 
Maximum HE Shell Damage
2,100 
Chance of Fire on Target Caused by HE Shell
8 

%
Initial HE Shell Velocity
753 

m./s.
HE Shell Weight
49.76 

kg.
AP Shell
152 mm AP 91 lb 
Maximum AP Shell Damage
2,700 
Initial AP Shell Velocity
792.5 

m./s.
AP Shell Weight
41.4 

kg.
75 mm/50 Model 1892 on a Meller mounting
12 х 1 

pcs.
Firing Range
3.2 

km.
Rate of Fire
15 

shots/min.
Reload Time
4 

sec.
HE Shell
75 mm HE 
Maximum HE Shell Damage
1,500 
Initial HE Shell Velocity
823 

m./s.
Chance of Fire on Target Caused by HE Shell
4 

%
Maximum Speed
19 

knot
Turning Circle Radius
430 

m.
Rudder Shift Time
6.4 

sec.
Surface Detectability Range
10.48 

km.
Air Detectability Range
4.37 

km.
Battle Levels
Diana — Soviet special premium Tier II cruiser.
Being a protected cruiser — whose design was typical between the end of the 19th and the beginning of the 20th century — Diana had a reasonably good main battery for her time. The ship was also armed with numerous secondary battery guns. Her vital parts were protected by inclined deck armor.


Modules
Compatible Upgrades
Player Opinion
Performance
Warning. The data presented in the AA Defense sidebar section may be incorrect.
For a graphic summary of ships Tiers VIII thru XI see LittleWhiteMouse's "Actual AA DPS".

Diana in game is very similar to her sister ship Aurora (found at Tier III). She has fewer main guns than Aurora, but she makes up for it by having secondary batteries.
Pros:
Having secondary batteries for close quarters fight.
Has decent firing broadsides. Plays like the St Louis
Good durability with a huge health pool
Cons:
Very slow ship speed and turning.
Very short-range secondaries
Shell flights are high arcing and slow velocity.
Research
As a Premium ship, Diana doesn't have any upgrades to research.
Optimal Configuration
Upgrades
The recommended upgrades for Diana are as follows:
Commander Skills
  Recommended Commander Skills  
Cost
(points)

Attack

Defense



1

★★★

 

★

★★★

★★★

 



2

★★★

 

★

 

★

 



3

★★★

 

★★★

★

★★

★★★



4

★★

 

 

 

★★★

 

Key: ★★★ - Extremely Useful      ★★ - Frequently Useful      ★ - Occasionally Useful     No stars - Not Useful
Consumables
Diana can equip the following consumables:
Camouflage
As a premium ship, Diana comes with Default permanent camouflage and a set of permanent combat bonuses.
Signals
Note: Use of the Juliet Charlie signal makes detonation impossible.
Gallery
References
See here for links to Update notes.

Available for testing by supertesters in the game starting from Update 0.4.0.3 (Beta).
Update 0.4.0.4:

A bug in the elevation of the main battery guns was fixed.

Update 0.4.1:

Diana was released as a Tier II premium cruiser.

Update 0.5.2.3:

Credit earnings increased by 21%.

Update 0.5.3.2:

The Type 6 permanent camouflage was renamed to Type 9.

Update 0.5.6:

The sale price of the ship was changed from 375,000 to 1,237,500 credits.
Diana was added to the tech tree for doubloons. Before, she was previously only available in the premium shop.

Update 0.5.8:

The hull's armor model was refined.
Main battery no. 1 was made able to traverse 360 degrees.

Update 0.6.3:

The appearance of the ship was improved using a special technology for improved rendering of thin elements.

Update 0.6.12:

Detectability when firing main guns in smoke was changed to 4.93 km.

Update 0.6.13:

Fire extinguishing time now 30 s instead of 60 s.

Update 0.6.15:

A bonus of -10% to the ship's post-battle repair cost was added to the Type 9 permanent camouflage.

Update 0.7.6:

The turning circle radius displayed in port was changed from 470 to 430 m.

Update 0.10.10:

The secondary battery firing range was increased to 3.2 km.