Ernst Gaede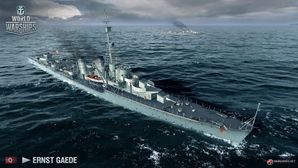 Tech Tree Position
128 mm/45 SK C/34 on an MPLC/34 mount
4 х 1 

pcs.
Rate of Fire
11.74 

shots/min.
Reload Time
5.11 

sec.
Rotation Speed
8 

deg./sec.
180 Degree Turn Time
22.5 

sec.
Firing Range
9.88 

km.
Maximum Dispersion
89 

m.
HE Shell
128 mm Spr.Gr. 
Maximum HE Shell Damage
1,500 
Chance of Fire on Target Caused by HE Shell
6 

%
Initial HE Shell Velocity
830 

m./s.
HE Shell Weight
28 

kg.
AP Shell
128 mm P.Spr.Gr. 
Maximum AP Shell Damage
3,000 
Initial AP Shell Velocity
830 

m./s.
AP Shell Weight
28 

kg.
533 mm Vierling
2 х 4 

pcs.
Rate of Fire
0.67 

shots/min.
Reload Time
90 

sec.
Rotation Speed
25 

deg./sec.
180 Degree Turn Time
7.2 

sec.
Torpedo
G7a T1 
Maximum Damage
13,700 
Torpedo Speed
62 

knot
Torpedo Range
7.5 

km.
20 mm/65 C/38 on an L/30 single mount
8 х 1 

pcs.
. . . Average Damage per Second
24 
. . . Firing Range
2.01 

km.
37 mm/83 SK C/30 on a Dopp LC/30 mount
2 х 2 

pcs.
. . . Average Damage per Second
5.2 
. . . Firing Range
3.51 

km.
Maximum Speed
36 

knot
Turning Circle Radius
690 

m.
Rudder Shift Time
5.6 

sec.
Surface Detectability Range
7.56 

km.
Air Detectability Range
3.43 

km.
Battle Levels
Ernst Gaede — German Tier VI destroyer.
One of the designs for the Zerstörer 1934 destroyer. The ship was designed to be relatively large for her type and featured a very powerful artillery armament of 150 mm cruiser caliber guns. This caliber was unusual for destroyers.
Modules
Compatible Upgrades
 Slot 1 
 Slot 2 
 Slot 3 
 Slot 4 
Player Opinion
Performance
The Ernst Gaede is a vast improvement to its predecessor, the T-22, although it does retain some characteristics from her. The Ernst Gaede still only has four guns to work with, however these guns are much larger and much more effective than the guns found on the T-22. Her torpedoes are a slight improvement to her predecessor's, with the upgraded torpedoes having 8.0km range. This allows some room for the Ernst Gaede to fire torpedoes from stealth, even if the ranges to work with are narrow.
She, as with her successor
Z-23
two tiers later, has the intriguing choice between two different calibers of guns: the standard 128 mm destroyer guns, and 150 mm guns that more resemble light cruiser guns (albeit with fewer barrels than a light cruiser). Both have their advantages:
Pros:
150mm guns are absurdly powerful for a destroyer.
Can deliver torpedo strikes from beyond her detection range.
Torpedoes are fast with good range and hitting power for Tier VI. Her upgraded torpedoes are the same ones found on Admiral Graf Spee.
Largest health pool of all tech tree Tier VI destroyers.
Hydroacoustic Search () consumable.
Cons:
Sub-par handling characteristics for a destroyer: slow rudder shift and a turning radius larger than some Tier VI cruisers.
150mm guns traverse even slower than the 128mm ones after accounting for captain skills.
Large detection radius (on par with Farragut).
Longest torpedo reload time of all Tier VI destroyers.
Research
Ernst Gaede is a very interesting ship; she's one of a handful that have access to two different gun calibers. Hull (B) is a fairly minor upgrade to her anti-aircraft suite and rudder shift. The upgraded Fire Control System module is the best thing to invest in first, providing a badly needed increase in range. After that, it's largely captain's preference. Captains can unlock the improved Main Battery module in order to experiment with the 150mm guns, or spend experience on a minor torpedo buff. Hull (B): the rudder shift buff is nice but not essential and the improvement to her AA battery is largely cosmetic.
Optimal Configuration
Upgrades
The recommended upgrades for Ernst Gaede are as follows:
Upgrade Slot 2 may be replaced by the Hydroacoustic Search Modification 1 (

) upgrade to extend the Ernst Gaede's Hydroacoustic Search duration to 113 seconds.
Commander Skills
Note that the recommendation for Gun Feeder only applies when the 150mm gun option is being used.
  Recommended Commander Skills  
Cost
(points)

Attack

Defense



1

★★

★★

 

★

 

 



2

 

★★★

 

★

★★

★★★



3

★★

★★★

★★

 

★★

★★★



4

 

★

★

 

★★★

★

Key: ★★★ - Extremely Useful      ★★ - Frequently Useful      ★ - Occasionally Useful     No stars - Not Useful
Consumables
Ernst Gaede equips the following consumables:
Camouflage
Type 1, 2, or 5 camouflage can be equipped for credits; Types 1 or 5 are recommended at a minimum to reduce detectibility range.
Players who wish to spend doubloons can equip Ernst Gaede with Type 16 camouflage that lowers her detection radius, reduces the accuracy of incoming shells, and increases the amount of experience she earns.
Alternatively, the 2018 New Year raid campaign provided captains with the Snowy camouflage with the same bonuses as the premium.
Signals
The choice of which Signal Flags to mount will confer to the individual preference of each captain, and are subject to great variation, although there are certain flags which suit Destroyer gameplay better. Captains should mount India Yankee (

) to decrease time to extinguish fires, mount November Foxtrot (

) to decrease reload time of consumables, and mount Sierra Mike (

) to increase the ship's maximum speed. To make their torpedoes more potent, captains should mount Juliet Whiskey Unaone (

) to increase chance of causing flooding and Juliet Charlie (

) to mitigate risk to magazine detonation from mounting the former flag. If captains wish to buff their primary artillery, they are encouraged to mount Victor Lima (

) + India X-Ray (

) to increase fire chance to HE shells.
Recommended Signal Flags
Combat

 

 

 

 

 

 

 

 

 

 

 

 

 

 

Economic

 

 

 

 

 

Special

 

 

 

 

 

 

 

 

Key: ★★★ - Extremely Useful       ★★ - Frequently Useful       ★ - Occasionally Useful      No stars - Not Useful
Note: Use of the Juliet Charlie signal makes detonation impossible.
Gallery
An enemy Minekaze is about to fall victim to Ernst Gaede's ambush.

Ernst Gaede charges and destroys an enemy Nagato class battleship.

Cite error: <ref> tags exist, but no <references/> tag was found