Farragut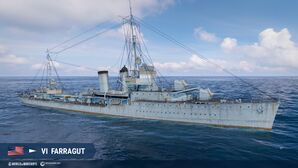 Tech Tree Position
127 mm/38 Mk.12 on a Mk.21 mod.1 mount
5 х 1 

pcs.
Rate of Fire
15 

shots/min.
Reload Time
4 

sec.
Rotation Speed
15 

deg./sec.
180 Degree Turn Time
12 

sec.
Firing Range
11.45 

km.
Maximum Dispersion
100 

m.
HE Shell
127 mm HE Mk32 
Maximum HE Shell Damage
1,800 
Chance of Fire on Target Caused by HE Shell
5 

%
Initial HE Shell Velocity
792 

m./s.
HE Shell Weight
24.5 

kg.
AP Shell
127 mm AP/SC Mk38 
Maximum AP Shell Damage
2,100 
Initial AP Shell Velocity
792 

m./s.
AP Shell Weight
25 

kg.
533 mm Mk14
2 х 4 

pcs.
Rate of Fire
0.68 

shots/min.
Reload Time
88 

sec.
Rotation Speed
25 

deg./sec.
180 Degree Turn Time
7.2 

sec.
Torpedo
Mk11 
Maximum Damage
11,733 
Torpedo Speed
56 

knot
Torpedo Range
5.49 

km.
127 mm/38 Mk.12 on a Mk.24 mod.11 mount
3 х 1 

pcs.
. . . Average Damage per Second
24 
. . . Firing Range
5.01 

km.
127 mm/38 Mk.12 on a Mk.21 mod.1 mount
2 х 1 

pcs.
. . . Average Damage per Second
6.4 
. . . Firing Range
5.01 

km.
12.7 mm Browning on a single mount
4 х 1 

pcs.
. . . Average Damage per Second
15.2 
. . . Firing Range
1.2 

km.
Maximum Speed
36.5 

knot
Turning Circle Radius
560 

m.
Rudder Shift Time
4 

sec.
Surface Detectability Range
7.33 

km.
Air Detectability Range
2.74 

km.
Battle Levels
Farragut — American Tier VI destroyer.
The first U.S. destroyer of the new generation. She was armed with dual-purpose artillery, which significantly enhanced her AA defenses. The torpedo tubes were placed along the ship's centerline, and thus they could be used more efficiently. The destroyers of this class were modernized to receive automatic AA guns.
Modules
Compatible Upgrades
 Slot 1 
 Slot 2 
 Slot 3 
 Slot 4 
Player Opinion
Performance
Farragut continues the evolution of American destroyer design where Nicholas left off, retaining the same main battery guns — adding one more — while moving to a centerline-mounted torpedo configuration.
Players who enjoyed Nicholas will find more of the same with Farragut. Her speed and handling characteristics are nearly identical, and she starts off with the exact same 5.5 km range torpedoes (the Mark 11) of her predecessor. The eventual torpedo upgrade module is worthwhile, giving her almost a full kilometer more of torpedo range and, more critically, faster fish. The move to centerline mounts for her torpedo launchers takes some getting used to; she can put eight torpedoes into the water on either side, but captains are likely to miss the flexibility offered by preceding ships of having launchers on both sides of the ship.
Irritatingly, Farragut has a smaller health pool than Nicholas; Level 3 commander skill Survivability Expert is almost necessary in order to get the most out of her. Like her immediate predecessor, she can exchange Engine Boost 

for Defensive AA Fire 

.
Overall,
Farragut
is a solid destroyer that loves maps with lots of islands she can hide in. American destroyer captains wishing for the capability to fire torpedoes from beyond their detection range must remain patient and wait for
Mahan
.
Pros:
Main battery rate of fire is excellent.
Fast turret rotation compared to other Tier VI destroyers.
Solid top speed of 36.5 knots; she can break 41 knots with the Engine Boost  consumable and the Sierra Mike () signal.
Upgraded torpedoes have a 0.9 km higher range than stock version, and travel noticeably faster.
Cons:
Hull (B) only adds 600 more hit points, and she has fewer hit points than Nicholas.
Shell arcs make long-range targeting difficult.
AA is essentially useless unless Defensive AA fire is active
Research
Availability of researchable upgrades for Farragut is as follows:
Hull: Upgrade to Hull (B) for more health and improved rudder shift time. Research of Hull (B) also unlocks progression to Mahan.
Torpedoes: The Mk12 torpedoes travel faster and farther than the stock Mk11's for no change in reload speed; Hull (B) must be equipped before they can be installed.
Gun Fire Control System: Upgrade to Mk6 mod. 2 for an extra 10% range on the main battery.
As a gunboat destroyer,
Farragut
is best served by maximizing her health pool; this makes Hull (B) the best place to spend early experience gains. Her stock gun range is quite good, so snag the Torpedo module upgrade next, followed by the Fire Control System module to buff her main battery range.
Optimal Configuration
Upgrades
The recommended upgrades for Farragut are as follows:
There aren't a lot of "out of the box" options in terms of upgrades for Farragut captains. Main Armament Modification 1 is the top pick in Slot 1, while Aiming Systems Modification 1 is recommended for Slot 3. Engine Room Protection in Slot 2 and Propulsion Modification 1 in Slot 4 are both highly recommended in the interests of sustaining Farragut's mobility while under fire from enemy ships.
Commander Skills
Preventative Maintenance at Level 1, Last Stand at Level 2, and Concealment Expert at Level 4 are easy recommendations for Farragut commanders.
Level 3 offers a number of good options. Survivability Expert is a safe pick, buffing Farragut's health pool by 20%. Demolition Expert or Basic Firing Training are recommended for captains looking to get more damage out of their main battery. Superintendent is a strong choice if premium consumables are not equipped.
Alternate Level 4 skill recommendations include: Advanced Firing Training to buff the range of Farragut's main battery (as well as the damage of her flak bursts); Radio Location, to aid in hunting down enemy destroyers; and Inertia Fuse for HE Shells, which will improve Farragut's main battery damage against enemy capital ships.
  Recommended Commander Skills  
Cost
(points)

Attack

Defense



1

 

★

★

 

★

★★★



2

★

★

 

 

★★

★★★



3

★★★

★

★★★

★

 

★★★



4

 

★★

★★

 

★★★

★★

Key: ★★★ - Extremely Useful      ★★ - Frequently Useful      ★ - Occasionally Useful     No stars - Not Useful
Consumables
Farragut can equip the following consumables:
Signals
Equipping Juliet Whiskey Unaone (

) is recommended; Farragut captains who work into torpedo range of enemy ships need to get maximum results. Juliet Charlie (

) is also a well-advised choice for any destroyer. Victor Lima (

) and India X-Ray (

) signals are similarly worthy of consideration to increase the fire chance of her main battery shells.
Note: Use of the Juliet Charlie signal makes detonation impossible.
Gallery
References
See here for links to Update notes.

Added to the game in Update 0.1.5 (alpha version) as a Tier V destroyer.
Update 0.2.2.5:

Moved from Tier V to Tier VI.

Update 0.5.0:

Hull C was made alternative and not obligatory for researching.
Added the Defensive AA fire consumable to Hull C.

Update 0.5.1:

Torpedo parameters were changed (speed / reload time / range / damage):

Torpedoes Mark 15 mod. 0 (65/78 / 5.5 / 11600) were replaced by Mark 11 (56/88 / 5.5 / 11733).
Torpedoes Mark 15 mod. 3 (65/88 / 4.5 / 16633) were replaced by Mark 12 (64/88 / 6.4 / 11733).

Update 0.5.2

Credit earnings increased by 13%.

Update 0.5.3.2:

Fixed the error with Hull B on the USN Destroyer Farragut. Now if her magazine is damaged but there is no detonation, this damage will not incapacitate her guns for which the ammunition is delivered from this magazine.

Update 0.5.7:

The armor model of the hull was refined.

Update 0.6.6:

The deck armor thickness was changed to 16mm.

Update 0.6.12:

Detectability when firing main guns in smoke changed to 2.83 km.

Update 0.6.13:

Improved display of thin elements.
The efficiency of the Defensive Fire consumable was increased. Now it increases the power of the aura by four times (instead of three).
Fire extinguishing time now 30 instead of 60 s.
The survivability of air defense weapons was tested and brought to a single standard. The change affects 40mm guns.

Update 0.6.15:

A bonus was added to the permanent camouflages "Type 16" and "Type 12": a 10% discount to the cost of post-battle service.

Update 0.7.6:

Minor fixes to ship textures and geometry.

Update 0.7.7:

For 127mm AP / SC Mk38 armor-piercing shells, the fuse detonation time was reduced from 0.03 to 0.01 s.

Update 0.9.4:

Defensive fire consumable now available on all hulls.

Update 0.9.5:

Small changes to geometry and textures.

Update 0.9.6:

The bonus to the permanent AA aura damage by the Defensive AA Fire consumable was increased from +50% to +75%.
The Farragut Hull C module was removed from the game.
Compensation rules:

If players had already researched the module, they had the XP spent on the research returned as compensation.
If players had the removed module in their Inventory, they received compensation equal to the module's value in credits.
If players had the removed module mounted on the ship, they were replaced with the previous module and removed from the players' account. Players were compensated for the module in the form of credits.
If the replacement module was available in the players' Inventory, they received compensation for its value in credits.
If there was no replacement module available in players' Inventory, they received a replacement free of charge; if the module had not yet been researched, it was automatically researched.

Update 0.9.7:

The bonus to the permanent AA aura damage of the Defensive AA Fire consumable was increased from +75% to +100%.

Update 0.9.11:

Fixed geometry and textures of the ship.

Update 0.10.4:

The appearance of the main guns and the rangefinder was fixed.

Update 0.10.8:

The number of depth charges increased from 1 to 2.

Update 0.11.6:

Ship's 3D model changed, resulting in:

0.12 m increase in draught.
0.11 m decrease in hull height.
0.07 m increase in waterline length.
0.01 m decrease in total length.
0.04 m decrease in waterline hull width.
0.04 m decrease in maximum hull width.

Damage dealt by long-range AA defenses increased from 32 to 53.
Damage from AA shell explosions increased from 1,120 to 1,190.
Aiming sector of the first main battery turret of Hull A increased by 18 degrees on each side.
Damage dealt by short-range AA defenses of Hull A decreased from 53 to 46.
Amount of HP in the superstructure of Hull A increased from 700 to 800.
Amount of HP in the stern of Hull A decreased from 1,100 to 1,000.
Amount of HP in the superstructure of Hull B increased from 700 to 800.
Amount of HP in the stern of Hull B decreased from 1,100 to 1,000.

Update 0.11.7:

Minor fixes to the model and textures of the ship.
Fixed the number of depth charges and the amount of damage they deal.

As per the 11.7 client, the only change is the reduction in the number of bombs per charge from 8 to 6 (Note: the exact changes were not specified in the patch notes)