Gremyashchy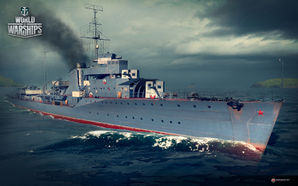 Tech Tree Position
130 mm B-13
4 х 1 

pcs.
Rate of Fire
12 

shots/min.
Reload Time
5 

sec.
Rotation Speed
5 

deg./sec.
180 Degree Turn Time
36 

sec.
Firing Range
11.89 

km.
Maximum Dispersion
104 

m.
HE Shell
HE-46 
Maximum HE Shell Damage
1,900 
Chance of Fire on Target Caused by HE Shell
9 

%
Initial HE Shell Velocity
870 

m./s.
HE Shell Weight
33.4 

kg.
AP Shell
SAP-46 
Maximum AP Shell Damage
2,500 
Initial AP Shell Velocity
870 

m./s.
AP Shell Weight
33.5 

kg.
533 mm Triple 39-U
2 х 3 

pcs.
Rate of Fire
0.87 

shots/min.
Reload Time
69 

sec.
Rotation Speed
25 

deg./sec.
180 Degree Turn Time
7.2 

sec.
Torpedo
53-39 
Maximum Damage
14,400 
Torpedo Speed
55 

knot
Torpedo Range
8.01 

km.
12.7 mm DShK
2 х 1 

pcs.
. . . Average Damage per Second
7.2 
. . . Firing Range
1.2 

km.
37 mm 70-K
4 х 1 

pcs.
. . . Average Damage per Second
22.8 
. . . Firing Range
3.21 

km.
76 mm 34-K
2 х 1 

pcs.
. . . Average Damage per Second
4.4 
. . . Firing Range
3 

km.
12.7 mm Colt
2 х 2 

pcs.
. . . Average Damage per Second
10.2 
. . . Firing Range
1.2 

km.
Maximum Speed
37 

knot
Turning Circle Radius
550 

m.
Rudder Shift Time
2.7 

sec.
Surface Detectability Range
7 

km.
Air Detectability Range
2.88 

km.
Battle Levels
Gremyashchy — Soviet promo premium Tier V destroyer.
This ship was generally successful and combined a high speed, reasonably good torpedo armament, and very powerful artillery. The destroyer's main guns were superior in firepower and range to most foreign counterparts. Weak AA defenses were a significant drawback of her design.

Gremyashchy was first sold in pre-order bundles from 8 April through 25 June 2015. She has not been sold since.


Modules
Compatible Upgrades
Player Opinion
Performance
Commonly referred to as the "Gremy" (a shortening of its name), Gremyashchy is interesting when it comes to destroyers. It has fantastic gun range (nearly 12km) with a detection value of 7km, making it ideal for invisible sniping of targets. It also has the advantage of having a 1km buffer between its max torpedo range and concealment so it can launch torpedoes from stealth much like Japanese destroyers. Also similar to Japanese destroyers, Gremyashchy suffers from very slow turret traverse speeds making it less than ideal for close quarter brawls. However, its rate of fire and flat shell arcs are more than enough to enable it to fight off other destroyers with relative ease. Play her like a ranged gunboat, and she will do quite well with her 12 round per minute guns.
Pros:
Premium credits and experience.
Premium commander training.
Great rate of fire and range for destroyer guns.
Great penetration with AP rounds for most ships within 7km.
Good top speed.
Decent torpedo range and concealment.
Cons:
Slow gun traverse (36 seconds for 180°).
Poor anti-air armament.
Long torpedo reload time.
Research
As a premium ship, Gremyashchy doesn't have any upgrades to research.
Optimal Configuration
Upgrades
The recommended upgrades for Gremyashchy are as follows:
Commander Skills
Gremyashchy plays almost exactly like Gnevny, her tech tree cousin. Commander skills on both ships will have the same focus: maximizing the usefulness of her main battery and improving her survivability. The latter is best accomplished by attempting to preserve her engine functionality (Last Stand) and health pool (Survivability Expert); however, there are other useful skills at those tiers as well, such as Expert Marksman and Advanced Firing Training. Captains will have to use their judgement to decide which is best for their play style.
Recommended Commander Skills
Cost
(points)

Endurance

Attack

Support

Versatility



1

 

★

★

 

 

 

★

 



2

★★

★

★★★

★

 

 

 

★★★



3

★

★★

★★

 

★★★

★★★

★★

★★



4

 

 

 

 

★★★

 

 

★★

Key: ★★★ - Extremely Useful       ★★ - Frequently Useful       ★ - Occasionally Useful      No stars - Not Useful
Consumables
Keeping Gremyashchy's engine in working order is paramount to her survival; captains are strongly recommended to spend the credits (or doubloons) on Damage Control Party II for the reduced cooldown on repairs.
Camouflage
As a premium ship,
Gremyashchy
comes with
Type 9 camouflage
that provides her with a buff to her concealment, a debuff to incoming shell accuracy, and increased experience gain.
Gallery