Iwaki Alpha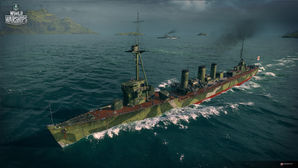 Tech Tree Position
140 mm/50 3rd Year Type on a single mount
5 х 1 

pcs.
Rate of Fire
10 

shots/min.
Reload Time
6 

sec.
Rotation Speed
8.5 

deg./sec.
180 Degree Turn Time
21.18 

sec.
Firing Range
10.71 

km.
Maximum Dispersion
106 

m.
HE Shell
140 mm HE Type0 
Maximum HE Shell Damage
2,400 
Chance of Fire on Target Caused by HE Shell
10 

%
Initial HE Shell Velocity
850 

m./s.
HE Shell Weight
38 

kg.
AP Shell
140 mm Capped Common Shell 
Maximum AP Shell Damage
2,700 
Initial AP Shell Velocity
850 

m./s.
AP Shell Weight
38 

kg.
610 mm Triple
2 х 3 

pcs.
Rate of Fire
0.79 

shots/min.
Reload Time
76 

sec.
Rotation Speed
25 

deg./sec.
180 Degree Turn Time
7.2 

sec.
Torpedo
Type8 mod. 2 
Maximum Damage
16,267 
Torpedo Speed
59 

knot
Torpedo Range
9.99 

km.
25 mm/60 Type 96 on a triple mount
5 х 3 

pcs.
. . . Average Damage per Second
16.5 
. . . Firing Range
2.49 

km.
Maximum Speed
35 

knot
Turning Circle Radius
580 

m.
Rudder Shift Time
3.8 

sec.
Surface Detectability Range
9.8 

km.
Air Detectability Range
3.84 

km.
Battle Levels
Iwaki Alpha — Japanese promo premium Tier IV cruiser.
An advanced design of the Tenryu-class cruiser. The ship's displacement exceeded that of her predecessor, which allowed for a reinforced artillery armament and more powerful propulsion. At the project design stage, the cruiser was faster than all existing cruisers and many destroyers.

Iwaki Alpha was awarded to testers in March 2015 who had played 100 matches during the Closed Alpha period. The 'Death Pickle'[1] is considered so over-powered that she has not been available since.
Modules
Compatible Upgrades
 Slot 1 
 Slot 2 
 Slot 3 
 Slot 4 
Player Opinion
Performance
Warning. The data presented in the AA Defense sidebar section may be incorrect.
For a graphic summary of ships Tiers VIII thru XI see LittleWhiteMouse's "Actual AA DPS".

Iwaki Alpha is best treated as a destroyer (DD) that is the size of a cruiser. She has a smoke generator like a DD, and two triple racks of 610mm torpedoes with massive hitting power. With its light armor and good maneuverability this ship can wolf pack it with the best of them. When played like a torpedo destroyer this ship can work wonders.
The biggest drawback is
Iwaki Alpha'
s cruiser sized hull with a deck-to-keel citadel. Stay undetected as much as you can.
Pros:
Fast and maneuverable.
The guns can be made very accurate indeed.
Hard hitting, stealthy, long-range torpedoes (10 km) that give her the ability to launch from outside detection range.
Two triple center-line racks for a full six torpedo salvo.
Equipped with the smoke generator and hydroacoustic search consumables.
Has access to four upgrade module slots (compared to the usual two).
Cons:
Thin armor.
Prone to citadel hits and incapacitation of modules.
Generally lousy guns (DPM, range, ballistics).
Poor forward torpedo firing arcs.
Lacks secondary artillery armament.
Weak anti-aircraft guns (3.1 km) with no long-range capability.



Research
As a premium ship, Iwaki Alpha doesn't have any modules to research.
Optimal Configuration
The following information is provided for players who wish to create a permanent captain for the ship. Those players who are retraining captains or using the ship to gain extra experience for a captain should consult the page relevant to the ship to which the captain will be assigned.
Upgrades
Iwaki Alpha can equip the legendary Aiming Systems Modification 0
— one of only three ships that can do so[2] — for large buffs to all main armament. Similar to Arkansas Beta, Iwaki Alpha has access to upgrade slots 3 and 4 that other ships of her tier do not.
The recommended upgrades for Iwaki Alpha are as follows:
Combining Aiming Systems Mods 0 and 1 makes Iwaki Alpha the most accurate (smallest dispersion ellipse) ship in the game.
Commander Skills
  Recommended Commander Skills  
Cost
(points)

Attack

Defense



1

★

★

 

 

 

★★



2

★

★★

★★

 

★

 



3

 

 

★★★

 

★★

★



4

 

★

★

 

★★★

 

Key: ★★★ - Extremely Useful      ★★ - Frequently Useful      ★ - Occasionally Useful     No stars - Not Useful
Consumables
Iwaki Alpha equips the following consumables:
Camouflage
As a premium ship, Iwaki Alpha comes with Default permanent camouflage and a set of permanent combat bonuses.
Signals
Iwaki Alpha is reasonably fast, so Sierra Mike (

) may be useful to the player. Victor Lima (

) and India X-Ray (

) may be used to increase the fire chance of main battery high explosive ammunition by 1%. Juliet Whiskey Unaone (

) will increase torpedo efficiency by increasing the chance to cause flooding.
Note: Use of the Juliet Charlie signal makes detonation impossible.
Gallery
References
↑

'Pickle' from the color of her permanent camouflage.
See here for links to Update notes.

Added to the game in Update 0.3.0.
Update 0.3.1.1:

The rudder shift returned to the values ​​in Update 0.3.0 after the mechanics of ship movement were reworked in Update 0.3.1.

Update 0.4.1:

Rudder shift time decreased from 5.0 to 3.8 s.
Reduced HE chance of setting fire from 12% to 10%.

Update 0.5.3.2:

The Type 5 camouflage was renamed Type 9.

Update 0.5.6:

The credits selling price was increased from 375,000 to 1,987,500.

Update 0.5.8:

The armor model of the hull was refined.

Update 0.6.2:

Improved appearance with the use of special technology for improved rendering of thin elements (rigging, etc.).
The national flag was moved from the stern to the mast.

Update 0.6.3.1:

The base ship detectability was reduced from 10,800 to 10,100 m.

Update 0.6.12:

Detectability when firing main guns in smoke changed to 4.71 km.

Update 0.6.13:

Fire extinguishing time now 30 s instead of 60 s.
The Hydroacoustic Search consumable was added to a separate slot.
Main battery firing range increased from 10.21 to 10.71 km.

Update 0.6.15:

Detectability when firing main guns in smoke decreased from 4.71 to 4.29 km.
A bonus was added to the "Type 9" permanent camouflage: a -10% discount to the cost of post-battle maintenance.

Update 0.7.2:

Players who have collected the "Uniforms" sub-collection of the "Yamomoto Isoroku" collection can use an alternate permanent camouflage color.

Update 0.7.6:

Improved display of thin elements on the hull.

Update 0.7.10:

The range of the Hydroacoustic Search consumable was unified: 4 km for detecting ships, 3 km for detecting torpedoes.