Izumo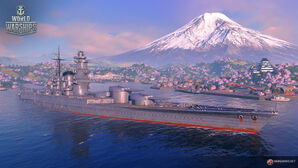 Tech Tree Position
155 mm/60 3rd Year Type
3 х 3 

pcs.
Firing Range
7 

km.
Rate of Fire
5 

shots/min.
Reload Time
12 

sec.
HE Shell
155 mm HE Type0 
Maximum HE Shell Damage
2,600 
Initial HE Shell Velocity
925 

m./s.
Chance of Fire on Target Caused by HE Shel
10 

%
127 mm/40 Type89 A1 mod. 2
6 х 2 

pcs.
Firing Range
7 

km.
Rate of Fire
10 

shots/min.
Reload Time
6 

sec.
HE Shell
127 mm HE Type0 
Maximum HE Shell Damage
2,100 
Initial HE Shell Velocity
725 

m./s.
Chance of Fire on Target Caused by HE Shel
8 

%
127 mm/40 Type89 A1 mod. 2
6 х 2 

pcs.
. . . Average Damage per Second
60.6 
. . . Firing Range
5.01 

km.
25 mm/60 Type96 Triple mod. 1
10 х 3 

pcs.
. . . Average Damage per Second
33 
. . . Firing Range
2.49 

km.
Maximum Speed
27.16 

knot
Turning Circle Radius
890 

m.
Rudder Shift Time
26 

sec.
Surface Detectability Range
17.19 

km.
Air Detectability Range
12.53 

km.
Battle Levels
Izumo — Japanese Tier IX battleship.
One of the draft designs for a "super battleship" concept, preceding the appearance of the Yamato-class battleships. This design featured heavy armor and a sufficiently high speed complemented by powerful main battery guns that were unconventionally placed in three turrets located at the ship's front end.


Modules
Compatible Upgrades
 Slot 1 
 Slot 2 
 Slot 3 
 Slot 4 
 Slot 5 
 Slot 6 
Player Opinion
Performance
Once considered by many to be among the worst Tier IX ships in the game, Izumo has seen a variety of improvements since the launch of World of Warships. While her stock hull still has mediocre secondaries, a weak anti-aircraft battery, and bad turning characteristics, the AP shell penetration of Hull (A) has been significantly improved, allowing her guns (at least) to remain competitive against the likes of Iowa and Friedrich der Große beyond 15km. The central weather deck was increased to 57mm to mitigate damage from high explosive shells from 203mm and IFHE 152mm guns. The concealment, once among the worst of any ship in the game, has been considerably improved, though still on the lower end of the spectrum for Tier IX battleships.
Izumo
's armor on her sharply-angled bow can deflect most AP shells fired at the hull, save for ships whose guns can overmatch 32mm bow plating. Once Hull (B) is unlocked, she gains somewhat better secondaries and AA. While the middle weather deck was buffed, she remains vulnerable to full penetration damage from high explosive shells in upper belt, bow, and stern and the fully upgraded AA suite is not adequate enough to fend off air attacks, even with support from allies. Pointing her bow at enemies and reversing at mid range — similar to how many captains play
Dunkerque, Iowa
, and
North Carolina
— is a valid tactic in
Izumo
, and is quite effective against enemy AP rounds. Like all high tier battleships, she remains vulnerable to fire.
Pros:
Main battery gun penetration is excellent, with very high shell velocity for a battleship.
Great dispersion due to IJN battleship dispersion and sigma.
Small superstructure means that incoming shells don't have a whole lot to hit, and the 57mm weather deck over the middle shatters all cruiser HE, besides Goliath.
Good belt armor.
Great angling potential due to guns having favorable arcs front and rear.
Decent speed for a tier IX battleship.
Cons:
Izumo is a large target (larger than Yamato!).
Has one less gun barrel compared to Amagi.
In many respects, Izumo is inferior to Amagi - including size, speed, torpedo protection, and maneuverability.
Second turret's tall barbette makes the turret vulnerable to getting knocked out.
The middle turret does not have full 360 degree rotation, even though it seems possible.
While she has a turtleback, it is not as effective as the German's, meaning turning broadside can result in multiple citadels.
Turret placement leaves ship extremely vulnerable to attacks in aft arc and makes the No. 3 turret somewhat difficult to use.
Though buffed, concealment is still mediocre, with only the Friedrich der Große and Minnesota being worse.
Research
Unlocking and investing in both hull upgrades will greatly improve Izumo's handling and performance. With those out of the way, either of the remaining modules can be improved in whichever order suits individual captains as they are relatively minor buffs.
Optimal Configuration
Upgrades
The recommended upgrades for Izumo are as follows:
Because of the limited field of fire of Izumo's secondary batteries, a secondary build is not recommended.
Slot 3 allows for further specialization. Generally, Aiming Systems Modification 1 is recommended because it reduces shell dispersion of the main and secondary armaments. Main Battery Modification 2 (
) is worth serious consideration to speed the glacial turret rotation. To increase the effectiveness of the anti-aircraft armament, mount AA Guns Modification 1 (

).
Slot 6 gives players options to finalize their build. For gunnery, mount Main Battery Modification 3 to decrease the reload time of the main battery at the cost of turret rotation. Auxiliary Armaments Modification 2 (

) improves the effectiveness of both secondaries and AA.
Commander Skills
  Recommended Commander Skills  
Cost
(points)

Attack

Defense



1

 

 

 

★★

 

 



2

★★

 

 

★★

★★

 



3

 

 

★★

★★

 

 



4

 

 

 

★★

 

★★

Key: ★★★ - Extremely Useful      ★★ - Frequently Useful      ★ - Occasionally Useful     No stars - Not Useful
Consumables
Players can equip the following consumables on Izumo:
Camouflage
Type 1, 2, or 5 camouflage can be equipped for credits; Types 2 or 5 are recommended at a minimum to reduce the accuracy of incoming shells.
Players who wish to spend doubloons can equip Izumo with Type 19 camouflage that lowers her detection radius, reduces the accuracy of incoming shells, reduces her repair costs, increases her credit earnings, and increases the amount of experience she earns.
Signals
Izumo comes with 21 signal flag slots. The three most important flags are India Delta, Juliet Yankee Bissotwo and India Yankee; all of which will improve your survivability. If the captain goes with the Secondary Build, the addition of Mike Yankee Soxisix will further improve the performance of Izumo's secondaries.
Recommended Signal Flags
Combat

★★

★★

 

 

 

 

★★

★

★★★

★★★

★★★

 

 

 

Economic

 

 

★★

★

 

Special

 

 

★

 

 

 

 

 

Key: ★★★ - Extremely Useful       ★★ - Frequently Useful       ★ - Occasionally Useful      No stars - Not Useful
Gallery