Jaguar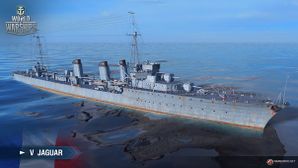 Tech Tree Position
130 mm/40 Mle 1919 on an Mle 1919 mount
5 х 1 

pcs.
Rate of Fire
9.09 

shots/min.
Reload Time
6.6 

sec.
Rotation Speed
10 

deg./sec.
180 Degree Turn Time
18 

sec.
Firing Range
10.98 

km.
Maximum Dispersion
97 

m.
HE Shell
130 mm HE OEA Mle 1923 
Maximum HE Shell Damage
1,900 
Chance of Fire on Target Caused by HE Shell
9 

%
Initial HE Shell Velocity
725 

m./s.
HE Shell Weight
34.85 

kg.
AP Shell
130 mm AP OPFA Mle 1923 
Maximum AP Shell Damage
2,300 
Initial AP Shell Velocity
725 

m./s.
AP Shell Weight
32.05 

kg.
550 mm tube lance-torpilles
2 х 3 

pcs.
Rate of Fire
0.67 

shots/min.
Reload Time
90 

sec.
Rotation Speed
25 

deg./sec.
180 Degree Turn Time
7.2 

sec.
Torpedo
550 mm 23DT Mle 1 
Maximum Damage
14,833 
Torpedo Speed
68 

knot
Torpedo Range
7.98 

km.
75 mm/50 Mle 1922 on an Mle 1922 mount
2 х 1 

pcs.
. . . Average Damage per Second
3.4 
. . . Firing Range
3 

km.
13.2 mm Hotchkiss Mle 1929 on a single mount
2 х 1 

pcs.
. . . Average Damage per Second
5 
. . . Firing Range
1.2 

km.
Maximum Speed
35.5 

knot
Turning Circle Radius
660 

m.
Rudder Shift Time
5.7 

sec.
Surface Detectability Range
6.98 

km.
Air Detectability Range
3.39 

km.
Battle Levels
Jaguar — French Tier V destroyer.
An ancestor of a sub-type of large destroyers (French "contre-torpilleurs") that were fast-moving ships, their speed being typical of the French Navy. In contrast to destroyers of that time, these ships had large dimensions and powerful artillery armament.

Jaguar first appeared in the tech tree on 24 Aug 2019.
Modules
Compatible Upgrades
Player Opinion
Performance
Tier V is an incredibly diverse tier for battleships, cruisers, and destroyers. No other tier can have within its ranks the Kamikaze sisters, Gremyashchy, and Okhotnik or boast greater variety among its destroyers than, possibly, Tier VIII. As such, it speaks to Jaguar's strengths that she can stand out among her peers. No other ship has even close to the 16,600 HP on Jaguar's researchable hull. Nicholas comes in a distant second with her 13,100 HP on Hull B.
Jaguar's armament is a pedestrian upgrade over her predecessor. She equips the same guns, just 5 of them instead of 4, and slightly improved torpedoes. Jaguar's turret angles are slightly wider than her predecessor's, though firing a full salvo still requires exposing considerable broadside. At Tier V, competition from artillery-focused destroyers increases. Notably, Hill also has 5 guns with a similar damage per shell, though each reloads in just 75% of the time. To stay alive and maintain her influence throughout an entire game, captains must learn to stay at range and occasionally let allies do the spotting. While her high health pool affords her the capacity to sustain some extra blows, Jaguar cannot win every destroyer duel with guns alone. Furthermore, Jaguar's high detectability range and lack of smoke puts captains at a disadvantage when they need to disengage.
As far as torpedoes go, Jaguar's are on par or better than even the infamous Kamikaze clones' in maximum damage, speed, and range. Every opportunity to launch her fish is an opportunity to terrorize the enemy, though such opportunities are limited by a 90 second reload time. Jaguar's 8 km torpedo range and 68 knot speed are second to none and only Jianwei's researchable deep water torpedoes can deal more damage. Another positive is Jaguar's ability to stealth torp, which allows her to deliver devastating strikes from the safety of the shadows. Captains should keep in mind that Jaguar's torpedo angles are more limited than that of most Tier V destroyers, especially towards the bow.
Tier V comes with more competition whereas Tier VI comes with a boost in the form of Main Battery Reload Booster. This places
Jaguar
in a weird position where some players likely will only play her so they can stop playing her.
Jaguar
is more difficult to play than
Bourrasque
because of the diverse composition and opposition at Tier V. Her ability to take extra hits is welcome, though this may not be obvious when trading blows, during which dealing damage often comes first. Barring impulsive moves that force her into the early crossfire, her appreciable armament can stay in play for a full 20 minutes. When played well by captains unabashed by staying a bit behind the front-line,
Jaguar
is very effective.
Cons:
No Smoke Generator .
Torpedo launchers reload in 90 seconds (2nd worst, beats Acasta by 5s).
Mediocre turret and torpedo arcs that require exposing broadside and effort to use well.
Research
Availability of researchable upgrades for Jaguar is as follows:
Hull: Upgrade to Hull (B) for better armor and anti-air defenses. Research of this module unlocks progression to Guepard.
Gun Fire Control System: Upgrade to PCA n° 5 Mle 2 for an extra 10% range on the main battery.
It is recommended for captains to first research the Hull upgrade for an additional 3,800 HP on
Jaguar
. Captains may decide to then proceed immediately to the next ship on the tech tree,
Guépard
. Alternatively, captains may research the PCA n° 5 Mle 2 upgrade for a 10% increase to
Jaguar'
s already large main battery range.
Optimal Configuration
Upgrades
Unlike the French cruisers, the French DDs don't seem especially apt to lose their steering or propulsion.
For Slot 1, the signal Juliet Charlie

prevents detonation. In this case, Magazine Modification 1
is unnecessary and Main Armaments Modification 1

is preferred to keep armaments functioning.
For Slot 2, Engine Room Protection
is useful as incapacitation of the engine and/or steering gear can be fatal. With the Last Stand skill, Damage Control System Modification 1 

becomes viable as it can decrease the chance of fire and flooding.
For Slot 3, Aiming Systems Modification 1
is useful for a slight decrease in dispersion. Alternatively, Torpedo Tubes Modification 1
can be equipped to increase Jaguar's torpedo speed by 3.4 knots to 71.4 knots.
Commander Skills
Key skills for Jaguar commanders include Preventive Maintenance, Last Stand, and Concealment Expert.
  Recommended Commander Skills  
Cost
(points)

Attack

Defense



1

★★

 

 

 

 

★★



2

 

 

 

 

 

★★



3

★★

 

★★

 

 

★★



4

 

 

 

★★

★★

 

Key: ★★★ - Extremely Useful      ★★ - Frequently Useful      ★ - Occasionally Useful     No stars - Not Useful
Consumables
Jaguar equips the following consumables:
Signals
Note: Use of the Juliet Charlie signal makes detonation impossible.
Gallery
References
See here for links to Update notes.

Available for testing by supertesters in the game starting from Update 0.8.3.
Mar 26, 2019:

Preliminary characteristics.

June 21, 2019:

Main battery reload time increased from 6 to 6.6 s.

July 19, 2019:

The chance of the engine and steering gears being incapacitated was decreased.
Torpedo range decreased from 9 to 8 km.
Torpedo speed increased from 60 to 68 knots.
Update 0.8.6

Became available for completing a combat mission from the French Destroyers container during the French Destroyers event.

Introduced into the game as a researchable ship in Update 0.8.7.
Update 0.8.8:

Updated outline of the ship.

Update 0.9.8:

Minor fixes to textures and geometry of the ship.

Update 0.10.5:

Fixed geometry and textures of the ship.

Update 0.10.11:

Added the Snow and Stars permanent camouflage.

Update 0.11.4:

Fixed an issue with a missing horn sound when using the Snow and Stars permanent camouflage.