Juruá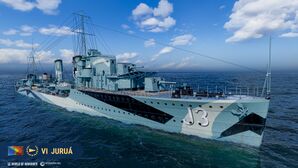 Tech Tree Position
120 mm/45 QF Mk.IX on a CPXIV/XVII/XVIII mount
4 х 1 

pcs.
Rate of Fire
12 

shots/min.
Reload Time
5 

sec.
Rotation Speed
10 

deg./sec.
180 Degree Turn Time
18 

sec.
Firing Range
10.18 

km.
Maximum Dispersion
91 

m.
HE Shell
120 mm HE 
Maximum HE Shell Damage
1,700 
Chance of Fire on Target Caused by HE Shell
8 

%
Initial HE Shell Velocity
808 

m./s.
HE Shell Weight
22.68 

kg.
AP Shell
120 mm AP 
Maximum AP Shell Damage
2,100 
Initial AP Shell Velocity
808 

m./s.
AP Shell Weight
22.68 

kg.
533 mm QR Mk II
2 х 4 

pcs.
Rate of Fire
0.63 

shots/min.
Reload Time
96 

sec.
Rotation Speed
25 

deg./sec.
180 Degree Turn Time
7.2 

sec.
Torpedo
533 mm Mk IX 
Maximum Damage
15,433 
Torpedo Speed
61 

knot
Torpedo Range
8.01 

km.
12.7 mm Mk.III
2 х 4 

pcs.
. . . Average Damage per Second
4.2 
. . . Firing Range
1.2 

km.
Maximum Speed
36 

knot
Turning Circle Radius
540 

m.
Rudder Shift Time
3 

sec.
Surface Detectability Range
6.84 

km.
Air Detectability Range
2.69 

km.
Battle Levels
Juruá — Pan-American promo premium Tier VI destroyer.
The lead ship in a series of destroyers built in Great Britain for the Brazilian Navy. In terms of her characteristics, the ship was close to the British "standard" G- and H-class destroyers.

Juruá first went on sale on 11 February 2021.
Modules
Compatible Upgrades
 Slot 1 
 Slot 2 
 Slot 3 
 Slot 4 
Player Opinion
Performance
Juruá marks the third entry of Pan American ships into World of Warships. In game terms, Juruá is a clone of HMS Gallant. She is something of a mix of existing destroyer styles, packing torpedoes that will remind players of those found on Japanese destroyers married with main battery guns that are analogous to those of the American destroyer line.
Juruá's torpedoes are identical to those deployed aboard Tier VI British cruiser Leander and pack a nasty punch for the tier, topping out at over 15,000 alpha damage. She carries them in a pair of quadruple-tube, centerline-mounted launchers — just like American counterpart Farragut — with a speed and range similar to the fish found deployed aboard Shinonome and Ernst Gaede. What makes Juruá unique is that she retains the ability of British cruisers to launch her torpedoes singly. This greatly increases her tactical flexibility, allowing her to spread her torpedo salvos around in a variety of different directions and angles and wreak havoc on enemy formations. The trade-off for this flexibility is the longest torpedo reload of all Tier VI destroyers and some of the worst torpedo firing angles of any destroyer in the game; the farthest forward that Juruá can rotate her torpedo launchers is nearly 60 degrees off the bow, for example.
Her guns will feel vaguely familiar to players accustomed to Farragut. While her firing range is significantly shorter than that of her US Navy counterpart, Juruá's reload time, turret traverse time, and shell arcs are comparable. Juruá acquits herself well in close-range combat — especially if captains equip Main Battery Modification 2 — or as an extreme nuisance to enemy capital ships with the higher-than-average (for Tier VI, anyway) fire chance on her high explosive rounds. She's more than capable of defeating any of the Tier VI Japanese destroyers or Farragut in a straight up gunfight, but her low health pool will work against her when up against Ernst Gaede or Gnevny. Unless they're badly wounded, courting a gun duel with either of the latter is inadvisable.
Packing the same standard consumables available to most other Tier VI destroyers —
Engine Boost

and
Smoke Generator

—
Juruá
is a well-rounded destroyer whose primary play style is likely to be focused around her torpedo armament, but who is capable of flexing her main battery guns in the mid- and late-game to finish off opposing destroyers that have survived to that point.
Pros:
Best turning radius of Tier VI destroyers (540 meters).
Second best detection range, only being worse than Hatsuharu.
Torpedoes are hard hitting, while being relatively fast and having good concealment.
Can single fire said torpedoes, just like British cruisers.
High fire chance with HE shells.
Cons:
Torpedoes reload slowly, at 96 seconds.
HE shells lose much of their velocity at range.
Low amount of health — only 12,000 hit points — puts her near the bottom of Tier VI destroyers.
Poor torpedo firing arcs.
Short main battery range.
Anti-aircraft armament does a pathetic 4.2 damage per second, at a paltry 1.2 km range.
Research
As a premium ship, Juruá has no modules to research.
Optimal Configuration
Upgrades
The recommended upgrades for Gallant are:
Upgrade Slot 2 provides access to Engine Boost Modification 1
, a special upgrade that increases the duration of the Engine Boost 

consumable by 50%. This upgrade is a viable alternative to Engine Room Protection because the additional speed provides Juruá with more ability to reposition and maneuver around enemy ships while maintaining enough distance to remain undetected.
Upgrade Slot 3 provides access to Smoke Generator Modification 1
, a special upgrade that increases the duration of the Smoke Generator 

consumable by 30%. The increase is only 6 seconds but some captains might find it useful.
Commander Skills
  Recommended Commander Skills  
Cost
(points)

Attack

Defense



1

 

★

 

 

 

★★



2

★★

 

★

 

★

★★★



3

★★

 

★★

 

★★

★★



4

 

 

 

 

★★★

 

Key: ★★★ - Extremely Useful      ★★ - Frequently Useful      ★ - Occasionally Useful     No stars - Not Useful
Consumables
Juruá equips the following consumables:
Camouflage
As a premium ship, Juruá comes with Type 10 camouflage that lowers her detection radius, reduces the accuracy of incoming shells, reduces her service cost, and increases the amount of experience she earns.
Juruá can also be had with a special Boa camouflage.
Signals
Recommended Signal Flags
Combat

 

 

 

 

 

 

 

 

 

 

 

 

 

 

Economic

 

 

 

 

 

Special

 

 

 

 

 

 

 

 

Key: ★★★ - Extremely Useful       ★★ - Frequently Useful       ★ - Occasionally Useful      No stars - Not Useful
Note: Use of the Juliet Charlie signal makes detonation impossible.
Gallery
References
See here for links to Update notes.

Available for testing by supertesters in the game starting from Update 0.10.0.
Available to players in February 2021.
Update 0.10.1:

Fixed geometry and textures.

Update 0.10.10:

Reworked the display of visual effects on the Boitatá permanent camouflage.