König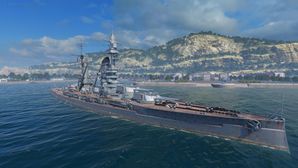 Tech Tree Position
305 mm L/50 Drh LC/1911
5 х 2 

pcs.
Rate of Fire
2.31 

shots/min.
Reload Time
26 

sec.
Rotation Speed
3 

deg./sec.
180 Degree Turn Time
60 

sec.
Firing Range
14.99 

km.
Maximum Dispersion
224 

m.
HE Shell
305 mm Spr.Gr. L/3.8 Bdz. 
Maximum HE Shell Damage
3,400 
Chance of Fire on Target Caused by HE Shell
22 

%
Initial HE Shell Velocity
850 

m./s.
HE Shell Weight
406 

kg.
AP Shell
305 mm P.Spr.Gr. L/3.4 
Maximum AP Shell Damage
8,300 
Initial AP Shell Velocity
855 

m./s.
AP Shell Weight
405 

kg.
150 mm L/45 MPL C/06
14 х 1 

pcs.
Firing Range
4.5 

km.
Rate of Fire
7 

shots/min.
Reload Time
8.57 

sec.
HE Shell
150 mm HE K Gr 18 
Maximum HE Shell Damage
1,800 
Initial HE Shell Velocity
835 

m./s.
Chance of Fire on Target Caused by HE Shel
10 

%
88 mm L/45 MPL C/13
6 х 1 

pcs.
Firing Range
4.5 

km.
Rate of Fire
15 

shots/min.
Reload Time
4 

sec.
HE Shell
88 mm Spr.Gr. 
Maximum HE Shell Damage
1,000 
Initial HE Shell Velocity
890 

m./s.
Chance of Fire on Target Caused by HE Shel
4 

%
88 mm L/45 MPL C/13
6 х 1 

pcs.
. . . Average Damage per Second
10.2 
. . . Firing Range
3.99 

km.
Maximum Speed
21.6 

knot
Turning Circle Radius
620 

m.
Rudder Shift Time
18.5 

sec.
Surface Detectability Range
14.58 

km.
Air Detectability Range
8.47 

km.
Battle Levels
König — German Tier V battleship.
The warship was developed from the Kaiser-class battleships. She inherited her predecessors' very powerful armor. The main turrets were arranged in a more rational manner that allowed the ship to fire a broadside with all main battery guns.
Modules
Compatible Upgrades
Player Opinion
Performance
König is a decent Tier V battleship with the sloping "turtleback" armor protecting the citadel of the ship. Bow on, König can take a significant amount of armor piercing fire, but doing this means that only four of the ten guns can fire at the enemy. However, even with the good armor, König will succumb to sustained concentrated fire. The guns are decent, but do, in some aspects, leave a bit to be desired, especially against battleships, as the guns have a low caliber. The guns are still perfectly serviceable against cruisers, however. The lower caliber prevent over-penetrations in some cases, which makes König an effective cruiser killer. The high shell speed of the guns and the good accuracy for a German battleship mean that König is also good at longer ranges, a contrast to Kaiser before her.
The secondary armament is comprehensive and will discourage most destroyers from getting close to König as well as coming in handy in close quarters fights with another battleship. The anti-aircraft suite is serviceable as well. With the C hull, torpedo or dive bomber squadrons may lose some planes, but the AA suite is not able to fend off an entire carrier attack.
The concealment is, for a battleship, rather good with a 14.6km detection range, the stealthiest of any of the Tier V battleships. This does give her a bit of flexibility when re-positioning. The maneuverability of
König
is rather poor as the acceleration and rudder shift are very slow. The top speed is decent at 24 knots.
Pros:
The guns, while smaller than her peers, have excellent ballistics, shell velocity and arc, extremely deadly towards cruisers showing broadside.
Speedy reload time at 25 seconds.
Good shell dispersion for a German Battleship.
Good AA for her tier, though she cannot fend off air raids on her own.
Comprehensive secondary armament.
Good concealment.
Decent firing angle despite middle turret placement.
Heavily armored.
Cons:
Sluggish maneuverability, difficult to dodge torpedoes from planes and destroyers.
While the top speed is decent, acceleration from a stand still is slow and frustrating even for a battleship.
Turrets have poor traverse speed, 60 seconds for a full 180 degree turn, but can be upgraded with captain skills.
Guns do inconsistent damage towards other battleships due to their smaller caliber.
Optimal Configuration
Upgrades
As a Tier V ship, König has access to Slots 1, 2 and 3 for upgrades.
Captains wishing to emphasize use of her secondaries may use Secondary Battery Modification 1 (
) in Slot 3 to boost her secondaries' range.
Commander Skills
Recommended Commander Skills
Cost
(points)

Endurance

Attack

Support

Versatility



1

★★

★★

★

Χ

Χ

Χ

★

Χ



2

★★

★★

★★★

Χ

Χ

Χ

★

 



3

★★

★

Χ

Χ

★★

★

★

★★



4

★★

★

 

Χ

★★★

 

 

★★

Key: ★★★ - Extremely Useful      ★★ - Frequently Useful      ★ - Occasionally Useful     No stars - Meh     

Χ

- Not recommended
Consumables
König can equip the following consumables:
Camouflage
Type 1, 2, or 5 camouflage
can be equipped for credits; Types 2 or 5 are recommended at a minimum to reduce the accuracy of incoming shells.
Gallery
References