Kamikaze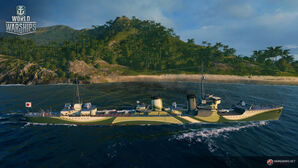 Tech Tree Position
120 mm/45 3rd Year Type
4 х 1 

pcs.
Rate of Fire
6 

shots/min.
Reload Time
10 

sec.
Rotation Speed
7 

deg./sec.
180 Degree Turn Time
25.71 

sec.
Firing Range
8.68 

km.
Maximum Dispersion
80 

m.
HE Shell
120 mm HE Type1 
Maximum HE Shell Damage
2,000 
Chance of Fire on Target Caused by HE Shell
8 

%
Initial HE Shell Velocity
825 

m./s.
HE Shell Weight
20.3 

kg.
AP Shell
120 mm AP Type0 
Maximum AP Shell Damage
2,000 
Initial AP Shell Velocity
825 

m./s.
AP Shell Weight
20.3 

kg.
533 mm Twin
3 х 2 

pcs.
Rate of Fire
1.28 

shots/min.
Reload Time
47 

sec.
Rotation Speed
25 

deg./sec.
180 Degree Turn Time
7.2 

sec.
Torpedo
Type 92 
Maximum Damage
14,400 
Torpedo Speed
68 

knot
Torpedo Range
6.99 

km.
7.7 mm/80 Type92
2 х 1 

pcs.
. . . Average Damage per Second
3.2 
. . . Firing Range
0.99 

km.
Maximum Speed
37.5 

knot
Turning Circle Radius
550 

m.
Rudder Shift Time
2.9 

sec.
Surface Detectability Range
6.2 

km.
Air Detectability Range
2.5 

km.
Battle Levels
Kamikaze — Japanese promo premium Tier V destroyer.
A typical Japanese destroyer that was built using the experience gained during World War I. She boasted a very high speed and powerful torpedo armament. However, her anti-aircraft suite was very weak and her main battery guns had a fairly low rate of fire.

Note: The Kamikaze R variant is an event ship that was obtainable through Project R, a month-long event that was held from 18 January 2016 to 14 February 2016. It is identical to Kamikaze in all respects save appearance; Kamikaze R's camouflage is suminagashi-themed.


Modules
Compatible Upgrades
Player Opinion
Performance
Kamikaze is identical to the Fujin and roughly analagous to the Tier V tech tree ship Minekaze. She has powerful, fast reloading torpedoes that travel 7.0km at 68 knots with a maximum damage of 14,400 points, making her a serious threat to any ship she can spot, and being premium, she avoided the large torpedo nerf that Minekaze received. With a base detection of 6.2km (without camouflage or a captain with Concealment Expert), she has a significant spotting advantage over anything else in her tier that isn't a fellow Japanese destroyer, allowing her to deliver her torpedoes to unsuspecting targets.
Her guns are far more situational, with four 120mm barrels that have a 10 second reload and do 2000 points of damage per shell, making them only useful against other Japanese destroyers in an even fight. Engaging an American or Russian destroyer in a straight up 1v1 gunfight is a one-way ticket back to the Port screen. The guns are decent for harassing other ships using island or smoke cover, but captains must be very careful not to draw unwanted attention to themselves. Mobility-wise, Kamikaze handles like most other destroyers, with 37.5 knot top speed and a rudder shift time of 2.9 second and a 550m turning radius, faster than most American destroyers at tier, but slower than the Russian destroyers.
LittleWhiteMouse's Premium Ship Review: Kamikaze from the NA forums
Cons:
Worse anti-aircraft suite — what little there is of it — than Minekaze.
Slightly slower and worse rudder shift than Minekaze.
Research
As a premium ship, Kamikaze doesn't have any upgrades to research.
Optimal Configuration
Upgrades
As a Tier V ship, Kamikaze has only 3 upgrade slots to use.
Main Armaments Modification 1 is highly recommended for the first slot as it protects Kamikaze's main armaments (mainly the torpedo tubes) from being incapacitated and destroyed. Aiming Systems Modification 1 is highly recommended for the second slot as it increases her torpedo tube traverse speed and decreases her main battery dispersion, as the player may have to quickly turn the torpedo tubes at an extremely close target and may have to use the guns as self-defense. Propulsion Modification 1 is highly recommended over Steering Gears Modification 1, as her speed is the main factor in being able to dodge incoming shells and her rudder shift is already very fast even when incapacitated (provided that the player has his commander trained to have Last Stand).
Commander Skills
The following information is provided for players who wish to create a permanent captain for the ship. Those players who are retraining captains or using the ship to gain extra experience for a captain should consult the page relevant to the ship to which the captain will be assigned.
Recommended Commander Skills
Cost
(points)

Endurance

Attack

Support

Versatility



1

★★

★★★

 

Χ

Χ

Χ

★★

Χ



2

★

★

★★★

★

★★

Χ

★★

★★★



3

★

★

★★

Χ

★★

★★★

★★★

★★



4

 

★

★

Χ

★★★

 

★★

★★★

Key: ★★★ - Extremely Useful      ★★ - Frequently Useful      ★ - Occasionally Useful     No stars - Meh     

Χ

- Not recommended
Consumables
Kamikaze can equip the following consumables:
Camouflage
As a premium ship, Kamikaze comes included with Type 9 camouflage that lowers her detection radius, reduces the accuracy of incoming shells, and increases the amount of experience she earns.
Signals
The choice of which
Signal Flags
to mount will confer to the individual preference of each captain, and are subject to great variation, although there are certain flags which are worth the further emphasis. Captains should mount India Yankee to decrease time to extinguish fires, mount November Foxtrot to decrease reload time of consumables, and mount Sierra Mike to increase the ship's maximum speed. To make their torpedoes more potent, captains should mount Juliet Whisky Unaone to increase chance of causing flooding and Juliet Charlie to mitigate risk to magazine detonation from mounting the former flag. If captains wish to buff their primary artillery, they are encouraged to mount Victor Lima + India X-ray to increase fire chance to HE shells.
Gallery
An enemy New York class battleship falls victim to the Kamikaze.

An enemy Kirov class cruiser takes two Kamikaze torpedoes to the bow.
References