Kronshtadt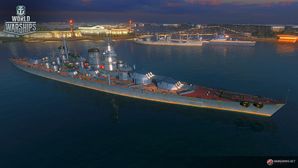 Tech Tree Position
305 mm/54 B-50 on an MK-15 mount
3 х 3 

pcs.
Rate of Fire
3.24 

shots/min.
Reload Time
18.5 

sec.
Rotation Speed
5.1 

deg./sec.
180 Degree Turn Time
35.29 

sec.
Firing Range
18.19 

km.
Maximum Dispersion
241 

m.
HE Shell
305 mm HE Model 1928 
Maximum HE Shell Damage
4,200 
Chance of Fire on Target Caused by HE Shell
24 

%
Initial HE Shell Velocity
920 

m./s.
HE Shell Weight
374.7 

kg.
AP Shell
305 mm AP Model 1928 
Maximum AP Shell Damage
9,000 
Initial AP Shell Velocity
900 

m./s.
AP Shell Weight
471 

kg.
100 mm/56 MZ-16
2 х 2 

pcs.
Firing Range
6.95 

km.
Rate of Fire
16 

shots/min.
Reload Time
3.75 

sec.
HE Shell
HE-56 
Maximum HE Shell Damage
1,400 
Initial HE Shell Velocity
895 

m./s.
Chance of Fire on Target Caused by HE Shel
6 

%
152 mm/57 B-38 on an MK-17 mount
4 х 2 

pcs.
Firing Range
6.95 

km.
Rate of Fire
7.5 

shots/min.
Reload Time
8 

sec.
HE Shell
OFU-35 
Maximum HE Shell Damage
2,200 
Initial HE Shell Velocity
950 

m./s.
Chance of Fire on Target Caused by HE Shel
12 

%
Maximum Speed
33.5 

knot
Turning Circle Radius
840 

m.
Rudder Shift Time
14.9 

sec.
Surface Detectability Range
16.2 

km.
Air Detectability Range
10.42 

km.
Battle Levels
Kronshtadt — Soviet promo premium Tier IX cruiser.
A large gunship officially designated as a heavy cruiser but more of a high-speed "small battleship" by technical characteristics. She carried 305 mm main guns with a very long firing range. Drawbacks: weak AA defenses.

Kronshtadt was first released for sale worldwide on 30 May 2018 and was retired in early 2019.
Modules
Compatible Upgrades
 Slot 1 
 Slot 2 
 Slot 3 
 Slot 4 
 Slot 5 
 Slot 6 
Player Opinion
Performance
Kronshtadt is a unique ship in World of Warships. Many of her characteristics are that of a battleship, while others are clearly those of a cruiser: her size, health, and potential damage of her guns are very much in line with the former, while her speed, armor, concealment and utility are those of the latter.
The largest mistake captains will make with Kronshtadt is the false assumption that they can play her as a battleship and get away with it. Her belt armor is fairly tough and her health pool is large, but her plating and size of her citadel prevent her from achieving the same role as a battleship. When fighting enemy battleships at close range, captains should angle in such a way to "bait" shots into her angled belt armor, and to not encourage the enemy to fire shots into her bow where overmatch of her 25mm plating can easily lead to citadel hits.
Kronshtadt's main strength lies in her main battery: nine (9) 305mm rifles with fantastic shell speed, penetration, and damage. Her accuracy is not nearly as good as that of a traditional cruiser, but what she has is good enough to land large hits with her AP, and to accurately stack fires on enemy battleships at range. Although her guns allow a captain to get by with only firing AP, the best Kronshtadt captains will actively switch between the two types to maximize her effectiveness. Kronshtadt's concealment is also quite good for a ship of her size, so captains are encouraged to make the most of it to lay ambushes and execute flanking maneuvers.
Like many cruisers, Kronshtadt sports a few utility consumables, most notably Surveillance Radar (

) and a choice between Defensive AA Fire (

) or Spotting Aircraft (

). Kronshtadt's play style involves her playing at mid- to long-range for the majority of the match, so her radar will mostly become useful later in games.
Overall, Kronshtadt offers a unique and engaging play style that few other ships come close to offering. Captains who enjoy ships such as Scharnhorst, Amagi, or German heavy cruisers will find her to have a similar play style.
Pros:
Very large hit point pool for a cruiser, equivalent to most Tier IX battleships.
Strong main armament which poses a threat to any ship she faces.
Capable of mounting useful consumables which allow the ship to fill a variety of roles.
Decent armor when angled.
Cons:
Extremely susceptible to receiving citadel hits when improperly angled or when bow-on to high tier battleships.
Dispersion and reload time may leave captains unimpressed.
Mediocre anti-aircraft armament will not deter a dedicated strike from high tier aircraft carriers.
Research
As a Premium ship, Kronshtadt doesn't have any upgrades to research.
Optimal Configuration
Upgrades
Kronshtadt is a large cruiser that has gameplay similar to that of a fast, lightly armed battleship. As such, upgrades for improving maneuverability and survivability work well for her, as well as main battery upgrades.
The recommended upgrades for Kronshtadt are as follows:
Captains looking to maximize their Surveillance Radar (

) effectiveness can also equip Surveillance Radar Modification 1 (

) in Slot 2 in order to extend her radar activation time to 24 seconds.
Commander Skills
  Recommended Commander Skills  
Cost
(points)

Attack

Defense



1

★★★

 

★

★★★

★★★

 



2

 

 

★★★

 

★

 



3

 

 

★★★

★★★

★★★

★★★



4

★★★

 

 

 

★★★

 

Key: ★★★ - Extremely Useful      ★★ - Frequently Useful      ★ - Occasionally Useful     No stars - Not Useful
Consumables
Kronshtadt can equip the following consumables:
Camouflage
As a Premium ship, Kronshtadt comes included with Type 10 camouflage that lowers her detection radius, reduces the accuracy of incoming shells, reduces her repair costs, and increases the amount of experience she earns.
Signals
Recommended Signal Flags
Combat

 

 

★★

 

★★

 

★★

★★★

★★★

 

★★★

★★

 

 

Economic

★★

★

★★

★★

★★★

Special

★★★

★★★

★★★

★★

★★★

 

 

 

Key: ★★★ - Extremely Useful       ★★ - Frequently Useful       ★ - Occasionally Useful      No stars - Not Useful
Note: Use of the Juliet Charlie signal makes detonation impossible.
Gallery
References

Cite error: <ref> tags exist, but no <references/> tag was found