Le Terrible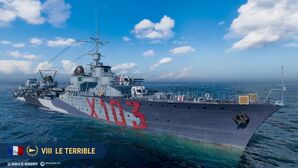 Tech Tree Position
550 mm tube lance-torpilles
3 х 3 

pcs.
Rate of Fire
0.78 

shots/min.
Reload Time
77 

sec.
Rotation Speed
25 

deg./sec.
180 Degree Turn Time
7.2 

sec.
Torpedo
550 mm 24V 
Maximum Damage
18,400 
Torpedo Speed
65 

knot
Torpedo Range
8.01 

km.
13.2 mm/76 Mle 1929
2 х 1 

pcs.
. . . Average Damage per Second
5 
. . . Firing Range
1.2 

km.
13.2 mm/76 CAD Mle 1929
2 х 2 

pcs.
. . . Average Damage per Second
7 
. . . Firing Range
1.2 

km.
37 mm/50 Mle 1933
2 х 2 

pcs.
. . . Average Damage per Second
4.6 
. . . Firing Range
3 

km.
37 mm/50 CA Mle 1925
1 х 1 

pcs.
. . . Average Damage per Second
1.6 
. . . Firing Range
3 

km.
Maximum Speed
43 

knot
Turning Circle Radius
690 

m.
Rudder Shift Time
4.3 

sec.
Surface Detectability Range
8.46 

km.
Air Detectability Range
3.67 

km.
Battle Levels
Le Terrible — French premium Tier VIII destroyer.
One of the Le Fantasque-class torpedo-boat destroyers—large fast ships with powerful artillery armament. During sea trials, she reached a top speed that remains unsurpassed by any destroyer since.

Le Terrible was first released for sale worldwide on 27 October 2018.
Modules
Compatible Upgrades
 Slot 1 
 Slot 2 
 Slot 3 
 Slot 4 
 Slot 5 
Player Opinion
Performance
Le Terrible exemplifies the fast, gunboat style of destroyer play found in ships such as the Kiev and Khabarovsk. Having a large surface detection range, somewhat poor torpedoes, and no Smoke Generator (

) consumable, Le Terrible must rely on her guns and pure, blistering speed to have an impact in battle.
First and foremost, Le Terrible is currently the fastest ship in the game, topping out at 53.8 knots with all pertinent boosts active. While her base top speed matches that of Khabarovsk, her improved Engine Boost (

) provides the edge need to claim the moniker of "fastest ship in the game". Le Terrible also has a meaty health pool to draw upon, facilitating her ability to draw and dodge most enemy fire through sheer speed and maneuverability. In addition, this health pool will help her to win destroyer duels, though her similarly large spotting radius functionally means that enemy destroyers will typically spot Le Terrible first in most situations. With her speed, however, it's unlikely that opposing destroyers will be able to escape upon being spotted. Le Terrible also has access to the Main Battery Reload Booster (

) consumable, doubling her rate of fire for fifteen seconds and letting her relatively high damage HE shells tear apart any enemy unlucky enough to be targeted.
It's not all peaches and cream, unfortunately. For all her speed, health, and bursty guns, Le Terrible sacrifices her smoke screen. Unlike other destroyers who might have an option to forgo smoke, it's simply not available on Le Terrible. Functionally, this forces her to rely entirely upon speed and health for disengagements while also ensuring any damage done by Le Terrible will be done in the open. Unless clever island play is used, Le Terrible will be spotted so long as her guns are firing (and assuming she hasn't drafted some other ship's smoke for her own use). Additionally, the firing arcs on Le Terrible's third and fourth turrets are abysmally bad, forcing her to go nearly broadside to allow her entire main battery to enter action. While this isn't a huge issue when fighting at range, it becomes a critical weakness against other destroyers, as sailing side on during a knife-fight only causes her to take more damage. Admittedly, this weakness is somewhat mitigated by Le Terrible's Main Battery Reload Booster (

), but it's something captains should keep in mind nonetheless.
In short,
Le Terrible
is a speed demon in the most literal sense, sacrificing a key element of most destroyer play in order to more heavily specialize in speed and firepower. Those who enjoy living life on the edge will surely enjoy the experience afforded by this super-sonic destroyer.
Pros:
Large 138.6mm guns with heavy shells hit for high damage.
Can equip the Main Battery Reload Booster (), doubling main battery rate of fire for 15 seconds.
With a base speed of 43 knots (matched only by Khabarovsk) and access to the improved French version of the Engine Boost () consumable, Le Terrible can become the fastest ship in the game, able to reach a top speed of 53.8 knots with all available upgrades.
Due to her top speed, Le Terrible handles well while maneuvering (in spite of her large turning circle).
Research
As a premium ship, Le Terrible doesn't have any upgrades to research.
Optimal Configuration
Upgrades
The recommended upgrades for Le Terrible are as follows:
Le Terrible is a gunboat destroyer, so upgrades suiting gunboat destroyers are useful for her, such as Engine Boost Modification 1 (

) for her unique Engine Boost (

) consumable.
Commander Skills
Key skills for Le Terrible commanders include Last Stand, Survivability Expert, and Advanced Firing Training.
Recommended Commander Skills
Cost
(points)

Endurance

Attack

Support

Versatility



1

★★★

★★

★

Χ

Χ

Χ

 

Χ



2

★

★★

★★

 

Χ

Χ

★★★

★★★



3

 

★★★

 

Χ

★★★

★★

★★

 



4

Χ

Χ

★★★

Χ

★★★

 

 

★★

Key: ★★★ - Extremely Useful      ★★ - Frequently Useful      ★ - Occasionally Useful     No stars - Meh     

Χ

- Not recommended
Consumables
Le Terrible equips the following consumables:
Camouflage
As a premium ship, Le Terrible comes included with Type 10 camouflage that lowers her detection radius, reduces the accuracy of incoming shells, reduces her repair costs, and increases the amount of experience she earns.
Signals
Le Terrible captains should mount standard signal flags to improve the ship's performance in battle. Sierra Mike (

) flags are highly recommended to increase the ship's top speed. Victor Lima (

) and India X-Ray (

) flags are recommended to improve the main battery's fire chance. November Foxtrot (

) flags can also be mounted to decrease consumable cooldown time. Lastly, economic and special signal flags can be mounted to increase the ship's economic gains per battle.
Recommended Signal Flags
Combat

★

 

★

★

★★

 

★★★

★★★

 

 

★

★★

 

 

Economic

★★

★

★★

★

★

Special

★★★

★★

★★

★★

★★★

 

 

 

Key: ★★★ - Extremely Useful       ★★ - Frequently Useful       ★ - Occasionally Useful      No stars - Not Useful
Gallery
References