Lion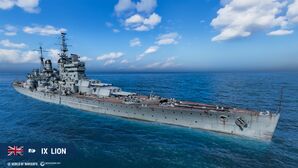 Tech Tree Position
406 mm/45 Mk.II on a Mk.IV Type A mount
3 х 3 

pcs.
Rate of Fire
2 

shots/min.
Reload Time
30 

sec.
Rotation Speed
4 

deg./sec.
180 Degree Turn Time
45 

sec.
Firing Range
18.85 

km.
Maximum Dispersion
267 

m.
HE Shell
406 mm HE Mk II 
Maximum HE Shell Damage
6,900 
Chance of Fire on Target Caused by HE Shell
46 

%
Initial HE Shell Velocity
792 

m./s.
HE Shell Weight
929 

kg.
AP Shell
406 mm AP Mk III 
Maximum AP Shell Damage
12,600 
Initial AP Shell Velocity
747 

m./s.
AP Shell Weight
1080 

kg.
133 mm/50 QF Mk.I on a Mk.I mount
8 х 2 

pcs.
Firing Range
6.95 

km.
Rate of Fire
9 

shots/min.
Reload Time
6.67 

sec.
HE Shell
133 mm HE Mk IC 
Maximum HE Shell Damage
1,900 
Initial HE Shell Velocity
792 

m./s.
Chance of Fire on Target Caused by HE Shell
8 

%
133 mm/50 QF Mk.I on a Mk.I mount
8 х 2 

pcs.
. . . Average Damage per Second
64.8 
. . . Firing Range
4.5 

km.
40 mm/56 OQF Mk.1/2 on an RP Mk.II mount
2 х 4 

pcs.
. . . Average Damage per Second
31.8 
. . . Firing Range
3.51 

km.
40 mm/39 Vickers QF Mk.VIII on a Mk.V mount
10 х 8 

pcs.
. . . Average Damage per Second
198 
. . . Firing Range
2.49 

km.
40 mm/56 OQF Mk.XI on a Mk.V mount
4 х 2 

pcs.
. . . Average Damage per Second
49.2 
. . . Firing Range
3.51 

km.
20 mm Oerlikon Mk.II on a Mk.V mount
6 х 2 

pcs.
. . . Average Damage per Second
36.6 
. . . Firing Range
2.01 

km.
Maximum Speed
28.03 

knot
Turning Circle Radius
830 

m.
Rudder Shift Time
22.2 

sec.
Surface Detectability Range
15.3 

km.
Air Detectability Range
10.51 

km.
Battle Levels
Lion — British Tier IX battleship.
The last British battleship designed and laid down before the breakout of World War II. In many respects, the ship was a development of the King George V-class ships, but, unlike her predecessors, she had greater dimensions, heavier armor, and modern 406 mm main guns.

Modules
Compatible Upgrades
 Slot 1 
 Slot 2 
 Slot 3 
 Slot 4 
 Slot 5 
 Slot 6 
Player Opinion
Performance
HMS Lion continues the trend of mid to high tier British Battleships, following the example set by King George V, with her above average concealment for a Battleship, rather poor vertical protection, and absurd High Explosive Firepower. The most noticeable upgrade to the Lion over the Tier VIII ship, HMS Monarch, is her access to two different sets of 16 inch rifles, either the 406mm guns or 419mm guns. Neither option is a poor choice, with both boasting absurd HE shells that deal a hefty amount of damage while boasting a fairly high fire chance, as well as short fuse AP shells that have a higher chance of arming and detonating inside cruisers, though you will most likely wish to stick with the 419mm guns as they are the ones that you will find on the Tier X Ship, the HMS Conqueror. Another noticeable upgrade is the change to the Repair Party Consumable. Compared to the previous ship in the line, the Repair Party Consumable repairs a tremendous amount of damage, recovering 75 percent of Casement Damage, though unfortunately only 10 percent of Citadel Damage. However, the fact that the ship recovers 2.0% of her HP per second over a 20 second duration ( add on 20 percent more with the flag ), and the Lion can effectively "print" herself a new ship if given the opportunity to disengage.
Speaking of disengaging, the HMS Lion can effectively disappear from enemy sights if she manages to place herself in the optimum position. Her minimum concealment can reach as low as 12 kilometers, which is patently absurd for such a large vessel. That concealment can also allow her to surprise enemy Cruisers or Battleships which have similar or only slightly better concealement, as well as be a nightmare for cruisers caught out in open water thanks to the combination of stealth and her short fuse armor piercing.
Do not be fooled, however, into thinking that the Lion is some sort of monster of a Battleship. She has a fair number of weaknesses, such as a high water citadel, extremely poor firing angles on her main battery guns, and she is coated in 32mm plating, which makes her vulnerable to getting chipped down by HE spammers over time. This is all on top of the fact that she also has an extremely low HP pool of just 67,900 Hitpoints, which is even less than the French Jean Bart, which has 69,000 Hitpoints. All of this combined means that the Lion is forced to play more of a midrange role and is highly susceptible, without proper management of her HP pool, to being sunk in the opening minutes of a match before she can make any effect.
Overall, Lion is a fairly decent ship. You can make good effect out of her as well, just...be careful.
Pros:
Great armor piercing shell penetration combined with short fuse AP makes her dangerous versus cruisers
High chance of fire with high explosive shells.
Excellent handling characteristics.
Great concealment.
Decent belt armor that protects the citadel well when angled.
Decent anti-air weaponry provides more-than-adequate self-defense from enemy bomber aircraft.
Access to the Specialized Repair Teams  consumable found on Royal Navy cruisers that can heal 75% of normal penetration damage.
Cons:
Lowest health pool of all Tier IX battleships, as well as weaker Torpedo Defense System.
Armor scheme is vulnerable to broadside hits from enemy battleships and cruiser HE shells.
Poor firing angles in general means that she is forced to expose a large amount of broadside to fire all of her guns.
Her size and length make dodging torpedoes difficult.
Average top speed for the tier; not fast enough to chase some ships.
Research
Priority should be focused upon upgrading her hull first, then improving her range. The Engine Module should be researched third, and the 419mm guns can be saved for the last part of the grind.
Optimal Configuration
Upgrades
The recommended upgrades for Lion are as follows:
Commander Skills
  Recommended Commander Skills  
Cost
(points)

Attack

Defense



1

★★

 

 

★★

 

 



2

★★

 

 

 

★★

 



3

 

 

★★

 

 

 



4

 

 

 

★★

★★

 

Key: ★★★ - Extremely Useful      ★★ - Frequently Useful      ★ - Occasionally Useful     No stars - Not Useful
Consumables
Lion can equip the following consumables:
When choosing between aviation assets for Slot 3, the pride leader should consider that Spotting Aircraft 

provides better vision, enabling her to take more distant prey, while Catapult Fighter 

is mainly intended to keep the fleas and ticks at bay. Choose whichever suits you.
Camouflage
Type 1, 2, or 5 camouflage can be equipped for credits; Types 2 or 5 are recommended at a minimum to reduce the accuracy of incoming shells.
Players who wish to spend doubloons can equip Lion with Type 19 camouflage that lowers her detection radius, reduces the accuracy of incoming shells, reduces her repair costs, and increases the amount of experience she earns.
Signals
Recommended Signal Flags
Combat

★★

★

★

 

★

★

★★

★★

★★★

★★

★★★

★

 

 

Economic

★

★★

★★★

★★

★

Special

 

★★

★★

 

 

 

 

 

Key: ★★★ - Extremely Useful       ★★ - Frequently Useful       ★ - Occasionally Useful      No stars - Not Useful
Note: Use of the Juliet Charlie signal makes detonation impossible.
Gallery
An Aichi D3A1 from Kaga inspects the new cub.

Lion shreds the enemy Hiryu's torpedo bombers.

An enemy Hood attempts to tame Lion.
References
See here for links to Update notes.

Available to supertesters in the game starting from Update 0.6.7.
Introduced into the game as a researchable ship in Update 0.6.10.
Update 0.6.12:

Detectability when firing main guns in smoke changed to 14.76 km.
The cooldown of thebRepair Party I consumable was changed from 120 to 180 s and Repair Party II from 80 to 120 s.
The HP points were insignificantly redistributed between the casemate and the superstructure. The superstructure under the secondary battery guns now refers to the superstructure of the ship.

Update 0.8.5:

Credit earnings decreased by -5%.
Experience earnings reduced by -5%.

Update 0.8.6:

The citadel was raised to occupy some of the casemate area.
The Repair Party consumable was changed:

Casemate (non-citadel) damage restoration was increased from 60% to 75%.
Cooldown reduced from 180 to 120 s.

Update 0.9.3:

Fixed a bug due to which the detectability was calculated incorrectly when firing the main battery guns.

Update 0.9.6:

The value of the in-game turning circle radius was changed to 830 m to correct prior discrepancy.

Update 0.10.0:

The firing range of the secondary battery was increased to 6.95 km.

Update 0.10.3:

Fixed a bug due to which torpedoes inflicted damage if they had already passed the ship or were moving in the opposite direction from it.