Minekaze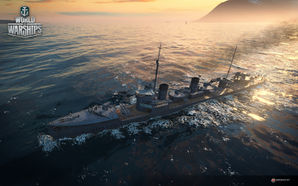 Tech Tree Position
120 mm/45 3rd Year Type on a Model G mount
4 х 1 

pcs.
Rate of Fire
5.5 

shots/min.
Reload Time
10.9 

sec.
Rotation Speed
6 

deg./sec.
180 Degree Turn Time
30 

sec.
Firing Range
8.11 

km.
Maximum Dispersion
81 

m.
HE Shell
120 mm HE Type1 
Maximum HE Shell Damage
1,700 
Chance of Fire on Target Caused by HE Shell
7 

%
Initial HE Shell Velocity
825 

m./s.
HE Shell Weight
20.3 

kg.
AP Shell
120 mm AP Type0 
Maximum AP Shell Damage
2,000 
Initial AP Shell Velocity
825 

m./s.
AP Shell Weight
20.3 

kg.
533 mm Twin
3 х 2 

pcs.
Rate of Fire
1.43 

shots/min.
Reload Time
42 

sec.
Rotation Speed
25 

deg./sec.
180 Degree Turn Time
7.2 

sec.
Torpedo
533 mm Type6 
Maximum Damage
10,833 
Torpedo Speed
57 

knot
Torpedo Range
6.99 

km.
7.7 mm/80 Type 92 on a single mount
2 х 1 

pcs.
. . . Average Damage per Second
3.2 
. . . Firing Range
0.99 

km.
Maximum Speed
39 

knot
Turning Circle Radius
550 

m.
Rudder Shift Time
3.2 

sec.
Surface Detectability Range
6.01 

km.
Air Detectability Range
2.5 

km.
Battle Levels
Minekaze — Japanese Tier V destroyer.
A ship that had a remarkable influence on the development of destroyers in the Imperial Japanese Navy. Owing to her powerful turbines, Minekaze could produce very high speeds that were superior to many of the destroyers built later.
Modules
Compatible Upgrades
Player Opinion
Performance
Sometimes called "Ninjakaze" due to her ability to suddenly appear out of nowhere — an appearance that is frequently the harbinger of an incoming torpedo strike — Minekaze is a ship nearly 100% reliant on those torpedoes for damage.
She is arguably the weakest of the Japanese destroyers, with a low health pool, fragile modules, weak armor, and a very sub-par main battery. Her guns have an abysmal turn rate of 25 seconds for 180 degrees, and a very long reload time of 10 seconds. Though it is possible to do good damage with her high explosive shells, she will not be winning very many gun duels, especially not against the likes of Nicholas or Gnevny. Minekaze's guns should not be forgotten, but they shouldn't be relied on as the main source of damage and are best used sparingly in specific situations.
Minekaze lives and dies by her torpedoes. They are her main weapon, capable of striking outside of her detection range. A skilled Minekaze player is able to sink enemy ships and never be spotted through the course of an entire match. Her three twin-tube launchers allow her to cover a lot of ocean with her torpedo spreads, and she reloads those tubes very quickly at 42 seconds each. Players looking to master the art of torpedoing enemies without being detected should start their training here; there is no better teacher than experience, and Minekaze's torpedoes reload quickly enough to provide plenty of that.
With patience and practice, the approximately 1km gap between maximum torpedo range and detection range can be maximized to devastate entire groups of unaware battleships and cruisers. It also allows captains to stalk a solo battleship or carrier, then flex
Minekaze
's speed to drive straight at them to deliver a full broadside of torpedoes at point blank range. She is best off avoiding other enemy destroyers completely and breaking unfavorable gunnery engagements quickly; the ability to launch fast moving torpedoes from stealth is
Minekaze
's greatest asset, and a gunfight with anything that isn't another equal- or lower-tier Japanese destroyer is likely a losing battle.
Pros:
Workable torpedoes with considerable damage.
Decent torpedo range of 7 km that allows her to launch them 1.6 km(0.8 km without Concealment Expert)closer than the max range without being spotted.
Rudder shift time and turning circle is almost nonexistent that makes shells and torpedo dodging a snap.
Excellent torpedo reload time at 42 seconds which is the fastest of any destroyer tier V-X.
Flexible three (3) twin torpedo tube configuration which makes it easy to spread out torpedoes.
Very fast at 39 knots, reaching 48 knots with Engine Boost  activated, Sierra Mike signal, and swift in silence skill.
Cons:
Guns have very slow rotation speed, reload, now have worse fire chance, and do mediocre damage, aside from the fact they are vastly inferior to both her Russian and American counterparts.
Slow unupgraded torpedo speed, making hits from range difficult.
Weak anti-aircraft suite that is all bark and rarely bites.
Research
Players should research Hull (B) first, as it provides a small increase to her health and maneuverability. Whether or not to research the remaining upgrades is up to the individual player, as
Minekaze
will not get a tremendous amount of use out of her guns and the experience may be better spent working up to
Hatsuharu
.
Optimal Configuration
Upgrades
Upgrade choices for Minekaze almost make themselves:
Commander Skills
  Recommended Commander Skills  
Cost
(points)

Attack

Defense



1

 

 

 

 

 

★★



2

 

★★

★★

 

 

★★



3

 

★★

★★

 

 

 



4

 

★★

 

 

★★

 

Key: ★★★ - Extremely Useful      ★★ - Frequently Useful      ★ - Occasionally Useful     No stars - Not Useful
Consumables
Minekaze equips the following consumables:
Signals
Note: Use of the Juliet Charlie signal makes detonation impossible.
Gallery
Minekaze closes on an enemy Clemson.
References
See here for links to Update notes.

Added to the game from the very beginning (alpha version) as a Tier VI destroyer.
Update 0.1.3.1 or Update 0.1.5 (conflicting articles):

Moved from Tier VI to Tier V.

Update 0.1.5:

The range of the AA defense was increased.

Update 0.2.2.5:

The traverse angles of the main battery were slightly increased.

Update 0.5.0:

Reduced launch angles of the torpedo tubes.
The main battery rotation speed was increased from 4 to 6 degrees per second.
Detectability from ships increased from 5.94 to 6.2 km.
The 533 mm Type 89 torpedo was removed from research. Players who had researched and purchased this module were compensated in the amount of 5,000 experience and 415,000 credits. If the module was no longer owned, only experience was compensated.
The Experience and Credit earnings were reduced by a value in the range of 5-10%.

Update 0.5.2:

As a temporary offer, it became possible to purchase and install a special New Year's permanent camouflage. After the camouflage was removed from sale, it remained with those players who purchased it.

Update 0.5.3.2:

Type 9 camouflage renamed Type 12.

Update 0.5.7:

The armor model of the hull was refined.

Update 0.5.8:

The sector of rotation of turrets No. 1 and No. 3 is now 360°

Update 0.5.15:

Moved to an alternative branch of Japanese destroyers.
Replacement Rules:

If a player had researched Minekaze before the update was released, and had not researched Mutsuki, then Mutsuki and Gun Fire Control Type 4 mod 2 for Isokaze were researched. Unused experience was transferred to Mutsuki.
If a player had purchased Minekaze before the update was released, and had not researched Mutsuki, then Mutsuki was credited to their account with a Port Slot. Any unused experience was transferred to Mutsuki.
If a player had any Commanders with a Minekaze specialisation before the update, then the Commanders were retrained as a specialist in captaining Mutsuki. In addition, a Commander with 10,000 Commander XP and specialisation in commanding Minekaze plus a reserve slot was added to the player's account.

Update 0.6.2:

The national flag was moved from the stern to the mast.

Update 0.6.3:

Base firing range increased from 6,927 to 8,110 m.

Update 0.6.12:

Detectability when firing main guns in smoke changed to 2.22 km.

Update 0.6.13:

Fire extinguishing time now 30 s instead of 60 s.
Improved display of thin elements.
Hull B: durability of steering gears increased by 400 units. The change does not affect the HP of the ship in any way.

Update 0.6.15:

A bonus was added to the "Type 12" permanent camouflage: a 10% discount to the cost of post-battle maintenance.

Update 0.7.6 update:

Improved display of thin elements on the hull.

Update 0.7.12:

Steering gears protection from damage caused by HE shells was increased.

Update 0.9.6:

The value of the in-game turning circle radius was changed to 550 m to correct prior discrepancy.

Update 0.11.11:

Minor updates to geometry and textures.