Minnesota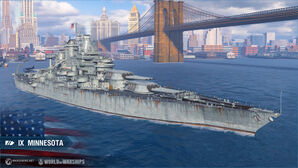 Tech Tree Position
406 mm/45 Mk.7 in a turret
4 х 3 

pcs.
Rate of Fire
1.5 

shots/min.
Reload Time
40 

sec.
Rotation Speed
4 

deg./sec.
180 Degree Turn Time
45 

sec.
Firing Range
21.18 

km.
Maximum Dispersion
271 

m.
HE Shell
406 mm HE/HC Mk13 
Maximum HE Shell Damage
5,700 
Chance of Fire on Target Caused by HE Shell
36 

%
Initial HE Shell Velocity
820 

m./s.
HE Shell Weight
862 

kg.
AP Shell
406 mm AP Mk8 mod. 1 
Maximum AP Shell Damage
12,800 
Initial AP Shell Velocity
762 

m./s.
AP Shell Weight
1100 

kg.
127 mm/38 Mk.12 on a Mk.32 mount
8 х 2 

pcs.
Firing Range
6.95 

km.
Rate of Fire
10 

shots/min.
Reload Time
6 

sec.
HE Shell
127 mm HE Mk32 
Maximum HE Shell Damage
1,800 
Initial HE Shell Velocity
792 

m./s.
Chance of Fire on Target Caused by HE Shel
5 

%
127 mm/38 Mk.12 on a Mk.32 mount
8 х 2 

pcs.
. . . Average Damage per Second
120.8 
. . . Firing Range
5.01 

km.
20 mm Oerlikon on a Mk.4 mount
37 х 1 

pcs.
. . . Average Damage per Second
133.2 
. . . Firing Range
2.01 

km.
40 mm Bofors on a Mk.1 mount
16 х 2 

pcs.
. . . Average Damage per Second
180.8 
. . . Firing Range
3.51 

km.
Maximum Speed
23 

knot
Turning Circle Radius
700 

m.
Rudder Shift Time
23.4 

sec.
Surface Detectability Range
17.54 

km.
Air Detectability Range
13.38 

km.
Battle Levels
Minnesota — American Tier IX battleship.
An interwar battleship design variant that underwent in-depth modernization in the 1940s, which significantly reinforced her torpedo protection and AA armament.
Modules
Compatible Upgrades
 Slot 1 
 Slot 2 
 Slot 3 
 Slot 4 
 Slot 5 
 Slot 6 
Player Opinion
Performance
Retaining the slow speed of the rest of the line, Minnesota is a big upgrade over Kansas. While having the same turret layout and guns as Kansas, the Minnesota's AP shells deal 1000 more damage as well as having a higher sigma, 1.9 on Minnesota compared to 1.7 on Kansas. Minnesota also has access to Artillery plotting room 2 for an extra -11% to the maximum dispersion of the main battery guns, making Minnesota a potent gun platform. Compared to her fast battleship counterpart Iowa, Minnesota's shells do less damage per shell, however Minnesota's broadside alpha is higher due to the extra turret of 3 guns adding up to a 153,600 alpha shot compared to Iowa's 121,500.
While Minnesota is covered in a 38mm plating, the ship sits high in the water and the superstructure is covered in 19mm plating, making it susceptible to smaller caliber fire. Minnesota does not perform well in close range engagements with its slow speed of 23 knots, long reload of 40 seconds and subpar armor, she performs better at medium range where small caliber fire is not as much of an issue. Staying at medium range will also help to hit ships behind islands as Minnesota has flatter shall arcs and does not have super heavy AP shells like the fast battleship line. Having a sense of situational awareness is needed for Minnesota, as its slow speed can impact reaction time to a surprising salvo fired at the ship.
Pros:
Heavy broadside of twelve (12) main guns
Excellent main battery range
Ship sides are covered with a uniform 38mm outer belt, a good protection against HE shells
Good torpedo protection with a 40% damage reduction
Tight turn radius and good rudder shift for a Tier 9 battleship
Has access to Defensive AA Fire (), further boosting its already good AA defenses
Cons:
Slowest Tier 9 battleship, with a speed of 23 knots
Worst reload speed among Tier 9 battleships, a whopping 40 seconds
Less hitpoints than fast counterpart Iowa
AP penetration is fairly lacking for a Tier 9 battleship, can struggle against heavily armored targets
Lacks the improved Repair Party () found on other USN battleships
Research
Availability of researchable upgrades for Minnesota is as follows:
Upgrade to Hull (B) for more HP, more AA mounts, and a faster rudder shift. Research of this module unlocks progression to Vermont.
Upgrade to the Mk.9 mod 2 Gun Fire Control System for an extra 10% range on her already-good main battery range.
Optimal Configuration
Skill points and upgrades should be invested to maximize Minnesota's survivability and concealment, as well as main battery accuracy.
Upgrades
The recommended upgrades for Minnesota are as follows:
Commander Skills
  Recommended Commander Skills  
Cost
(points)

Attack

Defense



1

 

 

★★

 

 

★★



2

 

 

 

 

 

★★



3

 

 

★★

★★

 

★★



4

 

 

 

★★

 

★★

Key: ★★★ - Extremely Useful      ★★ - Frequently Useful      ★ - Occasionally Useful     No stars - Not Useful
Consumables
Type 1, 2, or 5 camouflage can be equipped for credits; Types 1 or 5 are recommended at a minimum to reduce detectibility range.
Players who wish to spend doubloons can equip
Minnesota
with
Type 19 camouflage
that lowers her detection radius, reduces the accuracy of incoming shells, reduces her repair costs, and increases the amount of experience she earns.
Gallery