Napoli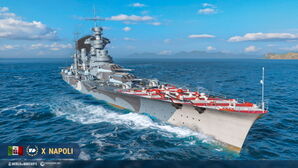 Tech Tree Position
254 mm/60 in a turret
3 х 3 

pcs.
Rate of Fire
3.53 

shots/min.
Reload Time
17 

sec.
Rotation Speed
7 

deg./sec.
180 Degree Turn Time
25.71 

sec.
Firing Range
16.28 

km.
Maximum Dispersion
177 

m.
HE Shell
254 mm proiettili HE 
Maximum HE Shell Damage
3,450 
Chance of Fire on Target Caused by HE Shell
16 

%
Initial HE Shell Velocity
954 

m./s.
HE Shell Weight
227.9 

kg.
AP Shell
254 mm proiettili AP 
Maximum AP Shell Damage
6,150 
Initial AP Shell Velocity
945 

m./s.
AP Shell Weight
227.9 

kg.
152 mm/55 Model 1936 on a Model 1936 mount
4 х 3 

pcs.
Firing Range
7.3 

km.
Rate of Fire
8.33 

shots/min.
Reload Time
7.2 

sec.
90 mm/50 Model 1939 on a twin mount
6 х 2 

pcs.
Firing Range
7.3 

km.
Rate of Fire
18.75 

shots/min.
Reload Time
3.2 

sec.
533 mm tubo lanciasiluri
2 х 4 

pcs.
Rate of Fire
0.63 

shots/min.
Reload Time
95 

sec.
Rotation Speed
25 

deg./sec.
180 Degree Turn Time
7.2 

sec.
Torpedo
533 mm Si 270 N 
Maximum Damage
13,900 
Torpedo Speed
56 

knot
Torpedo Range
13.5 

km.
90 mm/50 Model 1939 on a twin mount
6 х 2 

pcs.
. . . Average Damage per Second
81 
. . . Firing Range
3.99 

km.
20 mm/70 Breda Model 1941 on a sextuple mount
10 х 6 

pcs.
. . . Average Damage per Second
62 
. . . Firing Range
2.01 

km.
37 mm/54 Model 1939 on a quadruple mount
9 х 4 

pcs.
. . . Average Damage per Second
171.9 
. . . Firing Range
3.51 

km.
Maximum Speed
35.5 

knot
Turning Circle Radius
750 

m.
Rudder Shift Time
12.5 

sec.
Surface Detectability Range
13.14 

km.
Air Detectability Range
9.7 

km.
Battle Levels
Napoli — Italian Tier X cruiser.
The project of a large heavy cruiser armed with 254 mm guns, developed by Ansaldo in the second half of the 1930s.

Napoli was first released for sale on 29 July 2021.
Modules
Compatible Upgrades
 Slot 1 
 Slot 2 
 Slot 3 
 Slot 4 
 Slot 5 
 Slot 6 
Player Opinion
Performance
Warning. The data presented in the AA Defense sidebar section may be incorrect.
Tier X Napoli is an Italian heavy cruiser. While she shares some similarities with her tech tree counterpart Venezia including good agility and speed plus access to the Exhaust Smoke Generator, she also has some unique features. Most notably, she loads HE shells rather than semi-armor-piercing (SAP) main battery shells.
Napoli has one of the largest health pools among Tier X cruisers, just above Goliath and below Moskva and the large cruisers (Puerto Rico, Stalingrad, etc.). (Goliath has a larger potential health pool due to her Specialized Repair Teams 

.) She also features robust armor protection for a cruiser. Both her 40mm deck and 60mm upper armor belt are thick enough to bounce all AP shells in the game when angled, as well as shatter most cruiser HE. Within her matchmaking range, only a few cruisers can pen her deck and even fewer can pen her upper belt. Napoli also has a section of 60mm plating on her bow and stern that offers some protection against large caliber AP. But as it doesn't extend that far above water, captains shouldn't rely on it too heavily. Her citadel armor is thinner than Venezia's, with only 30mm protecting most of the above-water section, but the citadel is also significantly smaller than Venezia's and further protected by a sloped turtleback. Napoli has the health and armor to out-trade most cruisers she'll face, and to provide a challenging target for battleships when played well.
Napoli is well-armed with nine (9) 254mm guns in three (3) triple turrets. While her reload is longer than most heavy cruisers at Tier X, her turret traverse is faster than many of them. As with Venezia, her longer reload makes target selection important, but not as critical since her HE doesn't have the ricochet angle limitations of Venezia's SAP.
Although Napoli's HE shells have a lower alpha strike and less penetration than Venezia's SAP, they can deal with angled targets more effectively since they can't richochet. They also have the ability to set fires and break modules &mash; two things that the tech tree cruisers cannot do. Her AP shells are more than capable of seriously damaging broadside cruisers at any range, and decently effective against battleship upper belts at close and medium range. Additionally, her AP is capable of overmatching the bow and stern plating of all British light cruisers and more thinly armored light cruisers such as Smolensk and Austin. However, she uses the same large cruiser dispersion found on ships like Alaska and Puerto Rico, so her guns are less accurate than many of her cruiser counterparts.
One place where Napoli's gunnery isn't as strong is her range. It's nearly a kilometer shorter than Venezia, and Napoli doesn't have access to a spotter plane to extend it in battle. Her base range is still usable, but captains may prefer to mount Gun Fire Control System Modification 2

to improve it. Using the unique commander Luigi Sansonetti is also recommended, due to his Far Reach talent which provides an additional range boost after destroying an enemy ship.
By far, Napoli's most unusual feature is her secondaries. Rather than firing HE like all other secondary batteries, Napoli's fire SAP. As with other SAP shells, they are less effective against sharply angled targets, but have increased penetration and damage compared to same caliber HE shells. Additionally, Napoli's secondary guns have substantially improved accuracy. When fully upgraded, they can reach out to 9.2km, leaving only a kilometer between her detection and secondary ranges.
Napoli is also armed with a pair of quadruple torpedo launchers -- one on each side -- with comfortable firing angles. She has an extra torpedo per launcher compared to Venezia and a longer reload, but otherwise their torpedoes are identical. As with the tech tree ships, the longer range and slow speed can be both a blessing and a curse. Agile and maneuvering enemies can easily dodge them at range, but that same slow speed can catch unsuspecting enemies off guard. They're effective as an area denial weapon, as well as a source of additional damage against closer targets or to sink them while her guns are reloading.
Like the tech tree cruisers and premium Tier VII cruiser Gorizia, Napoli mounts an Exhaust Smoke Generator 

that can conceal the ship even at full speed. It can be used offensively to prevent being spotted while firing at enemies, but it also has a useful defensive role, allowing her to turn and disengage without exposing her side to incoming fire.
Similar to the tech tree cruisers, Napoli boasts a high top speed and decent agility. One of the fastest cruisers at Tier X, she can quickly change positions as the battle unfolds and avoid fights she doesn't want to be in. Her low detection aids in rapidly disengaging from fights or approaching unsuspecting prey. Her rudder shift and agility are comparable to Venezia, and allow her to dodge incoming fire or angle to bounce it off her side plating.
Napoli's anti-aircraft suite is enough to shoot down a couple of planes and provides some defense against carriers, but is not as effective as her tech tree counterpart. At short range, their AA values are similar, but past 2km Venezia has a higher damage per second as well as more flak clouds. Napoli has access to the fighter consumable to further boost her defenses, but it will still not be enough to fully protect her from strikes.
Due to her high speed, decent agility, and Exhaust Smoke Generator,
Napoli
has the flexibility to fill several roles. Her thicker armor and good concealment allow her to fight at closer ranges where her secondaries are effective and her torpedoes are more difficult to dodge. Her ballistics and HE allow her to play further back, using her agility to dodge incoming fire and kite away from a push. She has the ability to react to changes in the battle, and the tools to respond as needed.
Pros:
Large health pool for a cruiser, surpassed only by Moskva and the large cruisers
Thick deck and upper belt amor, as well as an icebreaker, that can bounce all AP shells in the game
Access to main battery HE shells
Secondaries fire SAP shells with improved accuracy
High top speed
Good concealment — 10.3km when fully upgraded
Access to the Exhaust Smoke Generator consumable.
Cons:
Uses the large cruiser dispersion curve
Lower base range
Lower fire chance for her caliber
Secondaries can ricochet and cannot set fires or break modules
Does not have access to the Spotter Plane consumable
No Hydroacoustic Search consumable, making it riskier to hunt destroyers solo.
Research
As a Tier X ship, Napoli has no module upgrades to research.
Optimal Configuration
Napoli offers two distinct builds.
Upgrades
The default build is to accentuate the main battery, with an option to shade toward longer or closer range engagement. At longer range, improved dispersion, steering response, and main battery range are desirable. Playing closer-in usually involves terrain so more engine power and a faster reload are beneficial for the ability to unmask and do damage quickly.
In Slot 3 Secondary Battery Modification 1

as a reasonable selection, particularly for a closer-range variant.

More experienced and/or aggressive captains may opt for a full secondaries build. Make no mistake — Napoli's secondary batteries are formidable. However, pushing into a brawl in a cruiser can get one sunk in short order. Care must be taken. For a secondaries build:
Commander Skills
Unique Commander Luigi Sansonetti feels particularly comfortable commanding this ship.
  Recommended Commander Skills  
Cost
(points)

Attack

Defense



1

 

★

 

★

★★

 



2

 

 

★★

 

★

 



3

 

 

★★

★★

★

★



4

★★

★

★

 

★★★

 

Key: ★★★ - Extremely Useful      ★★ - Frequently Useful      ★ - Occasionally Useful     No stars - Not Useful
Consumables
Napoli equips the following:
Camouflage
Napoli comes with a permanent Type 20 camouflage that lowers her detection radius, reduces the accuracy of incoming shells, halves her service cost, and doubles the amount of experience she earns.
Signals
Recommended Signal Flags
Combat

 

★★★

★★

★★

★★

 

★★

★★

★★★

 

★★

★★★

★★★

 

Economic

★

★

★

★

★

Special

★

★

★

★

★

★

★

★

Key: ★★★ - Extremely Useful       ★★ - Frequently Useful       ★ - Occasionally Useful      No stars - Not Useful
Note: Use of the Juliet Charlie signal makes detonation impossible.
Gallery
References

iChase' Review (YouTube) - he likes her

Armada: Napoli (WoWs News, with video)

The Daily Bounce in-depth review.
See here for links to Update notes.

Available for testing by supertesters in the game starting from Update 0.10.3.
Update 0.10.6:

Available for purchase in the Armory for 252,000 Coal or 34,950 Doubloons.
Napoli was only able to be purchased for Doubloons or $ for the first 2 weeks after release.

Update 0.10.8:

Fixed issues with the ship model and textures.

Update 0.10.10:

Fixed an issue that caused the secondary battery shell effects to be reproduced incorrectly.