Oleg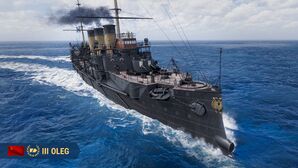 Tech Tree Position
IDS_PRGM088_152MM_45_CANET
8 х 1 / 2 х 2 

pcs.
Rate of Fire
6.67 

shots/min.
Reload Time
9 

sec.
Rotation Speed
5 

deg./sec.
180 Degree Turn Time
36 

sec.
Firing Range
10.78 

km.
Maximum Dispersion
107 

m.
HE Shell
152 mm HE 109 lb 
Maximum HE Shell Damage
2,100 
Chance of Fire on Target Caused by HE Shell
8 

%
Initial HE Shell Velocity
753 

m./s.
HE Shell Weight
49.76 

kg.
AP Shell
152 mm AP 91 lb 
Maximum AP Shell Damage
2,700 
Initial AP Shell Velocity
792.5 

m./s.
AP Shell Weight
41.4 

kg.
75 mm/50 Model 1892 on a Meller mounting
12 х 1 

pcs.
Firing Range
3.2 

km.
Rate of Fire
15 

shots/min.
Reload Time
4 

sec.
HE Shell
75 mm HE 
Maximum HE Shell Damage
1,500 
Initial HE Shell Velocity
823 

m./s.
Chance of Fire on Target Caused by HE Shell
4 

%
Maximum Speed
24 

knot
Turning Circle Radius
450 

m.
Rudder Shift Time
7.1 

sec.
Surface Detectability Range
9.96 

km.
Air Detectability Range
4.54 

km.
Battle Levels
Oleg — Soviet special premium Tier III cruiser.
This very successful Bogatyr-class protected cruiser was intended for combat operations as part of a squadron and long-range reconnaissance duties. She boasted powerful artillery, and a decent speed and armor for her time.

Oleg first went on sale on 3 February 2017 on the NA servers, and on 20 January 2017 on the EU servers.


Modules
Compatible Upgrades
Player Opinion
Performance
Warning. The data presented in the AA Defense sidebar section may be incorrect.
For a graphic summary of ships Tiers VIII thru XI see LittleWhiteMouse's "Actual AA DPS".
Oleg is a Tier III premium Russian cruiser. She shares many traits with her tech tree counterpart Bogatyr, given that they are the same class. Her 152mm guns — and their arrangement — are identical to Bogatyr, along with her speed and mobility, making her playstyle very similar and in line with the other Tier III cruisers.
Pros:
More health points than her tech tree counterpart, Bogatyr.
Plenty of guns (on both sides).
Cons:
Main battery cannot take advantage of commander skills Basic Firing Training or Advanced Firing Training; Expert Marksman is similarly less advantageous.
Still has less health points than St. Louis.
High shell arcs, which makes aiming at agile ships at maximum range difficult.
Slow for a cruiser.
No antiaircraft armament.
Research
As a premium ship, Oleg doesn't have any upgrades to research.
Optimal Configuration
Upgrades
The recommended upgrades for Oleg are as follows:
Commander Skills
  Recommended Commander Skills  
Cost
(points)

Attack

Defense



1

★★★

 

★

★★★

★★★

 



2

★★★

 

★

 

★

 



3

★★★

 

★★★

★

★★

★★★



4

★★

 

 

 

★★★

 

Key: ★★★ - Extremely Useful      ★★ - Frequently Useful      ★ - Occasionally Useful     No stars - Not Useful
Consumables
Oleg can equip the following consumables:
Camouflage
As a premium ship, Oleg comes with Default permanent camouflage and a set of permanent combat bonuses.
Signals
Note: Use of the Juliet Charlie signal makes detonation impossible.
Gallery
Oleg penetrates an enemy Kolberg class cruiser.

Oleg destroys an enemy Kolberg class cruiser.

Flag of Oleg. Given to players who purchased a special bundle containing Oleg.
References
See here for links to Update notes.

Available for testing by supertesters in the game starting from Update 0.5.15.
First appeared on sale in January 2017.
Update 0.6.3:

The appearance was improved with the use of a special technology for improved rendering of thin elements (rigging, etc.).

Update 0.6.4:

Available for purchase for doubloons in the game client.

Update 0.6.9:

Fixed display of Roman numerals.

Update 0.6.12:

Detectability when firing main guns in smoke changed to 4.6 km.

Update 0.6.13:

Fire extinguishing time now 30 s instead of 60 s.

Update 0.6.15:

A bonus was added to the "Type 9" permanent camouflage: a 10% discount to the cost of post-battle service.

Update 0.10.0:

The firing range of the secondary battery was increased to 3.2 km.

Update 0.11.6:

Was made temporarily unavailable for purchase in the Armory due to technical issues.

Update 0.11.10:

Minor fixes to the geometry and textures of the ship.